SlashGear Weekly Roundup Video - May 15, 2011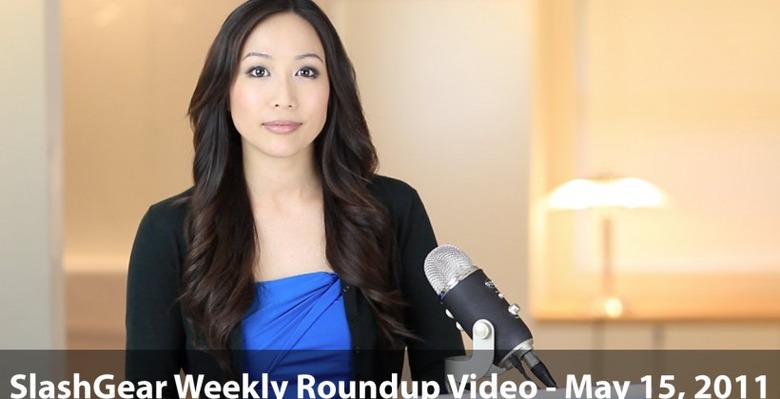 This past week's Google I/O developer conference brought lots of Google news involving Android, Google Music Beta, Google TV, Android Market, and Chromebooks. The keynotes for both days of the event were live casted, but just in case you weren't following along, we've highlighted them again. Various bits of news and videos were released this week from manufacturers Samsung, LG, and HTC, while a surprise announcement came late Saturday from Sony announcing that they've begun restoring the PlayStation Network.
[vms 9bede653e94468ff8df1]
Google I/O Day 1
Android Honeycomb Update To 3.1 Announced At Google I/O
Google TV Gets Android Market And Android 3.1 Honeycomb
Ice Cream Sandwich, Officially Announced at Google I/O [Updated]
Google Music Beta, Cloud-Based Music Service Is Ready Today
Google Unveils Arduino-Based Android Open Accessories
All 5,000 Google I/O Attendees Receive Samsung Galaxy Tab 10.1 for free
Exclusive: Samsung Galaxy Tab 10.1 unboxing by Vic Gundotra
Google I/O First Keynote Recap: Android 3.1, Android Ice Cream Sandwich, Google TV, Music Beta, Movies and More
Google I/O 2011 Keynote: Entire Day One Video
Google I/O Day 2
Angry Birds for Chrome Out Today [Special Edition VIDEO]
Google Demos Chrome Speech Input, Graphics Acceleration, And 3D
Google Shows Off Trippy WebGL Project
Chromebooks Can Work Offline, Already Hundreds Of Apps Offline-Ready
Free Chromebook for all 5,000 Google I/O Attendees
Google I/O Day 2 Keynote Recap
Various news related to Samsung, LG, and HTC
Droid Charge Goes on Sale at Verizon Tomorrow!
Nexus S 4G smartphone lands at Sprint and Best Buy
White Nexus S For AT&T Spotted Briefly On Samsung Site
Samsung 10.1″ 2560 x 1600 tablet panel could be iPad 3′s Retina Display
LG Display promises Samsung-slaying AH-IPS high-res screens
LG Optimus Big vs Samsung Galaxy S II
LG Optimus Big hands-on [Video]
HTC Sensation 4G: An Intimate Look [VIDEO]
HTC Sensation bucks Android trend with anti-mod bootloader
HTC Flyer Unboxing & First Impressions [Video]
HTC Flyer on sale now: (partially) undercuts iPad 2 [Updated]
Sony PlayStation Network
PlayStation Network is back online [Video]
Sony's Next PSN Challenge: Restoring Reputation
PlayStation Network service spreads: UK, Middle East, more
Microsoft and Skype deal
Microsoft to Acquire Skype for Over $8 Billion
Microsoft Skype deal official: VoIP integration with Xbox, Windows Phone, more
Microsoft Bought Skype for the Brand
Apple news...
Apple Explains To Congress: We Don't Track The Location Of Our Customers
Apple iPhone 4S, Not iPhone 5?
Editorials
It's Official: Xbox 360 Is the Best Console of This Generation
Sony's Next PSN Challenge: Restoring Reputation
How (and Why) to Save Best Buy
The Five Technologies That Impacted My Life
What's Google TV's Key Selling Point?
Sure, the iPad has 82% Market Share, But Will it Last?
Reviews
iMac Core i5 3.10GHz review (mid 2011)