Acer Chromebook Announced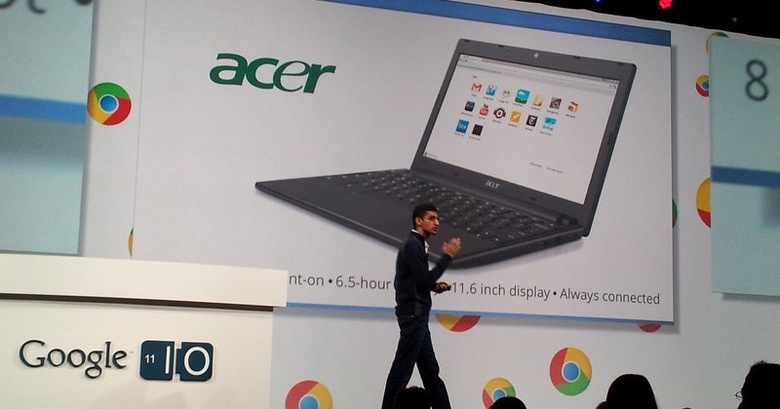 At the second Google I/O keynote a duo of Chromebooks were announced. First there was a Samsung Series 5 Chromebook that had two colors and a 3G as well as wifi version, then there's this one: the Acer Chromebook. The devices were detailed just a bit at this event, and we don't have a specific name for the Acer yet. A 12.1 inch display, dual core Intel Atom processor, all-day battery life, 8 second boot, and available for $349 and up. Sound sort of neat? Sounds totally neat. We have all the specs for you after the cut.
This is not the first Chrome OS notebook, in fact it's now amongst three Chromebooks out very soon, the first of which we gave away for free here on SlashGear and over on Android Community like so: CR-48 for all! That contest is over and you'll be wanting to "toss that device in the river" if you know what I mean now that these new ones are coming out. And what's the best thing about this whole situation?
They're encouraging you to jailbreak. June 15th is the day these devices come out, and attendees of Google I/O will be getting them for free. For free, I tell you!
Here are the specs for the Acer Chromebook:
11.6-inch HD Widescreen CineCrystal LED-backlit LCD
6 hours of continuous usage
Intel Atom dual-core processor
Built in dual-band Wi-Fi and World-mode 3G (optional)
HD Webcam with noise cancelling microphone
High-Definition Audio Support
Oversize fully-clickable trackpad