Free Chromebook for all 5,000 Google I/O Attendees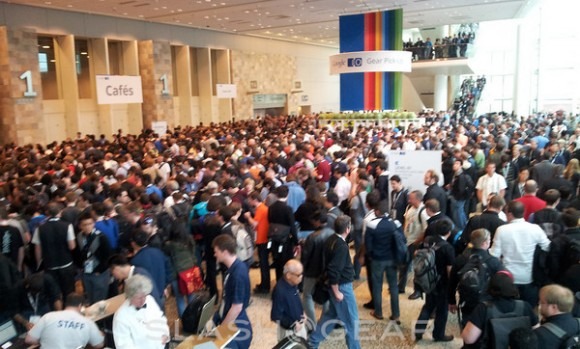 As Sundar Pichai explained that Google hoped the entirety of the crowd listening to the second big keynote speech of Google I/O 2011 would help spread the word about Chrome OS, he turned to his podium to pull out no less than a brand-spanking-new Chromebook, explaining that all 5,000 attendees of the conference would be given one for free. Of course they'd not be given one until the device is ready to be placed in their hands, this handout happening further into the summer than yesterday's Samsung Galaxy Tab 10.1 giveaway.
June 15th is the release date for these new devices, and an email would be sent out to each person at the conference so they could claim their Chromebook "very very soon." Whether or not that meant they'd be given the Chrome OS device sooner than the release date or not is still up to debate, but we're guessing that vouchers will be sent out in place of actual units simply because the cost of sending out 5,000 devices is much more than the cost of sending out 5,000 slips of paper.
[vms d490db800357f47722b2]
For more details on these devices, take a peek at both posts we've got up right this moment, one for Samsung and another for Acer. By the looks of it, the Samsung device may well be the one that's going to be given out for free, but that's also not guaranteed. You can follow along with the rest of our Google I/O 2011 coverage by hitting the [IO 2011 Portal] – stay tuned!