HTC Flyer on sale now: (partially) undercuts iPad 2 [Updated]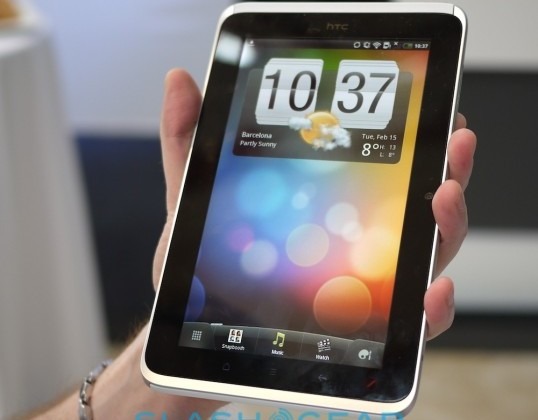 The HTC Flyer is finally on sale, across EMEA at least, with HTC's new Android tablet available in both 3G and WiFi-only versions. Announced at MWC 2011 back in February, the WiFi-only Flyer has 16GB of internal storage while the 3G + WiFi Flyer has 32GB; both can be used with the bundled HTC Scribe digital pen, for note-taking, annotation and sketching.
The first countries to get the Flyer include the UK, France, Germany, Italy, Spain, Greece, Portugal, Denmark, Norway, Sweden, Czech Republic, Hungary, Poland, and Romania. A US launch will follow on soon. It also sees the debut of HTC Watch, the company's media streaming store.
The 3G Flyer is priced at €649 ($929) or $599.99  while the WiFi-only Flyer is priced at €499 ($714) or £479. That undercuts the iPad 2 in mainland Europe, at least. We're also expecting to see the Flyer show up with subsidized carrier deals.
Update: Carphone Warehouse has confirmed it – and Best Buy – will be offering the Flyer in the UK from today. It will be priced from £129.99 on a £25 per month (24 month) contract with Talk Mobile, which includes 5GB of data, or for £599.99 stand alone.
Update 2: Looks like that Apple-competitive pricing is in mainland Europe only. In the UK, where the iPad 2 16GB WiFi is £399 and the iPad 2 32GB WiFi + 3G is £579.99, the Flyer is more expensive.
[vms c00c2d31982567235c55]
Press Release:
HTC FLYER, THE FIRST TABLET WITH HTC SENSE, IN STORE FROM TODAY

Aluminum unibody design with HTC Watch video service and HTC Scribe Technology hits the shelves across EMEA

LONDON, UK – May 13, 2011 – HTC, a global leader in mobile innovation and design, has announced that its first tablet, HTC FlyerTM, will be available in-store from 13th May. Blending HTC's trademark design language with an all-new HTC Sense user experience that has been reimagined for tablets, the HTC Flyer combines natural touch and pen interaction in either a combined 3G and WiFi or WiFi-only model. As well as being available to purchase in retail outlets, HTC fans will also be able to order Flyer direct through the HTC.com website.

"We are delighted by the positive reactions that HTC Flyer has received since we first unveiled it in February and are pleased to be able to bring it to major markets across EMEA," commented Florian Seiche, President HTC EMEA. "HTC Flyer is completely different from any other tablet on the market and we look forward to hearing about the different ways in which our customers use HTC Flyer in their daily lives – for both work and play."

The combined 3G and WiFi HTC Flyer features 32GB of onboard memory which can be expanded with a microSD card of up to 32GB and will retail at €649. A second variant will be available for €499 and features WiFi connectivity and expandable 16GB memory. Both versions will come with the HTC Flyer Magic PenTM that will work with HTC's Scribe Technology for an alternative to fingertip interaction.

From 13th May, HTC Flyer will be available in the following territories, both in-store and through HTC.com: UK, France, Germany, Italy, Spain, Greece, Portugal, Denmark, Norway, Sweden, Czech Republic, Hungary, Poland, and Romania.

Premium Design and Performance

Weighing as little as a paperback book and encased in sleek aluminium, the HTC Flyer exudes the style and premium build quality that have forged HTC's reputation in the smartphone market. With a seven-inch display, lightning fast 1.5Ghz processor and high-speed wireless capabilities, the HTC Flyer tablet is perfect for those who have been waiting for a tablet that is both compact and powerful.

HTC Sense for Tablet

HTC Flyer's tablet-focused HTC Sense experience focuses on surprising and delighting people with its gorgeous 3D home screen. Similar to the experience unveiled on the new HTC Sensation, a unique carousel of widgets puts your most important content and information at the visual center of the experience and offers uncompromised Web browsing with Flash 10 and HTML 5.

Streaming Mobile Movies with HTC Watch

The HTC Flyer is the first tablet to premiere HTC Watch, HTC's new video download service, offering more than 600 premium movies and TV shows from major studios. Video content can be bought or rented and watched immediately through progressive download. Once purchased, movies are stored in a "cloud locker", allowing up to five registered HTC devices to download and play the same content.

HTC Scribe Technology

HTC Scribe Technology introduces a wave of integrated digital ink innovations that make it easy and natural to take notes, sign contracts, draw pictures, or even write on a web page or photo. Note-taking has been made smart for the first time by synchronising natural onscreen handwriting with Timemark audio recording. Tapping on a word in your notes instantly takes you to that exact place in time in the audio recording, ensuring you can place your notes in the context of any conversation or meeting. Notes are also integrated with the calendar so when there is an appointment reminder you are automatically prompted with an opportunity to begin a new note or in the case of recurring meetings, to continue where the last meeting left off. In an industry first, the HTC Flyer tablet also features built-in synchronization with EvernoteÄ, the world-leading notes application and service.

For more information, see www.htc.com