iMac Core i5 3.10GHz review (mid 2011)
It's been less than a year since Apple's last iMac refresh, but thanks to Intel's 2011 Sandy Bridge update the aluminum all-in-ones had been looking a little last-gen. That all changed this past week, with a quad-core refresh across the board and a new set of AMD Radeon graphics chips to match. Still, no aesthetic change – bar the addition of a Thunderbolt port on the back – and no Blu-ray or touchscreen. Has the iMac kept pace with the rest of the market? Check out the full SlashGear review after the cut.
Hardware
The basic premise is the same: an amazingly clear, bright and vivid IPS LCD display – either 27-inches running at 2560 x 1440 resolution, like our review unit, or 21.5-inches running at 1920 x 1080, slotted behind a sheet of glossy glass and then into a minimalist aluminum chassis. Ports are neatly lined on the lower left hand corner of the rear panel, with only a slot-loading 8x SuperDrive dual-layer DVD burner spoiling the sides. The whole thing is lifted by a neat stand – complete with a cable-guide hole – with 17W speakers along the bottom edge and an integrated microphone. New to this generation is the FaceTime HD camera, more on which in a moment.
Ports are broadly the same as before, so you get audio in/out, four USB 2.0, a FireWire 800, two 10Gbps Thunderbolt ports on the 27-inch iMac (just the one on the 21.5-inch version) and gigabit ethernet. There's also WiFi a/b/g/n and Bluetooth 2.1+EDR, an infra-red port for use with Apple's media remote (sold separately), and an Apple Wireless Keyboard as standard; this time around, iMac buyers can pick between the Magic Mouse or the Magic Trackpad.
Thunderbolt – née Intel Light Peak in partnership with Apple – made its debut on the MacBook Pro earlier this year, a high-speed connectivity standard hoping to replace not only USB 2.0/3.0, FireWire and eSATA, but display connections too. Using the same connector as Mini DisplayPort – meaning you can plug in either a Thunderbolt peripheral or an external display – it supports daisy-chaining of up to six devices per port, with enough bandwidth for simultaneous display of six uncompressed HD videos. Hardware using Thunderbolt is still in short supply – high-performance storage and multimedia interfaces are expected later this year – but the iMac 27's twin ports does mean that, for the first time, you can hook up two external displays and spread your OS X desktop across three screens (if you have the physical desk space and the wallet to support it, naturally).
The real changes aren't visible externally, but they're what really make the new iMacs special. Quad-core Intel Core i5 processors are now standard across the range, with the entry-level 21.5-inch model getting a 2.5GHz Core i5, the high-end 21.5-inch version and the entry-level 27-inch model stepping up to 2.7GHz, and our high-end 27-inch iMac packing a 3.1GHz Core i5. A Core i7 quad-core is an option on both high-end preconfigs, while 4GB of 1333GHz DDR3 memory is standard; that can be upgraded to either 8GB or 16GB depending on model.
Graphics, meanwhile, are courtesy of AMD's Radeon GPU line-up, with a Radeon HD 6750M 512MB chip at the low end of the range, the two middle models getting Radeon HD 6770M 512MB GPUs, and our review unit having AMD's Radeon HD 6970M with 1GB of GDDR5 (with 2GB of GDDR5 an option). Storage is 1TB of 7,200rpm HDD on all but the smallest, low end iMac, with the remaining three also being offered with up to 2TB of HDD and an optional secondary 256GB SSD. Our review unit didn't have the SSD, but the promise is significantly quicker boot times, zero noise and OS X performance.
FaceTime HD
FaceTime is Apple's new brand for video calling, introduced on the iPhone 4 and since spreading to the iPod touch, iPad 2 and most recent MacBook Pro. On the 2011 iMac it gets a shot of 720p HD, shooting and recording video at 1280 x 720. Using the preloaded FaceTime app – and a free Apple account – you can make and receive video calls between each of the devices. It's worth noting that only the MacBook Pro and iMac support 720p FaceTime calls; calls to the iOS devices are limited to VGA resolution.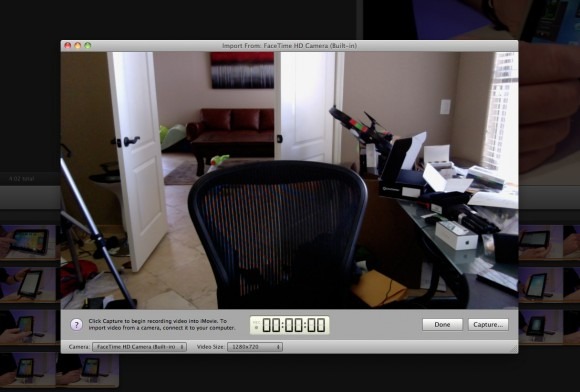 While not the only video calling system around – obviously the FaceTime HD camera will work with third-party apps like Skype, as well as recording clips in OS X's PhotoBooth app – FaceTime is one of the simplest. Apple has said it eventually plans to open up the system to third-party developers, allowing for cross-platform chats, but that's yet to happen.
While the FaceTime HD webcam on the MacBook Pro is suited to a single user, Apple has used a wider-angle lens on the iMac and so more people can be seen at the same time. That's useful if you're holding a group video call: you can comfortably sit three adults in-frame and the quality is strong enough so that they're not a blurry mess.
Software
OS X Snow Leopard is pre-installed, though Apple's refreshed operating system, OS X Lion, is expected sometime this summer. Snow Leopard includes iTunes, Mail, Safari, iCal and other core apps; there's also iLife, which bundles the latest versions of iPhoto, iMovie, GarageBand and iWeb.
New software is easily accessible thanks to the Mac App Store, which brings the same simplicity from the iOS App Store on the iPhone and iPad over to the company's desktop and notebook computers.
Performance
Apple's performance claims don't lack promise: up to 70-percent faster and with up to three times the graphics performance thanks to the new AMD chips. Obviously that depends on what configuration of new iMac you're using, and which older version you had. Intel's Sandy Bridge processors are the second-generation of the so-called "Nehalem" chips, adding integrated graphics onto the die for faster video encoding/decoding, as well as an onboard memory controller to cut down on lag.
Needless to say, everyday performance is complaint-free. OS X boots swiftly and apps load with no delay. You can have multiple browser windows open while simultaneously playing HD video, ripping CDs and doing other tasks.
In terms of benchmarks, we started out with Geekbench, a synthetic test of processor and memory performance. The Core i5 3.1GHz iMac scored 9149, with particularly strong scores in processor categories. In contrast, last year's iMac – with a 2.93GHz Core i7 processor, then the most expensive CPU option – scored 10,099, less than 1,000 points more. Considering our 2011 review unit isn't the fastest iMac Apple offers, that's an impressive showing, not least when you consider the previous-gen model we tested came in at a hefty $2,799.
We then turned to Cinebench, which measures the iMac's CPU threading performance and the performance of the GPU using OpenGL. As the Geekbench results would suggest, the Core i7 CPU of the 2010 iMac helped it stay slightly ahead of the 2011 Core i5, though only by a minor amount: the old iMac scored 4.98 points, while the new iMac managed 4.61 points.
[sgbenchmark id=134 show=score]
What Cinebench did show is the power of the upgraded graphics. The old iMac – with a Radeon HD 5750 GPU – managed 30.73fps in the OpenGL graphics testing, while the new iMac managed 36.51fps. Again, it's important to note that ours isn't the maxed-out iMac; Apple offers the Radeon HD 6970M 2GB GDDR5 video card as an option, which will improve graphics even further.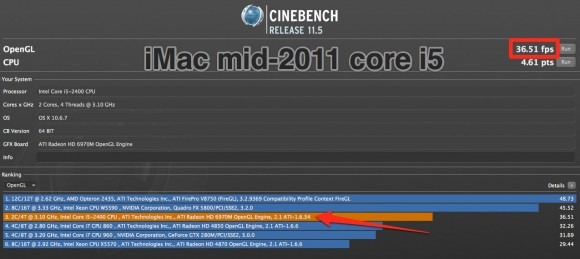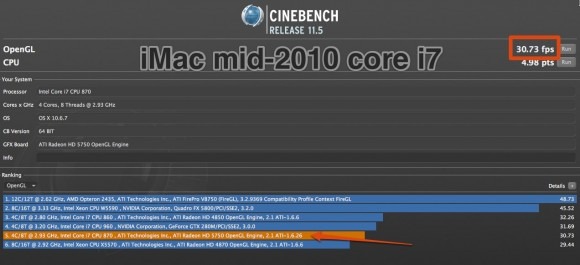 In the real-world, that adds up to faster video processing in iMovie, faster image editing in Photoshop, and the potential for hardcore gaming (which the beautiful 27-inch display is particularly well suited to).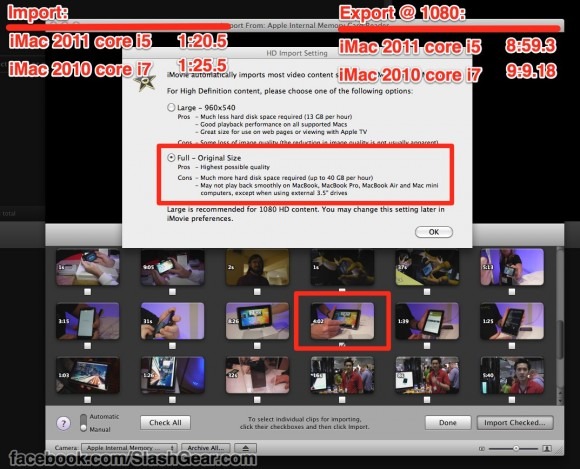 Pricing and Value
Apple's updated iMac faces competition from two main sides: all-in-one PCs running Windows – and often offering touchscreen interfaces – and MacBook Pro notebooks used with a standalone 27-inch Apple Cinema Display. On the PC side, Windows 7 based all-in-ones are generally cheaper than the 2011 iMac, which starts from $1,199 for the entry-level 21.5-inch model and climbs to $1,999 for our high-end preconfig 27-inch iMac. It's difficult to find a 27-inch alternative, however, which leaves the iMac in somewhat rarified company.
For users thinking of switching between portable and desktop use, pairing a MacBook Pro – which, as we found in our review of the Core i7 Sandy Bridge based 2011 models, offer performance comparable to a desktop computer – with a 27-inch Cinema Display is a tempting option. It's more expensive than the all-in-one iMac, however, with the cheapest MacBook Pro being the $1,199 13-inch Core i5 model, while the cheapest Core i7 starts from $1,499. Apple's 27-inch LED Cinema Display comes in at $999, though is yet to be updated to support Thunderbolt. That means you can only hook one up to a MacBook Pro, unlike the triple-display support of the 27-inch iMac.
The Mac Pro is, of course, another possibility, though an even more expensive one. The entry-level Mac Pro is $2,499, and then you're looking at $999 for a standalone Cinema Display. On the positive side, it's more extensible and upgradable than the iMac, with space for several internal drives and the possibility to upgrade the graphics card.
Wrap-Up
Like an all-in-one, PC or Mac, the iMac has limitations around upgradability. Swapping out the RAM, hard-drive and optical drive are possible, if you don't mind removing the LCD, but while the CPU and GPU can theoretically be changed, it's a process the complexity of which will likely dissuade most home users. A regular desktop chassis is always going to be readily upgraded.
Still, there's no shortage of power in the iMac as it stands, and while upgrading may become an issue years down the line, today it offers a compelling combination of performance, style and convenience. The absence of a touchscreen is a blip compared to some PC all-in-ones, but arguably desktop OSes – whether OS X or Windows – are still yet to prove the value of adding in touch. Apple's ongoing refusal to consider Blu-ray does leave you reliant on either an external drive or an all-digital media setup which, given the 27-inch iMac makes for a tempting TV replacement in a bedroom or office, may be another drawback. Similarly, the absence of an integrated TV tuner open leaves you with USB models hanging off the rear ports.
Nonetheless, it's hard not to be charmed by the 2011 iMac's combination of swift processors and capable graphics. The aesthetic may not have changed in a generation or two but is still arguably well ahead of the plastic PC pack, and the price – although in the premium space – reflects the components, the quality of the display and, yes, the Apple cachet. This isn't the all-in-one for buyers on a budget, and shopping around for regular desktops may find you equal or greater performance for your money, but the 2011 iMac is a polished update to one of the best machines on the market today.
Related: iMac core-7 (mid 2010) reviewiMac  (mid 2011)
[sgbenchmark id=134 show=system]