SlashGear Weekly Roundup Video - July 3, 2011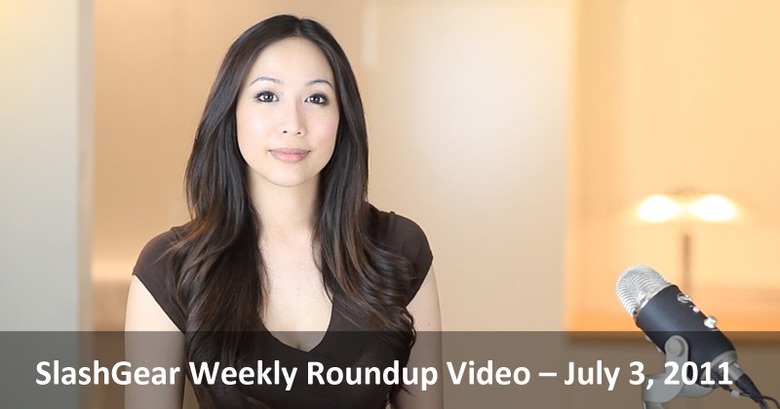 Happy July 4th weekend to everyone in the U.S. But there's more to celebrate than Independence Day, SlashGear is having our first Tabletpalooza Giveaway as well as sending out invitations for the new Google+ social platform. Google+ was certainly big news this week and we'll be going over that and more in our SlashGear Weekly Roundup video after the cut
[vms 45c4271ab9076ead5605]
Google+
SlashGear 101: What is Google+, Circles, Huddle?
What Google+, Circles, Sparks, and Huddle will Mean for Me and You
A Google+ Guide from Top to Bottom
Google+ Mobile App Review and Hands-On [BETA]
Gmail and Calendar refreshed with Google+ matching themes
Facebook
Facebook To Thwart Google+ Excitement With An "Awesome" Launch Next Week?
Facebook To Launch In-Browser Skype Video Chat Next Week?
Microsoft
Windows Phone Mango seeded to developers from today
HTC Eternity leaks: 4.7-inch 1.5GHz WP7.1 Mango superphone?
Microsoft breaks 25,000 Windows Phone app barrier
Windows Phone Mango Won't Require Physical Buttons?
Nokia
Nokia sells off Messaging service as Finns continue to slim
Nokia's Windows Phone 7 Apps Will Work On Rival Devices
Nokia N9 photos look REALLY good
RIM
RIM ignores users and has lazy marketing accuses senior exec
RIM's Damage Control was Blandly Inevitable
RIM To Consider Splitting Co-CEOs
BlackBerry Playbook 10-Inch Version Axed?
HP
HP confirms webOS licensing talks; Samsung tipped as suitor
Apple
OS X 10.7 Lion Golden Master Version Seeded To Devs
OS X Lion And New MacBook Airs To Be Released July 14?
Apple To Ship 12-14 Million iPad 2s In Q3
Apple App Store Hits 100,000 iPad Apps Milestone
Happy 4th Birthday To The iPhone
Other...
Ricoh buys Pentax digicam business: Plans interchangeable lens cameras
MySpace Sold For $35 Million To Specific Media
Justin Timberlake To Bring MySpace Back?
Google, Microsoft, Yahoo All In Early Talks To Buy Hulu
Reviews: