Acer TimelineX AS5830TG-640 Review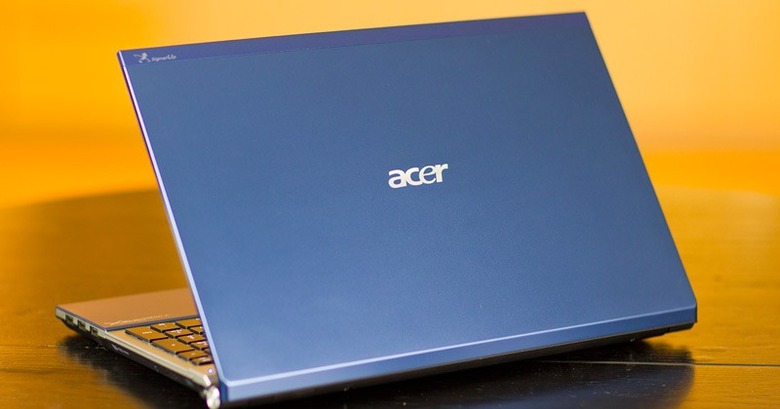 With great power comes great responsibility, and also – if you're talking about Intel's 2011 Sandy Bridge processor line-up, at least – generally sizable pricing. Acer is looking to change that with the new Aspire TimelineX AS5830TG-6402, a lengthy name for a 15.6-inch Core i5 notebook that ticks all the spec boxes for a high-speed desktop replacement only with a bargain $799.99 price tag. Too good to be true or the best deal around? Check out the full SlashGear review after the cut.
Hardware
Your $800 gets you Intel's Core i5-2410M processor, normally running at 2.3GHz but capable of up to 2.9GHz with Intel's Turbo Boost, and paired with 6GB of DDR3 1066MHz memory, NVIDIA GeForce GT520M graphics with 1GB of dedicated video memory, and a 640GB 5,400rpm hard-drive. There's also WiFi b/g/n, an 8x DVD burner and Bluetooth 3.0+HS.
[sgbenchmark id=135 show=system]
The display is a 15.6-inch panel running at 1366 x 768 and, like most notebooks around today with a decidedly glossy finish. Still, colors are impressive and the LED backlighting is even and bright. Above is a 1.3-megapixel webcam. Ports include three USB 2.0 and a separate USB 3.0 port, VGA, HDMI, audio in/out (supporting S/PDIF digital) and gigabit ethernet. There's also a multi-format memory card slot.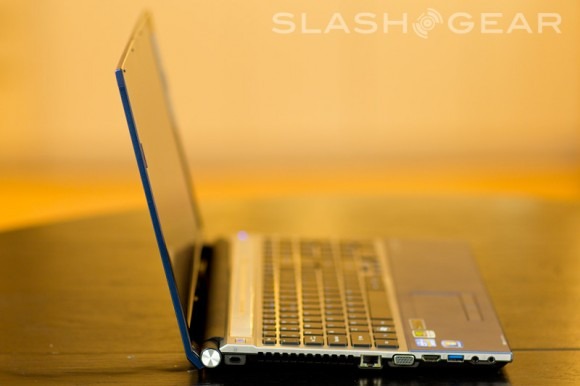 It's all wrapped up in an eye-catching metallic blue chassis, and while Acer has opted for somewhat blunt edges with its industrial design, it's still reasonably compact for a 15-inch notebook. At 14.88 x 9.8 x 1.0/1.23 inches it's not the slimmest notebook we've used, but given its class and price it's still slim. The width allows Acer to fit in not only a full-sized keyboard but a separate numeric keypad, as well as give the arrow keys plenty of space rather than crowding them with function buttons. The touchpad, meanwhile, is reasonably large and recognizes multitouch gestures, though the buttons beneath were on the clicky side.
Software and Performance
Acer preloads Windows 7 Home Premium 64-bit, and then goes crazy with apps and bloatware. First there are the in-house titles: Acer's Backup tool, ePower and eRecovery Managers, Clear.fi music streaming, Crystal Eye webcam tool and Video Conference manager. Then come the third-party apps, and there are plenty of them: Office Starter 2010 and a preinstalled version of Office 2010 waiting for your product key, Adobe's Flash Player 10.1 and Reader 9.1, eSobi, the Bing search bar, New York Times Reader, B&N's Nook for PC ereading app, AUPEO, Norton's Online Backup and a trial of McAfee's Internet Security Suite, NTI's Media Maker, WildTangent, Microsoft Silverlight, Skype and Windows Live Essentials 2011.
In all, there are more than 20 apps already waiting for you on the TimelineX, each with various levels of installation. We can appreciate Acer gets some kick-back – and probable helps subsidize the price of the notebook itself – thanks to those software deals, but as always it's a poor first-impression of a new Windows PC. A cluster of "suggested apps" with shortcuts would be far preferable, and reduce the first-boot sluggishness which sours the initial experience of the Acer.
[sgbenchmark id=135 show=score]
It's a shame, because otherwise performance is strong. NVIDIA's Optimus technology is used to intelligently and automatically switch between the integrated Sandy Bridge graphics and the dedicated GeForce GPU. We measured performance using Geekbench, a synthetic test of processor and memory, and the TimelineX AS5830TG-6402 scored 5251. Compared to a Core i5 Acer notebook using Intel's 2010 CPUs, which managed 4814, that's a fair jump, though the extra 2GB of memory in our newer review unit accounts for the bulk of the change.
Day to day tasks like playing Full HD video, doing graphics processing with Photoshop and browsing online across multiple tabs were a walk in the park for the TimelineX. The GeForce GT520M is also capable of some gaming, and we found the well-spaced keyboard lent itself to button-bashing during FPS gameplay.
Battery
Acer quotes up to 9hrs runtime from the standard 6-cell 6,000 mAh battery, though you'll need to be doing practically nothing to actually eke that out. In reality, with heavy use kicking the GeForce GPU into action, we managed 2-3 hours, whereas more casual browsing over WiFi (for which the integrated graphics were sufficient) 6hrs was around the maximum.
Wrap-Up
Acer has made a few odd decisions and omissions in specifying the TimelineX AS5830TG-640. There's no Blu-ray for a start, not even playback, which seems strange for a media notebook, and the 5,400rpm hard-drive is slower than we'd like to see. Still, on the flipside you get a discrete GPU and Bluetooth 3.0 as standard.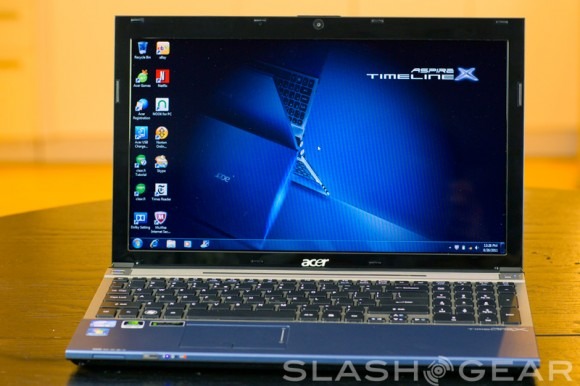 The TimelineX AS5830TG-640 may not be the fastest desktop replacement around, but as a combination of usable size – both of the decent display and well-proportioned keyboard – and portability it's keenly priced. Acer's motherlode of bloatware is an early blip, but get past that (with some judicious use of Windows 7's Remove Programs dialog) and you've a solid notebook at an affordable price.
Unboxing Video
[vms 0ade50f74a3f0ca981ed]