HP TouchPad Review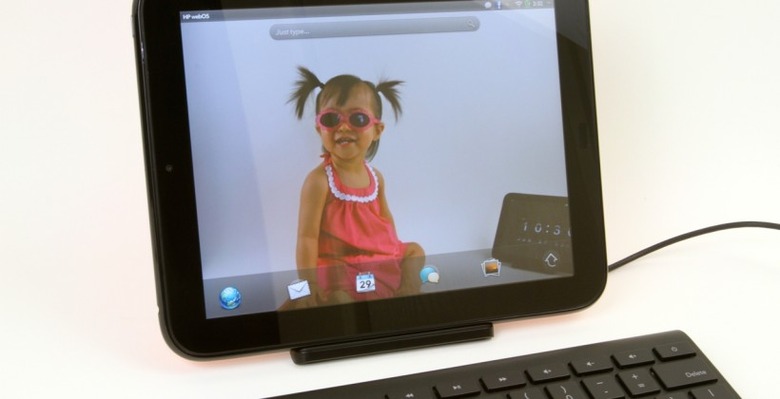 We've been demanding a tablet running webOS for years now, and it's taken HP's new stewardship of the software to guide just that onto store shelves. Palm's mobile platform always seemed to good to be left solely to smartphones, and the HP TouchPad is the inevitable result. Problem is, the iPad has already made its presence well and truly known, dominating the consumer tablet market, and Android's Honeycomb drive gains OEM support by the week. Can the multitasking charms of webOS 3.0 promise the TouchPad a bright future, or is it simply a case of too late to the party? Check out the full SlashGear review after the cut.
Hardware
Anyone who has played with a Palm Pre will recognize the HP TouchPad, a square of glossy black plastic with rounded-off corners. It's a fingerprint-magnet front and back: within seconds of getting it out of the box it was already smudged and smeared with finger grease. We quickly swaddled it in a Fusion of Ideas Stealth Armor adhesive case, since the plastic picks up tiny scratches with reasonable ease, though build quality generally was creak-free.
[vms 509fb264818a7512a8b9]
The TouchPad measures 9.45 x 7.48 x 0.45 inches and weighs 1.6lbs, making it slightly shorter and slightly wider than the iPad 2, as well as being noticeably thicker and heavier. We get the feeling HP designed the TouchPad to take on the first-gen iPad and then, unlike Samsung with the Galaxy Tab 10.1, refused to rework it when the iPad 2 appeared. The result is a thick slate without the premium feel of metal- or soft-touch plastic-bodied tablets from rivals.
Physical controls are minimal, with a volume rocker on the upper right edge, a power/sleep button on the top edge – across from the 3.5mm headphone jack – and a home button underneath the display. Unlike recent webOS phones, this home button is physical rather than touch-sensitive; it's also not surrounded by a touch gesture area. A microUSB connector is used for charging and syncing, a welcome change from the proprietary connections on other tablets.
[vms 2a31f3569e10af655265]
The display itself is a 9.7-inch LCD IPS panel with LED backlighting, matching the iPad's 4:3 aspect ratio and 1024 x 768 resolution. The capacitive touch recognizes multitouch gestures and apparently has a toughened coating for easier cleaning, though it's not a Gorilla Glass panel as Samsung uses on its tablets. As you'd expect from an IPS panel, the viewing angles are broad no matter whether you have the TouchPad in portrait or landscape orientation, though we did find the colors were a little more yellow than the purer whites on the iPad 2. Still, it's a bright and usable display.
Above the screen is a 1.3-megapixel camera paired with a digital microphone; HP has resisted the urge to put a camera on the back. While that may leave it with a gap on the spec sheet in comparison to most other high-profile tablets of today, it's arguable quite how much a rear camera would actually be used on a tablet. Most people we know use their phone for photography, finding the act of holding up a 10-inch slate pretty counterintuitive. There are stereo speakers, too, and HP has turned to Beats Audio to polish its output just as the specialists have done for certain models in the company's laptop range. The promise is more "sonic integrity" for your music, though in reality we found it generally meant somewhat louder audio, not necessarily a bad thing but hardly groundbreaking.
Specifications
HP has opted for Qualcomm's 1.2GHz dual-core Snapdragon APQ8060, the non-3G version of the chip found inside the HTC Sensation. That makes it – on paper at least – faster than the Apple A5 based iPad 2 and the various Tegra 2 powered Android Honeycomb tablets, with their 1GHz clock speeds. Qualcomm's selling point for its chip is the asynchronous cores, which can be run at different speeds depending on the demands of the system. That means, so the engineers insist, that power consumption is reduced, since one core can be partially active rather than the all-or-nothing of rival processors.
The Snapdragon is paired with 1GB of memory and either 16GB or 32GB of flash storage. Wireless connectivity includes dual-band 2.4/5GHz WiFi a/b/g/n as well as Bluetooth 2.1+EDR. At launch there are no WWAN-enabled models, however, so if you want to get online while on the move then you'll need to find a WiFi hotspot or tether the TouchPad to your phone.
Software and Performance
The TouchPad runs webOS 3.0, the latest version of the platform, and we've covered it comprehensively in our standalone review. Developed with both tablets and smartphones in mind, HP and the acquired Palm team have done a generally excellent job in scaling the best parts of the OS to suit the TouchPad's bigger screen.
[vms 134ca204bf6b2481fec4]
We'd recommend reading our full webOS 3.0 review for all the details, but the highlights are the multitasking system, Just Type and the messaging and Facebook integration. As on webOS phones, the TouchPad uses a series of cards to represent open apps: hit the home button and you see all of the cards arranged across the screen, each providing a live view of the app in its current state. This last element is far more useful when you're dealing with the 1024 x 768 resolution of a tablet panel: you can see when a new email arrives in your inbox in the card view, and even preview the sender and subject without having to tap into the app itself.
Cards can be reordered by long-pressing and dragging them elsewhere in the horizontally-scrolling list, or they can be dropped on top of each other whereupon they convert into decks: groups of clustered cards. HP pushes the deck idea as a way of collecting together related tasks and projects, so you could have a draft email and a few webpages in a deck as you research for a new message. Closing an app involves flicking it up, off the display.
Rather than provide widgets or homescreen icons, webOS uses a launcher at the bottom of the screen – with space for five user-customizable apps – together with a full applications page. It works well, but the TouchPad does look somewhat barren when there are no apps open, with its empty expanse of desktop. There's also the Just Type bar, which looks like a regular search field but in fact opens up a range of local and online search, together with shortcuts to posting new messages to Facebook or in emails or IM conversations.
Start typing, and you see search results from email headers, contacts, browser bookmarks and history, search history and local apps, along with Google results; however, you also get the option to use what text you've entered as the start of an email, appointment, memo or IM (webOS 3.0 supports Google Talk, Yahoo! IM, Skype IM, AIM and SMS, the latter requiring a webOS 3.0 phone like the Pre3 be paired via Bluetooth). Finally, if you've logged into your Facebook account, you can set the text as your latest status. Third-party developers will be able to hook their apps and services into this Just Type system, and hopefully among the first will be Twitter, since the short message service is conspicuous by its absence.
In contrast, HP's Facebook implementation is perhaps the best we've seen on a tablet to-date. The company – not the social network – cooked up a new Facebook app specifically for the TouchPad, with a two/three pane design that supports your wall, friends walls, messages, Places – with support for checking in and finding nearby contacts, with mapping provided by Microsoft's Bing Maps – and galleries, including the ability to upload shots directly to a new or existing album. The only key things missing are Facebook Chat support and the ability to log in as the admin of a group or fan page you manage. Otherwise, it's an app Facebook itself could learn from.
Text entry is via the on-screen keyboard, and HP has made the 'board resizable to suit those who prefer bigger buttons and those that like to have more of the desktop visible at any one time. There are four sizes to choose from, each with a dedicated number row above the QWERTY, which means less tapping between layouts as on the iPad's keyboard.
Somewhere the webOS experience falls well short, however, is in third-party apps. The App Catalog may have been around on the first Palm handsets to hit the market in June 2009, but over two years later there are still a mere 9,000 or so smartphone apps to choose from. The TouchPad has an even more limited selection: "a minimum of 300" titles at launch, HP tells us. Around 70-percent – or approximately 6,200 – of the apps intended for webOS smartphones will reformat to suit the higher-resolution, 9.7-inch display, a proportion that's steadily increasing as more developers get to grips with the Enyo framework. Enyo is the new SDK, which allows apps to be designed to rescale appropriately to different form-factors, so that the same software can run properly on both smartphone and tablet.
We had high hopes for the TouchPad's 1.2GHz dual-core processor, but daily usage is mixed. Apps load quickly and screen rotation is swift, but tap-to-zoom animations in the browser are jerky. Meanwhile Flash animations – the TouchPad supports Flash Player 10.3 beta – are generally slow to load, with the same pages rendering quicker on the Samsung Galaxy Tab 10.1 than in the HP browser. Nonetheless, hiccups aside we managed to load the TouchPad down before overall performance suffered: we reached fourteen decks, the majority with 2-3 cards and one with 7, before the slate became sluggish to respond.
HP Touchstone and Keyboard
Just as the original Pre had its Touchstone inductive charging dock, so the TouchPad has a wireless dock of its own. Now shaped like an easel, and so supporting the tablet in both portrait and landscape orientation, it automatically charges the TouchPad when docked as well as loading up the Exhibition app. This basically turns the slate into a digital photo frame, by default showing a selection of photos from the gallery along with date and time. Dig into the settings, however, and you can choose specific images to scroll through or the agenda from the webOS calendar. It's also possible to have photos pulled down from Facebook galleries, a great way of keeping up to date with new images your friends add.
[vms ace2237256f4c712f61b]
Unfortunately, the Touchstone is still charging-only, and there's no wireless data connection. We would've liked to have seen HP continue Palm's legacy of driving the cord-cutting process, and perhaps add in wireless HDMI or at least some sort of cable-free sync with the included HP Play PC app for side-loading content and playlists. There's no HDMI support, either, nor native DLNA streaming. It's priced at $79.99.
The other accessory HP supplied to us is the TouchPad Wireless Keyboard, a $69.99 Bluetooth 'board complete with a dedicated cards button to show all the open apps. The keys themselves are a similar low-profile sort to the chiclet keyboards common on laptops, and while that means they're not exactly the pinnacle of typing sensation, it's definitely more usable for entering large quantities of text than the on-screen keyboard.
Touch to Share
There may be no wireless HDMI or NFC, but HP has been experimenting with Bluetooth for its Touch to Share feature. Hold a webOS 3.0 phone – such as a Pre3 – near the TouchPad's home button, and an open webpage on the handset will automatically open up on the tablet, too. It works in reverse as well, useful if you want to continue reading a page on your phone when you're leaving the house.
The link also works with incoming SMS messages on your handset, with those texts automatically slotted into IM conversations on the TouchPad, together with allowing you remote answering and initiating of calls. Unfortunately, that's pretty much where Touch to Share runs out right now, and we're not sure it's enough to persuade users to opt for webOS 3.0 on both their tablet and their phone. There's definitely a gap for HP to extend the functionality, such as transferring audio and video playlists across from one device to the other – preferably with the playback switching automatically between the two – or by switching in-progress Skype video calls over.
Battery
The TouchPad's 6300-mAh battery is slightly smaller than the packs in the Galaxy Tab 10.1 and iPad 2. HP suggest you'll see up to 8hrs of solid web browsing over WiFi, up to 9hrs of video playback, or up to 3.4 days of music playback. Of course, real-world use is a mixture of all three, messaging and other apps, along with some time in standby.
In practice, we found longevity was much akin to its rivals. After a day of mixed use, the TouchPad was still showing roughly fifty percent of its charge left; with more realistic use, rather than amid the review process, you could certainly keep the TouchPad running for longer. It's straightforward to drop the tablet onto the Touchstone dock, too, and so keep it topped up that way.
Wrap-Up
The HP TouchPad is a two-part story, first the brand new webOS 3.0 and second the tablet hardware it's launching on. webOS itself is everything we hoped it would be on a larger touchscreen, the slick multitasking system, unobtrusive notifications and neatly designed core apps all-scaling perfectly to the TouchPad's 9.7-inch display. If the iPad feels like jumping from app silo to app silo, and Honeycomb is a jumble of mixed intuitiveness, the TouchPad user experience is holistically polished.

Where the TouchPad benefits over HP's incoming smartphone range, such as the Pre3, is in the absence of Windows Phone 7 on tablets. Microsoft's slate strategy means the investment it's putting into the phone OS isn't reflected in tablet computing; instead, it's dreary Windows 7 until Windows 8 arrives next year. Rather than facing three increasingly strong rivals, as webOS phones do, the TouchPad only really has to challenge Honeycomb and iOS.
Not to say that isn't a significant obstacle, and the TouchPad's uninspired hardware doesn't really help. Lacking the premium feel of a metal tablet, or the slender build of other recent slates, the fingerprint-magnet TouchPad runs the risk of feeling cheap and bulky. That's not even half true, though, as HP has matched Apple's iPad WiFi pricing. HP's Touchstone charging is slick, but the much-vaunted Touch to Share functionality is a mere shade of what it could be.
None of those middling advantages are likely to help HP in its biggest test: encouraging developers to take webOS seriously. The recent confirmation that talks to license the platform are ongoing could well do more for it, if HP can get a sufficiently big name onboard. We hope it can, since the biggest shame of all is that, thanks to webOS 3.0, the HP TouchPad offers one of the best tablet experiences around, and we can see many would-be tablet buyers missing out on that while the platform keeps its marginal status. Uninspiring hardware, perhaps, but we'll happily look past that based on webOS' charms.