Samsung Exhibit 4G Review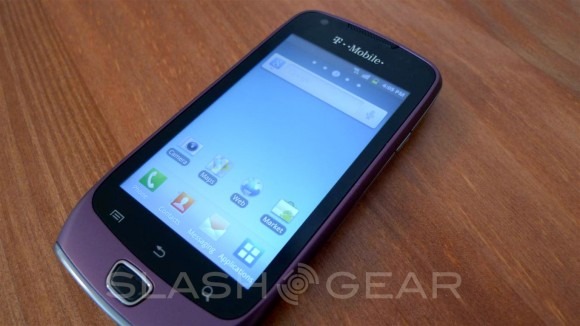 I've had the Samsung Exhibit 4G for a week or so now and I've actually been using it more than I thought I would. We mentioned the Exhibit 4G coming to T-Mobile back in June then I eventually got my hands on it for a little unboxing. To find out how well this nice sized mid-range phone does read on past the break.
To get a little idea of the box and all the goodies inside as well as look at the hardware before I explain further here is the hands-on video for you all.
T-Mobile Samsung Exhibit 4G hands-on and unboxing:
[vms 90be4cb794ec6a234595]
Hardware
The Samsung Exhibit 4G is on the market now and comes with Android 2.3 installed and a 1GHz Hummingbird processor under the hood. And that's all you need to know right? It has 3.5" display with a 480x800 resolution. The handset packs a VGA front-facing camera while the shooter on back is 3MP. 1500 mAh battery as well as 512MB RAM and 1GB ROM. Of course, the phone wouldn't be the Samsung Exhibit 4G without that 4G connectivity which is accomplished through T-Mobile's HSPA+ network and speeds seemed plenty fast from day to day use. It comes out of the box with a 4GB MicroSD card but will support up to 32GB for those wondering.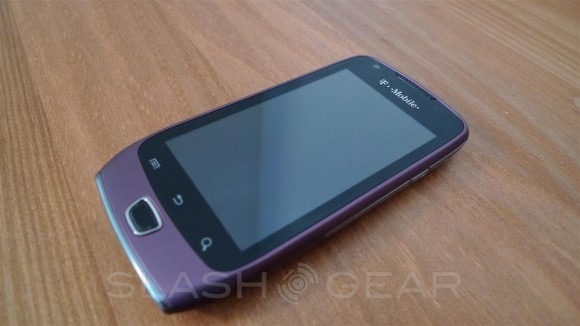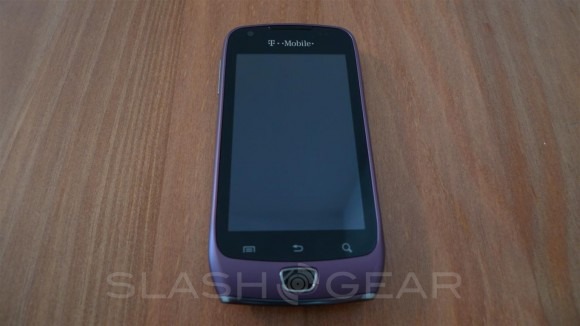 The build quality is pretty solid I must admit, it still has a plastic cover on the rear as most Samsung phones do but it doesn't feel cheap either. It actually has a pretty good feel and weight for its size. I will mention that the MicroUSB port up top for charging and syncing was a little pest and took some work to get the charger plugged in. Usually I get used to that pretty fast but I had to pay more attention than I would have liked while actually plugging the phone in but I'm weird like that. And the angle and cover being in the way didn't help either.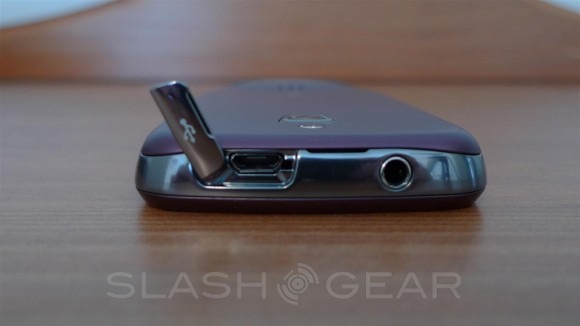 Software and Performance
As far as software and performance I can't really complain here, if you have owned a Samsung Android phone in the past you should feel right at home. For those just welcomed into the Android world by getting this device courtesy of T-Mobile I think you will be impressed and thoroughly enjoy it.
Android 2.3 Gingerbread is the latest installment of the popular Google OS and everything feels pretty stock other than the few changes thanks to the Samsung Touch Wiz UI. They have only changed a few things like the notification pull down bar or the menu's and that is about it. If you have used Android before everything is just how you'd expect it to be. Out of all the custom user interfaces available for Android Sense UI from HTC is the best looking but Samsung's Touch Wiz seems simpler and easier in my opinion.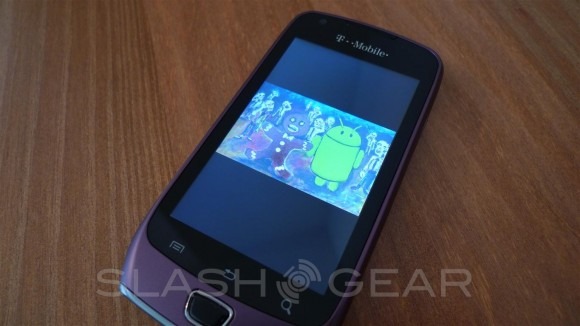 The 1 Ghz Hummingbird CPU is the same processor in most of the Samsung Galaxy S phones like the Vibrant so performance is not lacking here either. The phone zips along plenty fast and seems plenty stable. I ran a few benchmarks and even though 2.3 probably helps it was actually beating the Galaxy S and not far behind the Droid X from Motorola. That makes this a pretty great buy for those looking for a nice phone at a good price.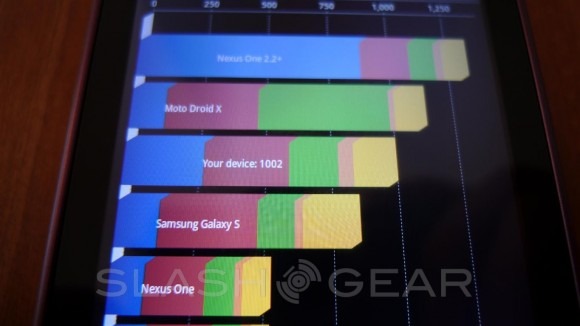 Like we mentioned in the unboxing the Exhibit 4G comes with some pretty great apps and games pre-installed, not just junk I wish I could uninstall. Some of those include Bejeweled 2, Doodle Jump, and Scrabble. As well as other things like the Swype keyboard and Slacker Radio.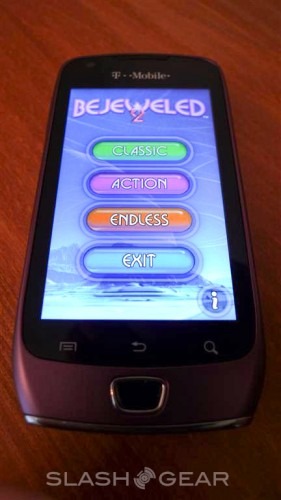 Camera and Battery
The battery weighs in at 1500 mAh and with an average 1 Ghz CPU and a 3.5" display the battery life is about average if not a little better. I may not have sent as many tweets or emails as I usually do but it lasted all day without any problems. I'd say a good 8-10 hours off a single charge. It will make it through your entire day of social network updates and the occasional gaming or emails as most Android phones do. I'd say it is on par with most on the market.
The camera is only a 3MP shooter but I was actually pleasantly surprised with how well it performed in a mild lit room. I do have a large window in front that may have helped out with some natural lighting but for 3MP it looked better than many 5 MP camera phone pictures I've seen in the past. Look at my cute puppy I snapped a few photos of. Can you believe he is just barely a year old? One issue is the auto focus is dead slooow and it took more than a few attempts to get the shot I wanted, but shutter speed was good and the photos turned out pretty clear and crisp.
I think I may need to give Bentley a SlashGear shirt or collar for next time. What do you guys think? The front facing camera is VGA so it is nothing special and takes a pretty meh photo but is enough for a quick video chat or two, otherwise I'd post some samples but we've all seen how those turn out. T-Mobile does bundle Qik for those that would like to try.
Wrap-Up
The Samsung Exhibit 4G comes in right where you'd expect it to, much better than the Gravity Smart or the terrible Samsung Dart but not quite as nice as something like the Galaxy S 4G. With above average performance as well as the latest Android 2.3 OS and a great 3.5" screen it really is what I'd consider right around the top of the mid-range list. It may not have a dual-core CPU or a 8MP camera but for the average user over at T-Mobile I think this is a pretty solid buy for anyone. It would fit pretty perfect in the hands of a first time smartphone or Android user might I add. If I had to choose between the Exhibit 4G or the Samsung Gravity Smart I'd go for the Exhibit 4G that is for sure.
Currently T-Mobile is offering the Samsung Exhibit 4G for a great price of just $79.99 with a new 2-year contract, with a suggested retail price of $349 for those that might be on a contract free plan or would just like to buy it outright. It comes available in black or violet. The mainstream and top end market has been really heating up lately in Android but this phone sits just below that category and it makes for a good position. It should make plenty of customers happy.
Feel free to look over the rest of the photos available in the gallery below. Thanks for reading!