Samsung Gravity Smart Hands-On and Unboxing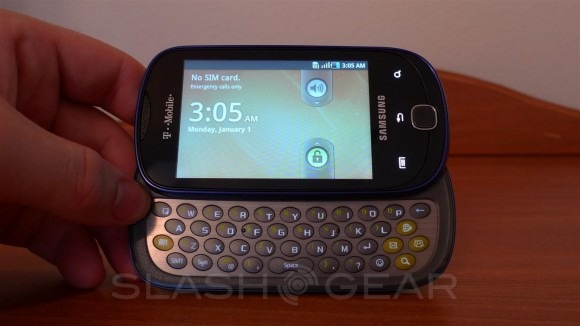 I'm back today with my lucky hands on another mid-rage device from Samsung that will be on T-Mobile. We have the "cute" Samsung Gravity Smart Android Slider for you all to check out today. While the Gravity Smart wont replace the Sidekick it is a nice little phone for those that love to text, or just love hardware keyboards on their phone. It is a sleek design with nicely rounded edges, the build quality is decent but the back cover leaves something to be desired. It's no Galaxy S 4G but then again this device is not the most expensive on T-Mobile either.
Just like its sibling the Samsung Exhibit 4G I opened up yesterday the Gravity Smart also comes with some decent apps pre-loaded, things you wont just want to delete like Bejeweled 2 and UNO. Yup remember UNO? Well now you can play it on your Gravity Smart because it comes pre-installed for your convenience. It does come with the Swype Keyboard as well but that seems odd since I'm assuming most will use the hardware keyboard but more options are always a good thing.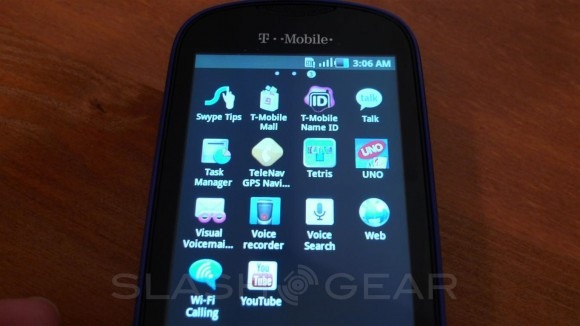 Like I said above the overall build quality is quite nice but the case that covers the back has almost a cheap plastic type feel to it that makes it seem a little lower quality than it probably is. Sadly the specs aren't the best but for a mid-range device aimed more at texting than gaming or entertainment it should do fine. It sports a 3.2" display and comes in running on Android 2.2 FroYo, it has a 3 MP camera on the rear with LED Flash, pre-installed 2GB MicroSD card and more all powered by a decent little 600 Mhz CPU to keep things chugging along.
Samsung Gravity Smart hands-on and unboxing video:
[vms e782c65a973ef76fd540]
For now I'm going to be playing with this little slider text messaging machine for the next few days and see what I think, first off I can already say I wish the spacebar was a full key and didn't have the little swirl to it as I sometimes miss the key. I'll be sure to get a few rounds of UNO played just for old times sake and I'll let you all know how it goes. Feel free to ask any questions down below in the comment section and I'll check it out. Don't forget to view the photos in the gallery below.