T-Mobile lands budget Samsung Exhibit 4G and Gravity SMART Android phones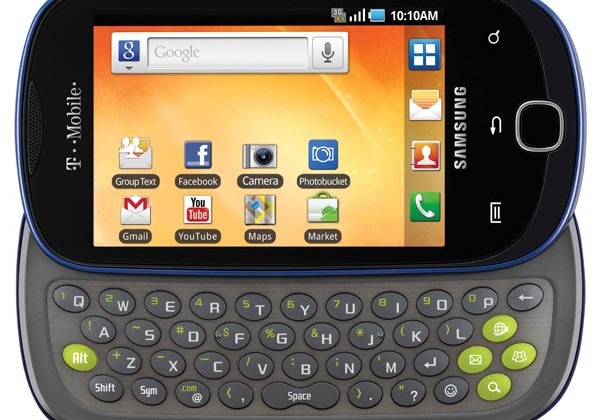 If you are a T-Mobile subscriber that would like to get a new smartphone running the Android OS, but you don't want to spend the $200 or more than some of the high-end smartphones sell for, Samsung has a pair of new offerings on the T-Mobile network for you to check out. The new phones are the budget friendly Samsung Gravity SMART and the Exhibit 4G. Each of the phones will be offered for under $100 after a $50 mail-in rebate and signing away two years of wireless freedom.
The Exhibit 4G has a touchscreen and runs Android 2.3 Gingerbread. The processor is a 1GHz offering and the smartphone comes loaded with entertainment options. It supports T-Mobile TV with free content from ABC New Now, Fox Sports, PBS Kids, and more. It can also access the Samsung Media Hub for movie rentals. The phone is also loaded with games like Scrabble and others. The Exhibit 4G will come in violet or black colors and the 4G network supports up to 21Mbps downloads. The camera is a 3MP unit with video recording capability.
The Gravity SMART has a 3.2-inch touchscreen and a slide out QWERTY keyboard as well. The smartphone is made for messaging with Group Text and the keyboard has four rows of keys. The SMART has Swype for easy text input on the touchscreen and the phone has a full HTML web browser. The device also has a 3MP camera with LED flash and camcorder functions. Both smartphones will land in June.
[via Android Community]