Justin Timberlake To Bring MySpace Back?
The death of MySpace seemed near as News Corp. was rumored to either offload the platform or shut it down completely before this Thursday—its fiscal year end—to get the money losing property off its books. Thankfully, today a deal was reached to sell the property to Specific Media for $35 million, a disappointing number compared to the $100 million target and the original $600 million purchase price back in 2005. But, nonetheless, there is new hope today for MySpace, as it transitions to new hands and adds a celebrity stakeholder.
It's being reported that Justin Timberlake will be taking an ownership stake in the newly sold social platform. A press release confirmed that Timberlake will be playing a "major role" in the strategy and creative direction of MySpace, but does not give an exact figure on just how much the celeb has in stake.
"There's a need for a place where fans can go to interact with their favorite entertainers, listen to music, watch videos, share and discover cool stuff and just connect. Myspace has the potential to be that place," says Timberlake. "Art is inspired by people and vice versa, so there's a natural social component to entertainment. I'm excited to help revitalize Myspace by using its social media platform to bring artists and fans together in one community."
It's a bizarre event of fiction versus reality, considering the pop star recently played the role of Facebook president and infamous Napster founder, Sean Parker. The event has elicited plenty of sarcastic quips with some questioning whether Timberlake realizes he was "just acting and isn't really Sean Parker."
It could be a tall task for Timberlake, but it's certainly one of the best things to happen for MySpace. The sinking site is in desperate need for something to hold on to and Timberlake's attachment could be enough to spark other celebrity endorsements and revive interest as the site continues to refocus as a social hub for music and entertainment.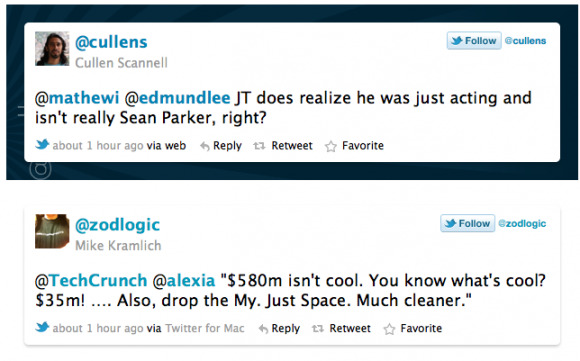 [via TechCrunch]