SlashGear Weekly Roundup Video - July 24, 2011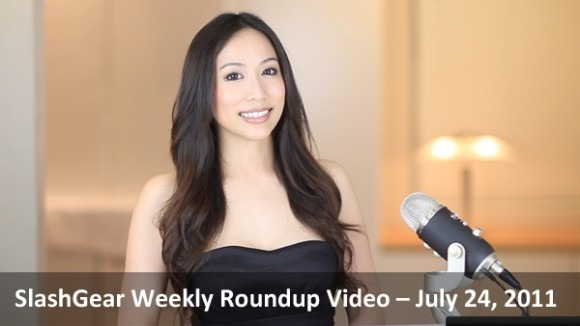 The much anticipated Mac OS X Lion touched down this past Wednesday along with revamped MacBook Airs, Mac Minis, and Cinema Displays. Apple's on a winning streak with more than 1 million Lion copies sold in the first day and a record breaking third quarter earnings call. Intel and Microsoft also did quite well, but Nokia hugely disappointed. Other record setting numbers from Google and Spotify round out the week. Continue after the cut for the video and full roundup list.
[vms c84ce983ff9157f8b7f8]
Apple:
Mac OS X Lion available now!Apple MacBook Air updatedApple Mac mini refreshed: Sandy Bridge and dual-drive ServerApple Thunderbolt Display revealedOS X Lion update kills Flash Player hardware acceleration and moreAdobe admits OS X Lion Flash claims were falseiTunes 10.4 and iWork 6 Updates Released For OS X Lion Full-Screen SupportMacBook Air 13″ core i5 hands-on (mid-2011)OS X Lion Sold Over 1 Million Copies In First DayComplete Apple retail store faked quite convincingly in ChinaApple Killing Off More Boxed Software From StoresApple Hints At iPhone 5 In September?Apple Q3 Earnings Exceeds Expectations, $28.57 Billion Revenue, $7.31 Billion Profit
Intel, Microsoft, and Nokia:
Intel Q2 Earnings Beat Expectations, Netbooks Down, Cloud Computing StrongMicrosoft Reports Solid Q4 Earnings Thanks To Enterprise, Servers, And XboxWindows Phone Mango App Submissions In August Support September LaunchNokia "Sea Ray" Windows Phone caught on videoNokia Q2 financials "clearly disappointing" says CEO Elop: €487m loss
Google:
Google+ For iPhone Now The Top Free App In iTunesGoogle+ Games Stream confirmedGoogle acquires Fridge: Groups for Google+ incomingGoogle+ hits 20m unique visitors; Social chief admits brand strategy was "a mistake"Google+ Celebrity Acquisition Plan In The WorksGoogle Is Shutting Down Google Labs And Some Experimental ProjectsWhat Google Labs Shutting Down Means for YOU the Google Lover
Spotify:
Spotify Reached 70,000 Paying Subscribers In First Week Of U.S. LaunchSlashGear Spotify Invites Now Up for Grabs!
Reviews & Hands-on/Unboxings:
Verbatim Bluetooth Mobile Keyboard ReviewMac OS X Lion ReviewMacBook Air 13-inch core i5 Review (mid-2011)Toshiba Thrive ReviewLenovo IdeaPad K1 and ThinkPad Tablet hands-on