Microsoft Reports Solid Q4 Earnings Thanks To Enterprise, Servers, And Xbox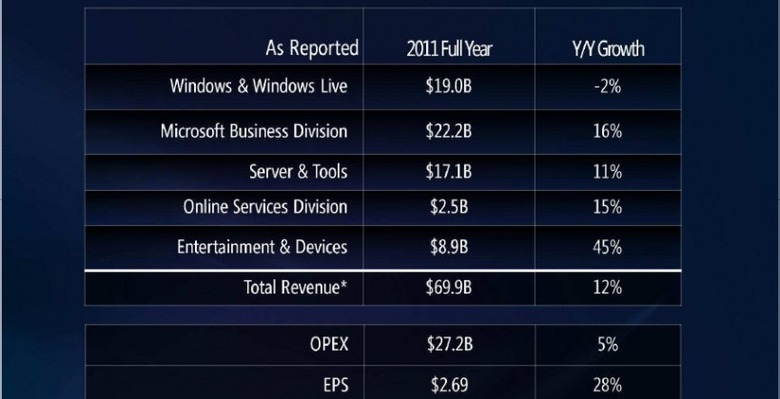 It's one of those weeks lined up with quarterly earnings calls. Nokia just had a horrid earnings report following Apple and Intel, both reporting record earnings. Luckily for Microsoft, they also had strong numbers to announce with pride thanks largely to enterprise upgrades, server products, and the popularity of the Xbox.
Microsoft reported a Q4 revenue of $17.37 billion, up 8 percent from the same quarter last year, beating expectations of $17.23 billion. Earnings hit $5.87 billion, or 69 cents a share, which is up 35 percent from last year. This double digit growth can largely be attributed to a jump in enterprise business due to an upgrade cycle.
With rising competition from Apple, Microsoft's PC business has slowed, but remained strong thanks to enterprise upgrades for its Windows and Office suites. Microsoft managed to sell roughly 400 million Windows 7 licenses and 100 million Office 2010 licenses. It's Server and Tools division revenue also grew by 12 percent.
Microsoft's Entertainment and Device Division revenue leaped by 30% in Q4 thanks to the popularity of its Xbox and Kinect products, with the Xbox 360 having been the top-selling game console in the U.S. over the past twelve months.
For fiscal 2011, Microsoft earnings of $23.15 billion on revenue of $69.94 billion is up 12 percent from last year.
[via Microsoft]