Verbatim Bluetooth Mobile Keyboard Review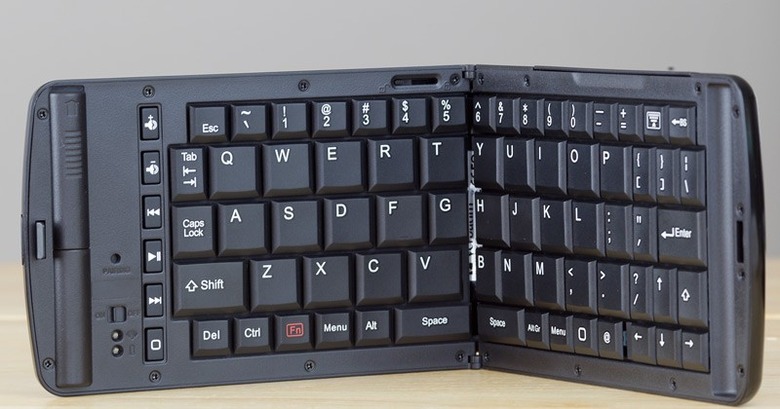 For many of us, typing on our iPhone or iPad is usually limited to entering passwords or replying text messages. But if you often work on the go and have to bang out emails, picking up an accessory such as the Verbatim Bluetooth Mobile Keyboard will save you a lot of time and frustration. This portable keyboard is designed to be ultra-compact while delivering the convenience of a traditional keyboard along with some extras.
Hardware
The Verbatim Bluetooth Mobile Keyboard is designed to work with your iPhone and iPad (iOS 4 or higher) but can also work with Bluetooth-enabled Android 3.0 tablets and the BlackBerry PlayBook. It comes in a nice leather carrying case and measures roughly 6.25" x 4" x 0.75" when folded closed. Its plastic body feels relatively solid and has some weight to it that's not as ideal but also not enough to be a problem.
The keyboard clicks open nicely upon pressing a latch and sits in place thanks to four small rubbery feet. The standard style keyboard, as opposed to a chiclet style keyboard, has some non-standard key sizes to fit into a smaller footprint. For instance, the "G" and "B" keys are a bit smaller to fit on either side of the center hinge while the "V" key is larger and all the top-row number keys are much smaller. The space bar is also split into two keys. For touch-typers this may slow you down a bit, but should be quick to get used to.
There are also some additional media controls and keyboard shortcuts that work especially well with the iPhone and iPad. There are the usual play/pause, fast-forward, rewind, and volume up/down buttons on the left side along with some dedicated keys including Control, Function, Alt, Alt Gr, @, and Menu, which works with other keys to replace hot keys or shortcuts such as "Ctrl+V" for pasting. Two dedicated Home keys are also available with square symbols as is a key for toggling on/off the on-screen soft keyboard.
It uses two AAA batteries that fit into a compartment on the left side next to a battery life status indicator LED, the Bluetooth connection status LED, the on/off switch, and a recessed pairing button. Additionally, on the top left side of the keyboard there's a latch for locking the keyboard in the open position while on the top right side there's a hidden iPhone stand that pulls out to spring open.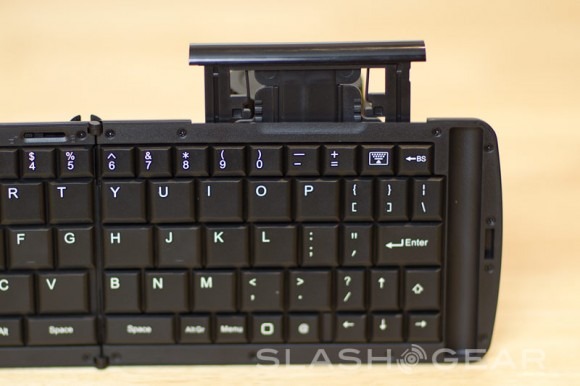 Performance
Pairing of the keyboard with an iPhone and iPad worked smoothly although it requires you to use a paper clip or a pen to press the recessed pairing button. This would have been better if designed differently. The blue LED indicator is very bright, a little irritating on the eyes and it blinks rapidly when you first turn on the keyboard. Once paired, however, it blinks every couple of seconds and would be alright if it wasn't so darn bright. Thankfully the battery indicator LED doesn't light up unless you're getting low on power.
The unusual key sizes did take a bit of getting used to and the typical "Ctrl+C" and "Ctrl+V" copy and pasting required replacing the Control key with the Menu key. There are also a host of other hot key combinations for Android-specific functions such as for quickly bringing up Gmail, Browser, Calendar, Maps, and YouTube.
The included stand works nicely for your iPhone sitting in the landscape orientation, not so well in portrait mode, and forget about trying to keep an iPad on it.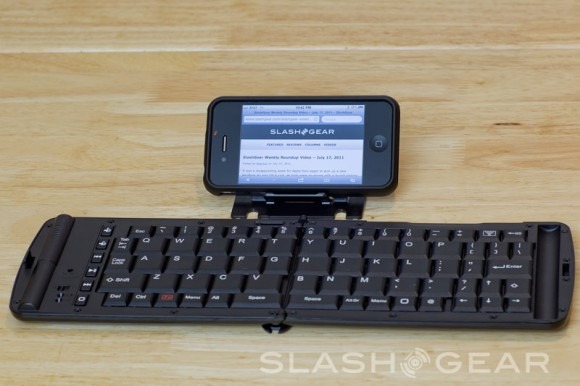 Wrap-Up
Overall the Verbatim Bluetooth Mobile Keyboard is a good choice if you'll require heavy typing on your iPhone or iPad. It's a step up from the more flimsy alternatives and is just as portable in size. Although it's a bit heavier, it provides a much more solid typing experience. The Verbatim Bluetooth Mobile Keyboard is a bit pricey at $104, but a quick search shows that it can be had for under $60 on Amazon, which makes it an excellent new accessory to help you stay productive while on the go.