SlashGear Weekly Roundup Video - July 17, 2011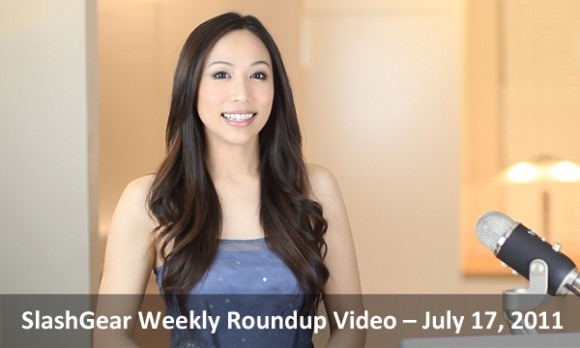 It was a disappointing week for Apple fans eager to pick up a new MacBook Air and OS X Lion, as both were no-shows with a launch looking to be next Thursday or Friday instead. The much anticipated Spotify music streaming service did open its doors to the US finally, although by invite-only. Google had an excellent earnings call and Microsoft revealed upcoming some Windows Phone Mango handsets. Continue after the cut for the roundup video and links.
[vms 7ac39d782741cd794002]
Apple:
Apple's New MacBook Airs To Launch Late Next Week
Apple's Revamped LED Cinema Displays With Thunderbolt Coming Soon
Apple iOS 4.3.4 Released, PDF Vulnerability Fixed
ITC Finds HTC Infringes On Two Apple Patents
Google:
Android patent situation not critical insists Google CEO
Google+ Has Over 10 Million Users, 1 Billion Items Shared Per Day, Says CEO Larry Page
Google Activates 550,000 Android Devices Daily, Reaches 250,000 Android Market Apps
Google+ Corporate Accounts Testing To Launch Next Week
Google Games discovered in Google+ code
Android Market Files Hint At Google Music Store
Spotify:
SlashGear 101: What is Spotify?
SlashGear Free Spotify Invite Giveaway
Microsoft:
Microsoft Reveals New Windows Phone 7 Mango Handsets From Samsung, Acer, And More
Fujitsu Windows Phone could be tweaked 12MP Android handset
Microsoft To Ship Windows Phone Mango Devices By September?
Netflix:
Netflix Announces Price Hike, Splits DVD And Streaming Plans
Is this the chance Netflix rivals have been waiting for?
Netflix lands on Nintendo 3DS today
Blockbuster Attempts Neftlix Customer Thievery in Wake of Price Hikes
Reviews:
Android Market 3.0.26 Hands-On and Review
Spotify Premium Mobile App and Service Review [USA]
Swiftkey X Review for Android Handsets
T-Mobile myTouch 4G Slide Review