T-Mobile myTouch 4G Slide Review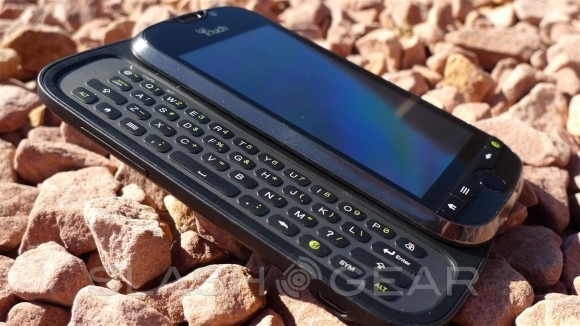 In my possession I have HTC's latest attempt at a slider. This here is the myTouch 4G Slide running over on T-Mobile with those super fast 4G speeds. It takes everything you liked about the myTouch 4G and adds those few features we liked in the 3G slide and poof — we have the myTouch 4G Slide. This bad boy has a dual-core 1.2 Ghz CPU and a slide out QWERTY keyboard to keep you all busy. I must admit though, the camera is pretty neat too. Head on past the break for more details!
So you guys can get a quick idea of the hardware I'll start with the unbox video and then move on to the good stuff.
myTouch 4G Slide hands-on and unbox video:
[vms fd027c6eba6b8f494d2e]
Hardware
This phone comes to you with the same great build quality HTC is known for. As soon as you handle it for a few minutes and truly get a feel for it you will already feel like you've got your moneys worth. It might be slightly heavy but you should be expecting that with a hardware slide out keyboard device. Now down to the good stuff. This phone packs in a lot of features into a pretty small package. a 3.7" Super LCD display, 1.2 Ghz dual-core Snapdragon processor, 768 MB Memory and 1GB ROM, plus 8GB Micro SD is included — and then there is the camera. The rear 8MP camera is a true beast and does a great job with dual-LED flash to help out if needed, the phone also has a VGA front facing camera for those in need of some video chat.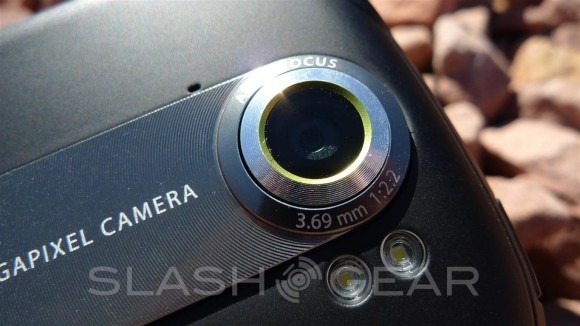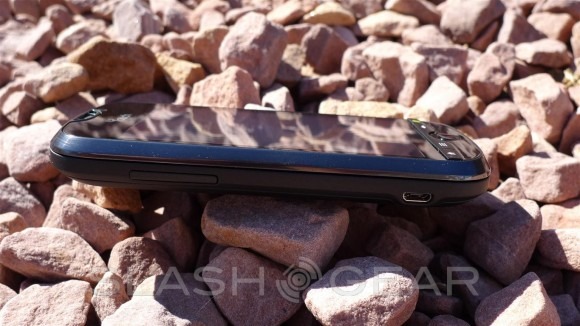 The keyboard is one of the best I've used on a smartphone. They are nice and evenly spaced, they have no rivets or angles, and the amount of pressure needed seems just right. It has a very similar feel to the G2 that was also on T-Mobile and I feel like this keyboard is much much better than say the Motorola Droid. It is easy and comfortable to use the keyboard and I actually could almost type as fast as I can swype these days (not really, but close). They have a great design for the keyboard and for people that want a actual hardware keyboard this would be a great choice. The little LED lights for CAPS and ALT are extremely convenient and all keyboards should have that feature pictured below.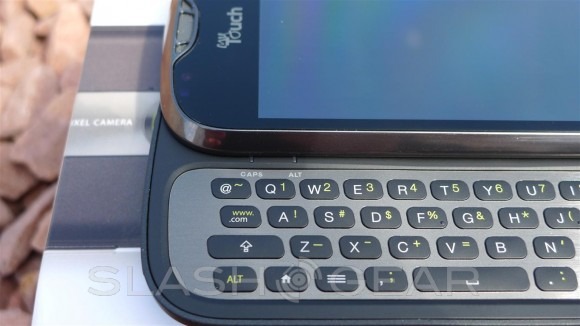 Software and Performance
Now as you know the Slide is running with Android 2.3.4 but it also is powered by HTC Sense UI. It does however have the T-Mobile Espresso overlay so things looks similar to stock Sense 3.0 phones like the Sensation or the EVO 3D but there are a few changes to icons and some menus. The dual-core CPU keeps things speeding along plenty quick and I didn't notice any stuttering of any sort. Scrolling through the Sense UI homescreens wasn't as smooth as the EVO 3D but it was close, I'm not sure what causes this and it might be the Espresso UI overlay.
It does have Android 2.3.4 as well as a front facing camera but they have added Qik for your video calling needs rather than using G Talk. I would have tested the front camera but we all know how that goes these days. Quality could be better but its decent for what it is. Speaking of performance I did however run a few benchmarks because we all love those. Quadrant racked up a score of just above 2200. For comparison the higher resolution EVO 3D scored around 2100 in my EVO 3D Review. Here are a few results from both Quadrant, and the new benchmark app Vellamo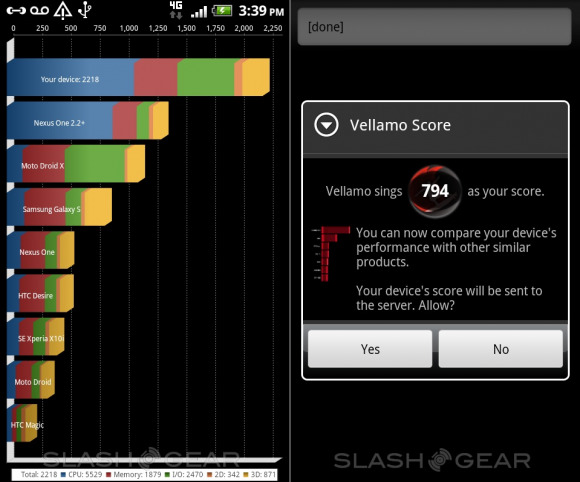 As far as pre-loaded apps — It does come with a few things I'd probably never use courtesy of T-Mobile. Other than those you get Swype, Bejeweled 2, Netflix (Yes and it works great), Qik, Flashlight app, task manager, and Zinio reader just to name a few.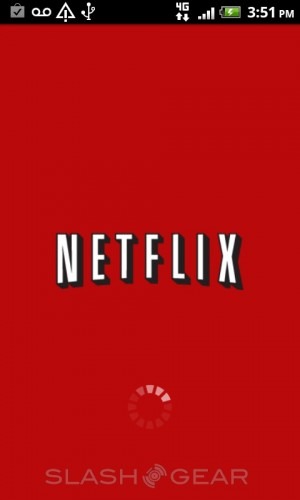 Camera
Lets talk about the camera for a minute. The camera on the myTouch 4G Slide is supposed to be pretty great and from my initial impressions it rocks. HTC is claiming "the best camera of any smartphone" and it might just be true. The sweepshot panoramic mode alone is pretty awesome. Here is a list of the camera specs:
8 MP lens with auto face detect and dual LED flash
Low-light performance with a backside illuminated sensor and wide aperture lens with a f-stop of f/2.2
Zero shutter lag
SweepShot for capturing panoramic photos with a single click
ClearShot HDR images
and Burstshot for capturing multiple photos in a quick burst so you don't miss a thing
Full 1080p HD video recording and you can edit right on the phone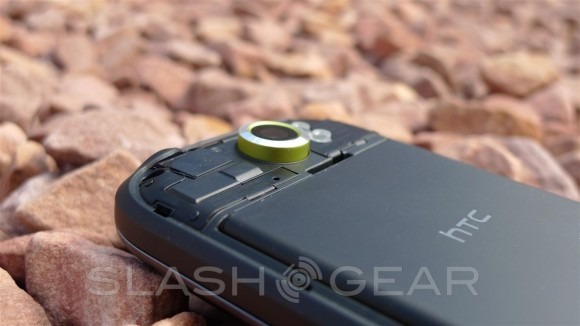 I went ahead and tested the camera over the past week and it does take some amazing photos. The Sweepshot was extremely easy and you click once and just move the camera to get perfect panoramic pictures. You don't have to try and line up the shots yourself anymore. Check it out.

The Macro mode is pretty stellar also, picking up all the details and dust right on my pool table. I must be special because somehow all the ball numbers were just aiming the right direction by accident (amazing).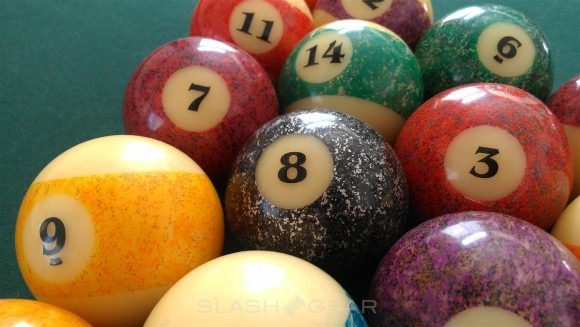 What SlashGear review would be complete without testing the camera on my dedicated model and young puppy named Bentley so here's one of him taken with the myTouch 4G Slide camera. He usually isn't allowed on the couch and you can tell by the look on his face.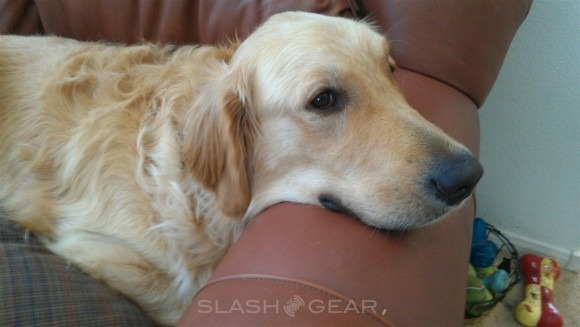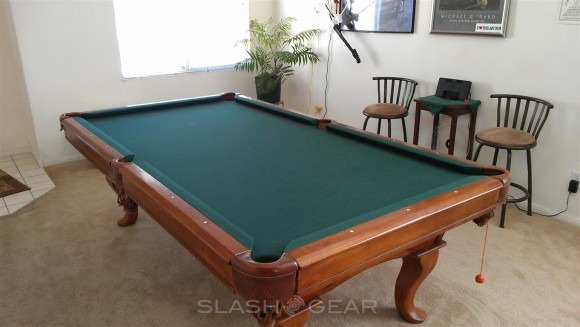 Next up is a little sample of the recording. The myTouch 4G Slide can record in full 1080p and the video comes out pretty amazing. The colors are sharp and the video doesn't get choppy. From the past few phones I've used HTC seems to have great cameras.
[vms 6b3799a3d9c728ee7424]
Battery Life
The battery is just about average in its classification at 1520 mAh and I was able to get a full days worth from it. I'd say at least 8-10 hours of uptime with daily use such as texting, calling, browsing the web and the occasional Angry Birds play.
Wrap Up
All in all this is a top tier phone. It has the dual-core CPU to match the competition, runs on the absolute latest Android OS, has the shiny Sense UI and that camera for those special moments. This is a great phone with plenty of potential but if you don't need the keyboard it does get a little irritating, and the camera adds to the thickness a little bit. If you don't need or feel you will use the hardware keyboard you might as well get the Sensation 4G as it also has the same CPU and those 4G speeds. I'm so used to typing on screen I don't think I'd ever go back to a hardware keyboard but that is just me.
If you feel you'd use the camera enough to warrant the purchase, and you want the hardware keyboard or are just a fan of the myTouch line in general — then yes this phone is awesome. It is the new HTC top dog over on T-Mobile (not counting the Sensation) and you wont find anything better for the time being. This phone is well suited and should be a pretty great device for months and maybe years to come.