SwiftKey Tablet X Review

Today we're privileged to get to take a peek at the newest offering from the 3rd party on-screen keyboard developers SwiftKey in an app made specifically for Android tablets, that being SwiftKey Tablet X. This is the first time SwiftKey has offered a tablet-specific keyboard in such a form as this, excitement abound as the handset version is, without a doubt, one of the more amazing non-stock keyboards on the market. This is a keyboard that predicts your text, gives you all the options a pro user like you could want, and is out in the Android Market right this second. Let's take a look and see what we're rolling with here.
Because this is such an odd application (aka it's not a game and it's something you're going to end up using all the time,) we've gotta start by explaining exactly what's going on here. This is an app that's going to change your whole tablet experience, your whole world! And guess what? You can change it to GLOW colors, too! You TRON fans can rest easy with SwiftKey Tablet X.
What is this app?
This app is a keyboard replacement app. Better yet it's a full-fledged keyboard system made to take everything the team at SwiftKey has learned about keyboard mechanics and users interacting with keyboards on all devices, and apply that to this newest and most advanced system currently on the market (that SwiftKey offers, anyway.) This keyboard system acts not only with predictive text and the instant learning of your keying style based on every character you tap, in which order and how fast, but it allows you to put it in whichever of its several setups you like for optimal tapping!
Why would I want to switch from my normal keyboard?
You might ask such a question, and my answer is this: should you take a look at the app as it rests in the market right now, it and its close relative SwiftKey X (for handsets,) you'll see that they're only $1.99. This is an offer that's only good the FIRST DAY these apps are out, after that they get get bumped to $3.99 and $4.99. But they're worth it. You use your keyboard every single time you pop your tablet on. With SwiftKey Tablet X, the keyboard learns from you in order to become one with you, kind of like a creepy symbiont alien of some sort. Fun!
What else can I do with this keyboard?
Let me mention again that you're able to switch this keyboard over to a unique design that's all SwiftKey's own, that being their lovely split thumb mode, a selection of keys to the left, another selection of keys to the right, and your lesser-used number pad in the center. This number pad becomes a symbol pad with a simple press of a corner button. With this mode you'll be changing the way you type in no time at all.

Next there's the ability to swipe your thumb across the keys to delete the last word you read. Just like you're trying to key a piece of cookie off the screen – this flicking of your hand will delete the word you just messed up massively. With that comes the other very odd way you can type in a way you'd have never thought possible. If you type the world "I'd" followed by the word "like", it's very possible that, with SwiftKey's predictive technology at work, the next word it'll predict will be "to" followed by "go to the record store." All of this will appear on your Prediction Bar between the keyboard and the rest of your display, lookin like nobody's business, all cool.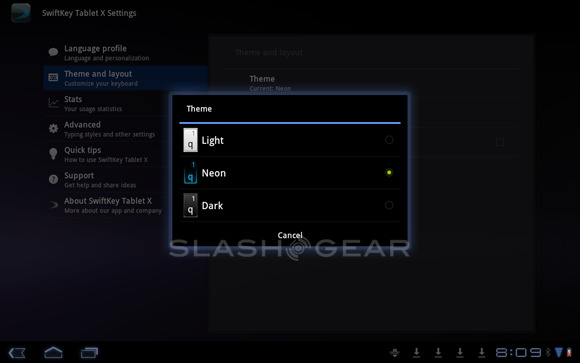 You can also change the colors on your keyboard if you wish, and a few more items we'll get to after the next section, but first, this Prediction Bar. Here is where the app will shine or fall to the ground, thusly we've got to section is off:
Prediction Bar
While we've seen other keyboards do similar things, no keyboard has such quick response time and absolutely unafraid of you push it right in your face attitude about which words it thinks you want. Turns out it's almost always right. And when you find that you're attempting to spell your words correctly on your own for a day, you can turn off the prediction bar altogether for some real bee action.
The Prediction Bar is simply the most visually prominent piece of the whole learning model. Where predictive text normally screws a person like your humble narrator up royally, here we find a learning model like we've never seen before, words correcting themselves before there's even enough letters for a normal human to guess what they are. Snap!
FUN OFFICIAL FACT: SwiftKey X uses TouchType's fluency 2.0 AI engine to learn from, and then think like you to help predict word (Now with even better accuracy).

What about my inside-joke misspellings?
Whether everyone realizes it or not, essentially everyone has their own special dialect that they use whilst speaking on the internet. Because of this, no keyboard can be instantly understanding of the words you're going to want to type until it's allowed to learn. If you want a perfect keyboard, you've got to work with it for a while so it can understand your oddities – then you'll win!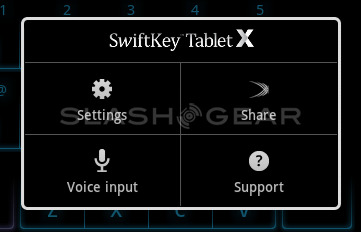 In addition to this, you've not got to worry about your no-English situation, as this version of SwiftKey supports over 22 languages and is able to interpret up to 3 languages at a time for bilingual typers. Sounds like the diversity we love in an app, especially one so quintessentially important to the basic functions of the device like this.
FUN OFFICIAL FACT: With this app you'll be getting next-generation technology that features cloud learning, which analyzes how you type on Gmail, Twitter, and Facebook to learn your style even faster (If you allow it). WE do, and patiently await the addition of G+.
Any improvements over previous SwiftKey versions?
Though these fixes and updates have much more to do with the handset version than they do the tablet version as SwiftKey Tablet X is the first tablet-based SwiftKey, it is important to note the following as updated and upgraded from previous SwiftKey versions:
• Fixed the fast typing problem where previous prediction is taken over current prediction.

• Fixed the disabled clear language data option bug.

• Updated neon theme candidate buttons.

• Updated summary for 'show all foreign characters' option.

• Fixed xlarge landscape spacebar in 'shortmessage' fields.

• Enabled Scandinavian layouts for tablets.

• Added split Scandinavian layouts for tablets.

• Added T-comma character to DroidSans font for Romanian.

• Added the "Share SwiftKey X on your Facebook Wall?" functionality to personalization.

• Fixed the shiftstate toggle on orientation change bug.

• Fixed the Honeycomb backspace problem and updated IEM tests.

• Fixed incorrectly aligned keys.

• Added in the new sharing URL (http://skx.me)

• Disabled the QuickPeriod checkbox when the autocomplete selection makes it irrelevant
What a ride! This is a professional grade application you're going to want to purchase just to look at, and at $1.99 you can't afford not to. Head over to the Android Market right this second and pick you up some SwiftKey Tablet X for the typing wins!