iRiver Story HD Review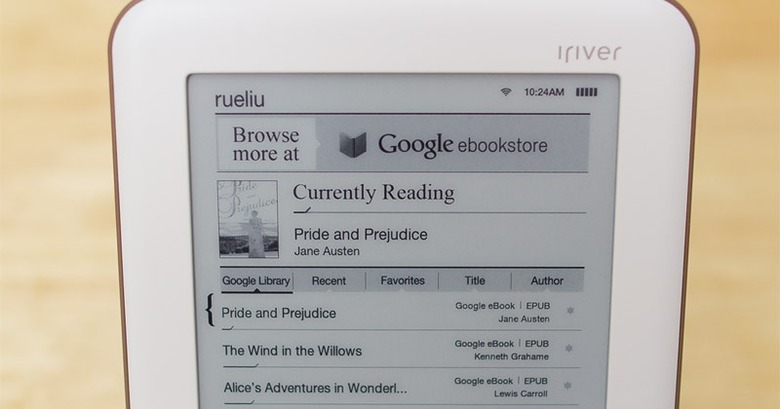 The iRiver Story HD is touted as the very first e-reader to have Google eBookstore integration. The original iRiver Story has been called an Amazon Kindle clone, but this new model affixed with "HD" to its name now sports a higher XGA (1024x768) resolution display and some unusual design tweaks. Priced to compete with the Kindle at $139, the iRiver Story HD is hitting stores July 17, but should you plan to pick one up? Continue after the cut for the full review.
Hardware
The design of the iRiver Story HD is a bit surprising at first glance. Chocolate milk brown is an unusual color choice, but that's what covers the back and the framing edge while the front face is a creamy white. The keyboard is comprised of horizontal slivers of raised buttons resembling clear glass beads with brown backing underneath while the four-way controller button is silver.
The 6-inch E Ink display with XGA resolution is the device's strongest asset, boasting 63.8% more pixels than other E Ink e-readers. Comparisons with the display of the Amazon Kindle have generally shown that the iRiver Story HD's image quality is much more crisp and rich although they both have 16 levels of gray scale.
The redesigned buttons help to shorten the space allocated for the keyboard and the keys have a resistance to them that eliminates accidental presses. They do, however, make a loud and reassuring, albeit annoying, click when pressed. The four-way controller that is used to navigate menus and to flip pages is situated nicely at the center for easy left-hand or right-hand use, especially convenient when trying to operate the device with only one hand.
The overall dimensions measure 5.02 x 7.39 x 0.37 inches, which makes it a hair wider and thicker than the Amazon Kindle. But when it comes to weight, its 7.3 ounces beats the Kindle's 8.5 ounces. Surely the exclusion of several features that require certain hardware components could be a contributing factor.
There's no headphone jack or speakers of any sort, meaning audio books are out of its scope. The only other items embellishing the exterior, then, are the power on/off slider, a covered SD card slot, and a mini USB 2.0 port. Inside, it has 2GB storage instead of the Kindle's 4GB, but is expandable with SD cards up to 32GB. It connects via USB for charging and for transferring files to and from your computer. It can also connect to your wireless network via Wi-Fi, but only to access Google's eBookstore.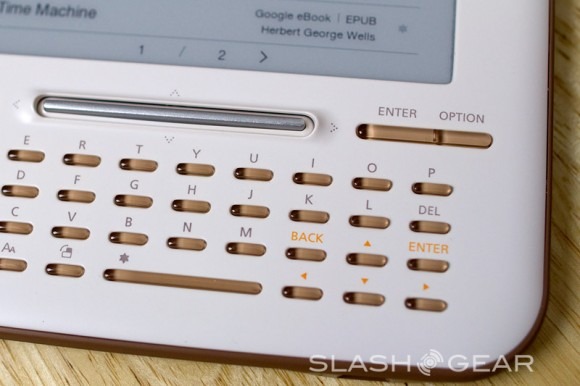 Software & Performance
The iRiver Story HD is the first e-reader to be integrated with Google's eBookstore, which was launched late last year. Unlike the Amazon Kindle bookstore, Google's offering is open to all publishers, retailers, and manufacturers. It can also be accessed from any device on any platform with an internet connection. You simply create a Google Account and log into it via the app or the web browser from your smartphone, tablet, or PC to access the ebooks you've purchased or to browse and download new ones. In this way, your Google ebooks are always synced across all your devices. However, no e-reader has yet to make accessing the Google eBookstore simple until now.
Instead of having to sideload ebooks you've purchased from Google's eBookstore to the iRiver Story HD via SD card or USB transfer from your computer, you can now connect directly to the platform via Wi-Fi. There are hundreds of thousands of Google eBooks for sale and over 3 million free e-books available. Ratings and descriptions can be viewed, however, reviews don't seem to be accessible from the e-reader. The first several pages of an e-book can also be downloaded to sample prior to purchasing.
E-book formats supported include ePub, PDF, TXT, FB2, and DJVU, while the Office Viewer supported files include PPT, PPTX, XLS, XLSX, DOC, DOCX, and HWP.
Navigating the iRiver Story HD's interface is pretty straight forward, although the standard font style and size used on the main navigation screen isn't ideal and can't be changed. Within e-books you can adjust text size but unfortunately not the font style. There is a dedicated button for changing text size and another for switching page orientation. There are also dedicated Home, Back, Enter, and Option buttons.
Refresh rates of the E Ink screen are fairly fast with the help of a higher performance processor from Freescale Semiconductor that's based on ARM's Cortex A8 chip technology. But it won't be noticeably astounding as you'll still experience with each refresh or page turn, as with all E Ink displays, a blacking out of the screen for a couple milliseconds before a new page is formed.
The 1800mAh built-in lithium polymer battery is rated for up to 14,000 page turns of continuous reading or up to an impressive 10 weeks if used for one hour a day and powered off immediately after each use. This beats the Kindle's claim of a one month span with one-hour-a-day use, but we've not been able to put this to the test. On standby, the battery can last up to six weeks. Charging time is approximately 4.5 hours.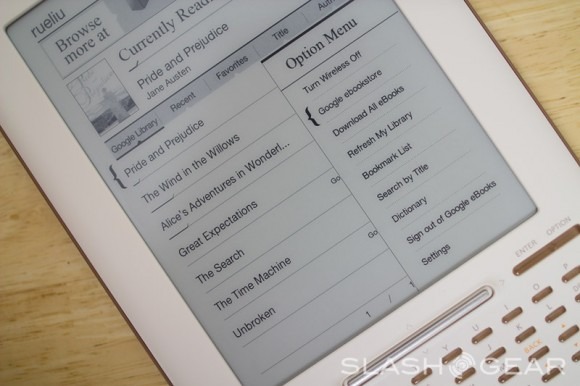 Wrap-up
Despite the notion that the iPad and the onslaught of Android tablets would kill e-readers, that just hasn't been the case. For those seeking to surf the internet, watch videos, play games, and use various apps, the tablet is the obvious choice. But for those who simply love to read and are looking for a way to replace paper books, the choice is still an e-reader.
Hence, the selection of e-readers has also continued to evolve with some going the route of becoming tablet-like, such as the Barnes & Noble NOOK Color, while others stay true to reading like this new iRiver Story HD.
The iRiver Story HD is such a purist device that it does feel a little outdated. Outwardly it looks to be competing against the Amazon Kindle as it has the same overall form factor, a 6-inch E Ink screen, and full physical keypad below. But, it does away with a lot of the features of recently launched e-readers such as the ability to surf the web, check email, and listen to music or audio books. The iRiver Story HD completely forgoes all this although this is not necessarily bad.
For many this means a lot of skimping on features, while for others this means a pure reading device absent of all the distractions.
Whichever way you look at it, the iRiver Story HD certainly isn't making any bold moves except perhaps in its radical color choice. Brown? It's still hard to grasp how the design team decided on this color, but it certainly does the device a huge disservice. A neutral gray or even a muted lime green or pastels, but brown?
Priced in line with the Amazon Kindle at $139, the iRiver Story HD is lacking in certain features, but to some it's made up for it with a higher resolution display, longer battery life, lighter weight, expandable storage with SD card, and Google eBookstore integration. The iRiver Story HD will be retailing at Target stores nationwide and on Target.com starting Sunday, July 17.