Fujitsu Windows Phone could be tweaked 12MP Android handset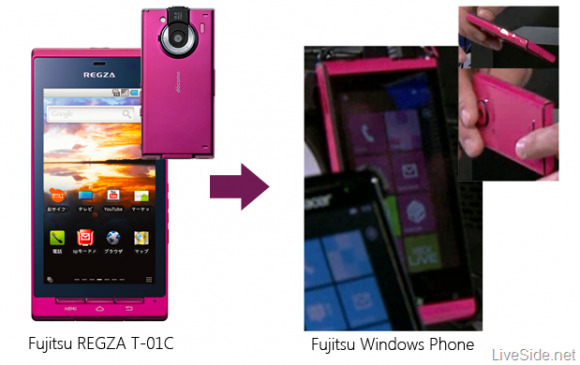 Fujitsu's first Windows Phone handset could well be a reworked Android device, with particular similarities spotted between the smartphone briefly previewed earlier this week and the REGZA T-01C currently available on Japanese carrier NTT DoCoMo. Both handsets have a distinctive camera ring design as well as three front-panel buttons with the same styling.
Japanese site Nanapho flagged up the comparisons initially, and LiveSide threw together the side-by-side shots you can see above. Obviously it's too soon to say exactly which of the hardware specs Fujitsu might have carried across, but the Android handset has a 4-inch LCD display with Toshiba's Mobile REGZA Engine 3.0 graphics processing system, a 12.2-megapixel autofocus camera with 720p HD video capture, NFC and DLNA support.
It's also water-resistant, if only down to a meter, so it should be able to cope with being dropped into a puddle or bath. Interestingly, there's also what looks to be an icon for the Japanese NAVITIME app on the Windows Phone version, which could well be one of Fujitsu's customizations to the platform.
Fujitsu isn't the only company borrowing existing hardware for its Windows Phone line-up. Nokia's "Sea Ray" handset is clearly built on the same chassis as the MeeGo-powered N9, though presumably the processor inside has been changed.
[via WMPowerUser]