Apple iOS 4.3.4 Released, PDF Vulnerability Fixed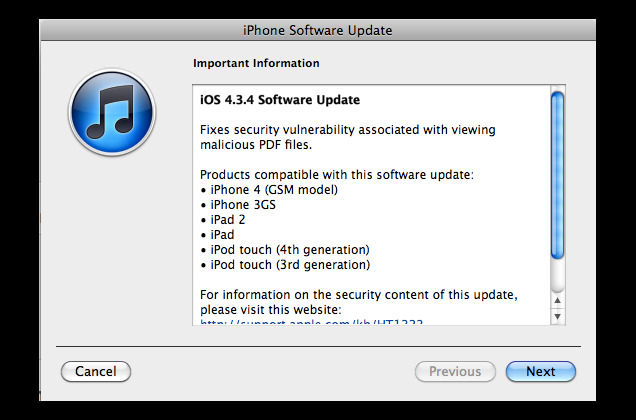 Apple today released the iOS 4.3.4 update for the iPhone 3GS, both the GSM and CDMA versions of the iPhone 4, both generations of the iPad, and the third and fourth generation iPod touch. The update came as promised to fix the PDF security loophole and to block the JailbreakMe iPhone unlocking tool.
The PDF vulnerability issue was brought to attention by Germany's national IT security agency. They warned that downloading infected PDF files could allow hackers to take control of your entire device, which includes accessing your email, texts, and even listening in on phone conversations.
The JailbreakMe tool was another issue that Apple was planning to nix. Since the iOS 4.3.3 update the once blocked iPhone unlocking tool was accessible again via the Safari mobile web browser of your iPhone, iPad, or iPod touch. Simply navigating to the website and following the directions will let you jailbreak your iPhone.
iOS 4.3.4 is categorized as a security update and does not include any new features. It can be downloaded by connecting your device to iTunes and choosing to update.
[via Apple Insider]