SlashGear Weekly Roundup Video - July 10, 2011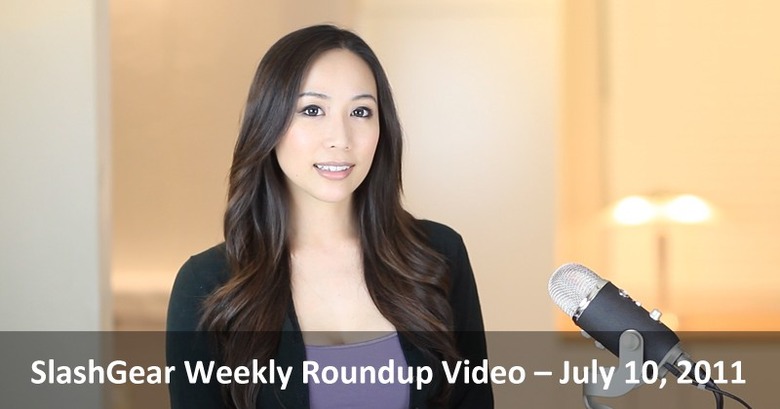 Battle of the social networks kicked off this week with Facebook announcing group chat support, a new design, and a video calling feature developed in partnership with Skype. However, the Google+ Hangouts group video chat feature still has Facebook beat although we won't know how real adoption of Google's social platform will be until it opens to the public sometime around July 31st. Continue after the cut for the full weekly roundup video and list.
[vms 6d93fd976af958fbc61b]
Google:
Google To Kill Picasa, Blogger Brands In Push For Google+
Google will delete private Google Profiles August 1
Facebook:
Facebook blocks friend export tool in Google+ snub
Zuckerberg Announces Facebook Video Calling with Skype, Group Chat, New Design
Facebook "Awesome" Announcement Strewn with Veiled Google+ References
Facebook Vibes Music Service Revealed In Video Calling Code
Spotify:
Spotify US sign-up page offers early access on imminent launch
Spotify US launch next week say reps
Spotify Plans U.S. Domination With Help From Facebook
Verizon:
Verizon tiered data and LTE hotspot fees confirmed for July 7
Verizon Tiered Data Plans Include Free Texts To Monitor Usage
Verizon Unlimited 3G Customers Can Upgrade To 4G, Keep Unlimited, And Add $30 Tether
Verizon DROID 3 by Motorola gets officially official
Motorola Droid Bionic Redesign Confirmed In Best Buy Leak
Microsoft:
Microsoft's Bing Lasso Beats Apple's Copy And Paste Feature
Microsoft targets Samsung in Android patent shakedown
Apple:
Apple Files ITC Complaint Against Samsung
Apple iOS Has Major Security Hole Warns German IT Agency, Avoid PDFs
Apple promises fix for PDF exploit (and will block JailbreakMe exploit in the process)
Apple Store Spy Cam Artist Under Investigation By Secret Service
OS X Lion and MacBook Air refresh July 14 as Apple staff warned of "overnight" prep sessions
iPad HD tipped for September alongside iPhone 5
Apple iTunes HD+ 1080p Movies Coming In September?
Android tablets:
Sony S1 and S2 Android Tablets Hands-On Photo Collection Expanded [Videos Too!]
Toshiba Thrive lands early at Best Buy in Austin, Texas
Toshiba Thrive Lands At Newegg With Free Shipping
Reviews:
Samsung Dart Review [T-Mobile]
Acer Aspire Ethos 8951G Review
Tabletpalooza Giveaway!