Acer Aspire Ethos 8951G Review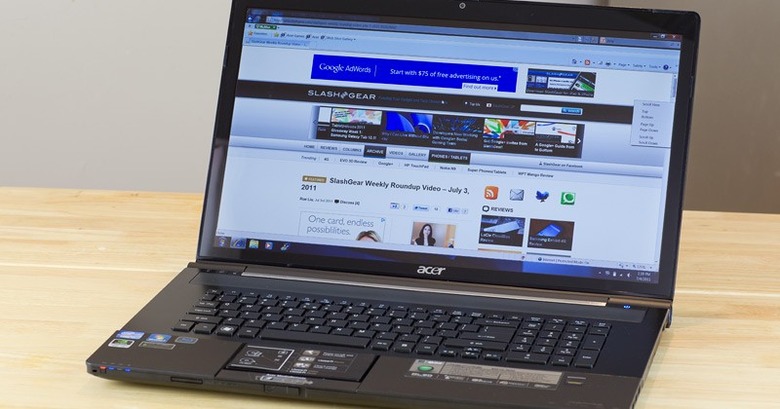 If you're looking for a desktop PC replacement that's stylish yet powerful when it comes to multimedia performance, then you might want to consider the Acer Aspire Ethos series notebooks. The latest revamp to this high-end series features a unique detachable touchpad that doubles as a remote control and comes in a 15.6-inch model (5951G) and an 18.4-inch model (8951G). We spent some time with the larger Ethos 8951G, so read on for our full review.
The massive 18.4-inch size makes the 8951G a hybrid of a notebook and an all-in-one PC that you certainly won't be carrying around town. It's still less hassle than a desktop PC if you ever did need to take it somewhere and it's easier to stow away when not in use. But, most likely you'll have it sitting pretty in your home as a media center.
Hardware
The Acer Aspire Ethos 8951G features a sleek and sophisticated design that boasts several improvements over its predecessor, the 8943G. The overall appearance is more classy and serious with dark hues and less fussy details. The lid and keyboard areas are black with a slight sheen and a brushed texture while the palm rest and keys are a more fingerprint-proof matte black.
The backlit chiclet style keyboard not only looks attractive, but also includes a full number pad. Its isolated keys have a good weighted feel to them when pressed. Just above the keyboard are the speakers that are now a simple horizontal band and entirely black except for a silver accent strip where it reads Dolby Home Theater. To the right side of the strip is the power button and to the left is the Launch Manager, Clear.fi, and keyboard backlight on/off buttons.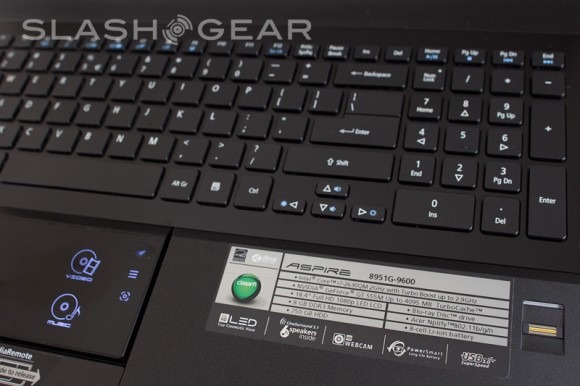 The glossy 18.4-inch TFT LCD LED backlit display features 16:9 widescreen full HD 1920 x 1080 resolution. Right above the monitor sits the 1280 x 1024 resolution webcam that's capable of 720p HD video capture.
The detachable touchpad is probably the most notable difference in addition to the improvements in appearance and internal hardware for the 8951G. Sliding a latch pops up the touchpad so that it can be removed and used as a remote control. The touchpad has an on/off button that when pressed turns on the backlit graphical touch controls. The underside of the touchpad has a nice grippy texture for holding as a remote, but the glossy top surface gets oily finger smudges rather quickly.
The touchpad makes a handy remote control for playing movies and music, which you will be doing a lot of with the 8951G as it comes with a Blu-Ray Disc player and excellent Dolby Home Theater audio enhanced 5.1 surround sound with a visible subwoofer on the underside.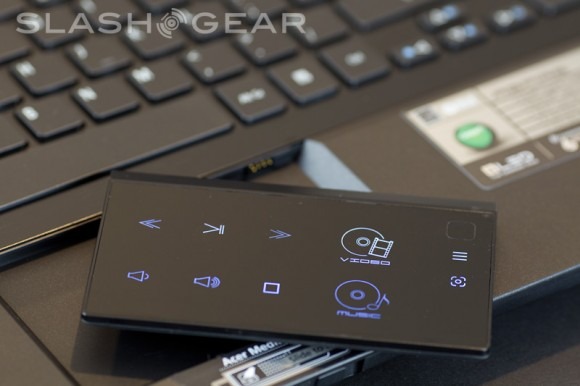 Inside, the Acer Aspire Ethos 8951G features Intel's latest Sandy Bridge Core i7-2630QM 2Ghz quad-core processor that can be overclocked with Turbo Boost to 2.9GHz. It uses the NVIDIA GeForce GT 555M and comes standard with 8GB of DDR3 SDRAM that is expandable up to 16GB with a total of four memory slots. It has 5400RPM Seagate Momentus 750GB hard drive along with a built-in Multi-in-1 card reader that supports SD, SDXC, MMC and more.
As for connector ports, the 8951G provides many options. It offers up to five USB ports, three of which are USB 2.0, one is USB 3.0, and another doubles as both eSATA and USB 2.0. There are also ports for VGA, HDMI, Ethernet, and FireWire along with jacks for headphone, speaker, and microphone. Wireless connectivity options include Wi-Fi and Bluetooth 3.0. For security, there's a slot for a Kensington Lock and also a fingerprint reader.
The overall chassis measures 11.61" x 17.32" x 1.55" and weighs 8.38lbs.
[sgbenchmark id=136 show=system]
Software & Performance
The Acer Aspire Ethos 8951G comes pre-loaded with Microsoft 64-bit Windows 7 Home Premium, Microsoft Office Starter 2010, Silverlight, Skype, Windows Live Essentials 2011, Bing Bar, Adobe Flash Player 10, Adobe Reader 9.1, and several additional items including, unfortunately, plenty of bloat ware. Those include Acer Backup Manager, ePower Management, eRecovery Management, Crystal Eye, and Video Conference Manager. All this of course made the initial boot up a bit sluggish, but the performance of the system is otherwise snappy.
We benchmarked the 8951G using Geekbench, a synthetic test of its processor and memory performance. The 8951G scored 7301, which is a good step up from its predecessor's score of 5850. But much like its predecessor, the strength of the 8951G lies in its multitasking abilities, video processing, and gaming.
[sgbenchmark id=136 show=score]
The main multimedia software is Clear.fi, which is Acer's central digital home entertainment solution. It automatically connects to all the devices on your home network to gather media files and then categorizes them into Videos, Photos, or Music. It can also connect to your Facebook, Flickr, and YouTube accounts to easily share your media files to those sites.
We played the Blu-Ray Disc version of the movie Avatar and found both video and audio quality on the 8951G to be excellent. The video is sharp and the movements are smooth without any juddering. The TFT LCD display has decent viewing angles from the top and sides, but sacrifices viewing quality from below.
As expected for an entertainment packed desktop replacement, the audio system is well tuned for popcorn-hour. At full volume, the sound stage is wide with great bass response and the dialogue is clear and not overwhelmed by the music and sound effects. During quiet scenes though, the noise of the air venting could be a bit annoying if you are seated very close. But the strong ventilation helped keep the notebook cool after running at full throttle for a couple of hours straight. The system remained relatively cool to the touch while warm air can be felt venting out from the side.
The touchpad is fairly responsive and has typical two-finger scrolling. For left and right clicking there is a separate physical button below. As a remote, it was able to control the notebook from as far as 20 feet away. However, 10 feet is about a good distance because any farther you'd have a hard time seeing what's on screen. There's a dedicated power on/off button for the touchpad that has a slight ridge around it to help you locate its position. This is because when the touchpad is turned off, the surface is completely black. Once you press the power button to turn on the remote function a backlit icon appears along with a small blue LED power indicator.
Pressing the power button again will reveal backlit icons for Clear.fi Photos, Clear.fi media mode changer, and two large icons for launching the Clear.fi Video and Music interfaces. Pressing the power button once more reveals additional backlit icons for video control buttons: rewind, play, fast-forward, stop, and volume. Holding down the power button turns it off.
The touchpad does require charging, and we can only imagine the frustration if it ever gets lost, which could very easily happen.
Battery
The 8951G is rated for up to 5.5 hours on its 8-cell 6000 mAh battery. But playing the movie Avatar at 100 percent brightness and volume at full blast after completely juicing up the battery and leaving the notebook unplugged, we were able to watch for only 2 hours and 8 minutes at which point the notebook automatically shut off with 9 percent battery life remaining. Not being able to finish watching the movie was a bit disappointing, but this shouldn't be a huge issue since this behemoth of a notebook won't be traveling much off the plug.
Wrap-Up
The Acer Aspire Ethos 8951G notebook is a worthy contender for your dollars if you're looking to replace your desktop PC with something slightly more compact and portable than an all-in-one PC and also capable of delivering a high-end multimedia experience. Retail pricing for the 18.4-inch 8951G is $1599 while the smaller 15.6-inch 5951G model comes in at $1499.
At those prices, you are getting a lot of notebook for your money. The solid build, sophisticated styling, and powerful performance leave little to complain about. The detachable touchpad that does double duty as a remote control is also a nice touch, although keeping it from getting lost is a concern.