Motorola Droid Bionic Redesign Confirmed In Best Buy Leak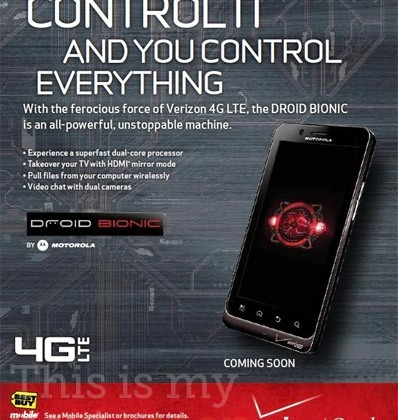 The Motorola Droid Bionic has been taking its time to launch. First announced at CES, the smartphone has since been delayed over the last six months to incorporate some new enhancements. It's been speculated that the enhancements should include both boosted internal specs as well as a new form factor. Today, a leaked Best Buy ad confirms that the Droid Bionic has indeed been redesigned with a new look.
Although no specifics were given on the enhancements, the changes are said to be in response to feedback received at CES and possibly to beef up its specs against then competitor, the Atrix 4G. After being incubated for six months, the Droid Bionic is looking to be a real killer phone with mighty specs and a new look that's more slick and squared-off.
The Droid Bionic will have a giant 4.5-inch qHD touchscreen now powered by a dual-core processor, the first to also be running on the blazing fast Verizon 4G LTE network. The Best Buy ad's tag line sure conveys a powerful message: "With the ferocious force of Verizon 4G LTE, the Droid Bionic is an all-powerful, unstoppable machine." However, no details hint at a more specific release date, although recent FCC documents suggest the device is for sure on its way.
[via Android Community]