Toshiba Thrive lands early at Best Buy in Austin, Texas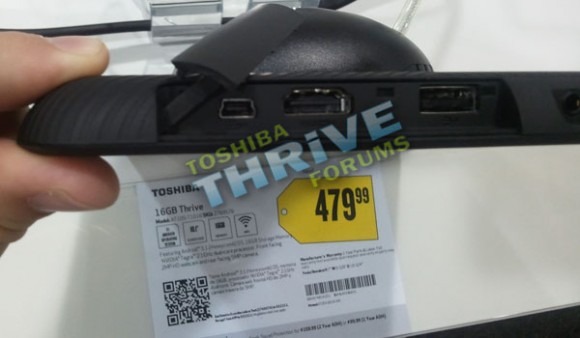 The Toshiba Thrive is a small 7-inch Android tablet that some fans of Android have been looking forward to getting their hands on for a long time. The tablet hit pre-order on Amazon starting at $430 last month. We also learned last month that the Android 3.1 version was postponed. The Thrive has been expected to land on July 10. The tablet has landed early in at least one Best Buy location in Austin, Texas.
An administrator from Thrive Forums was in a Best Buy store in North Austin and saw the Thrive tablet sitting on a stand in the corner. He spent some time playing with the Thrive and asked the sales person if the tablet was available. According to the sales person the Thrive was in store and couple be purchased right then.
The catch was that the 16GB Thrive was marked at $479.99 making it about $50 more expensive than the pre-order version elsewhere. I am sure there are some folks that will gladly pay the extra money to get the tablet early. Apparently, other stores are offering the 32GB version of the Thrive for $579. If you have seen the tablet for sale in your local Best Buy let us know.
[via Android Community]