BeBook Live Review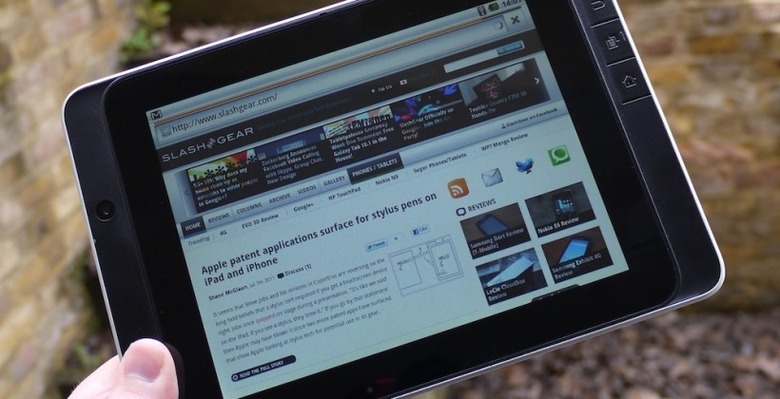 BeBook is a company better known for its ereaders, but the lure of the tablet has proved too great. The BeBook Live is a low-cost Android slate, still proclaiming its ereader heritage but also hoping to earn itself a place as your browsing, multimedia and gaming gadget of choice. With a price significantly lower than that of rival tablets, can the BeBook Live really replace both your iPad and your Kindle in one fell swoop? Check out the full SlashGear review after the cut.
Hardware
At £229 in the UK, it's too much to expect metal for the BeBook Live's construction, though the 140 x 202 x 11 mm, 426g plastic slab is at least creak and flex-free. The 7-inch display is the only glossy part of it, too; the back panel is a sensible – if uninspiring – matte finish expanse of black, with only the (poorly) printed logo and an adhesive serial number label to break it up. Most of the controls and ports are around the silver plastic edge, with the power button, recessed soft-reset button, volume keys and a useful screen rotation lock switch on the top, then the mini HDMI, microSD and miniUSB ports along the side. BeBook's use of a mini rather than microUSB port for charging/syncing is a frustration, as is the fact that there's no HDMI cable included in the box.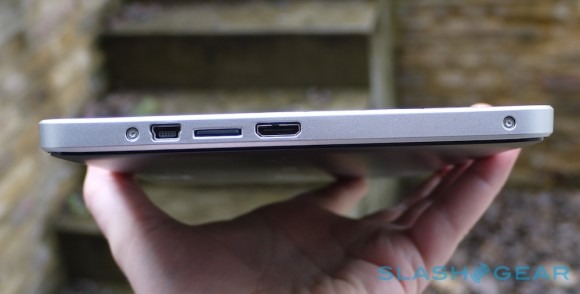 To the left of the display, midway down, is the front-facing 2-megapixel camera; there's no rear camera on the BeBook Live. While it may have the pixels, the quality is only middling, though 720p HD video recording is supported. On the right, near the top, are three Android buttons for back, menu and home. These are basically cut out of the bezel plastic, but still manage to be clicky enough that you know you've hit them.
The touchscreen itself is a 7-inch 800 x 600 panel running at 4:3 aspect, and with a capacitive touch layer and TFT LCD panel underneath. It's not, frankly, the best display we've ever seen on a slate: the resolution falls short of what even Samsung's aging original Galaxy Tab offers, and viewing angles are poor. In landscape orientation it's reasonably bright, though the blacks aren't as rich and deep as the better LCDs of late (never mind what AMOLED can manage) but in portrait orientation it suffers the same washing-out as the Advent Vega demonstrated late last year. Considering the BeBook Live's ambitions as an ereader, that's a big problem.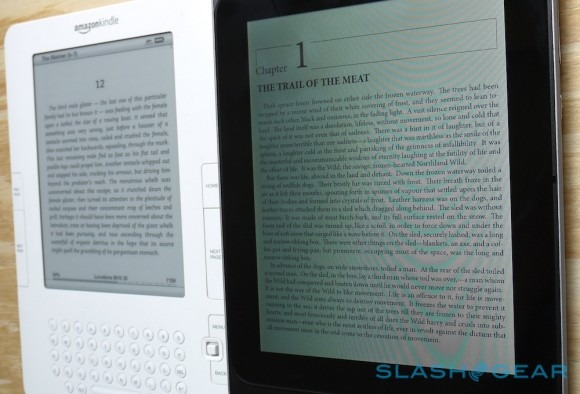 Inside there's a 1GHz single-core Cortex-A8 processor paired with 512MB of RAM and 4GB of storage. There's also WiFi b/g/n, Bluetooth, an accelerometer and a pair of speakers, along with a 3.5mm headphone jack on the left edge. No 3G, however, nor GPS.
Software and Performance
While the Android tablet world has moved on to 3.x Honeycomb, the BeBook Live is stuck on an earlier dessert course, namely 2.2.1 Froyo. Intended for smartphones, it obviously lacks the tablet-centric modifications Honeycomb brought. BeBook has left the OS well alone, and you get what amounts to a stock build of 2.2.1; there's also Android Market access, along with the official Gmail and Google Maps apps, which other budget tablets have launched without in previous months.
BeBook Live demo:
[vms 966cc24fa8683a34afc6]
The user experience is basically identical to what you'd get on a Froyo phone, with five homescreens, a pull-down notifications bar (lacking any of the useful shortcuts or toggles we've seen other companies like Samsung and HTC add) and various homescreen widgets to choose from. Obviously there's no phone support, but you can install Skype from the Android Market (or any of the other VoIP apps there), while Fring will handle video calls.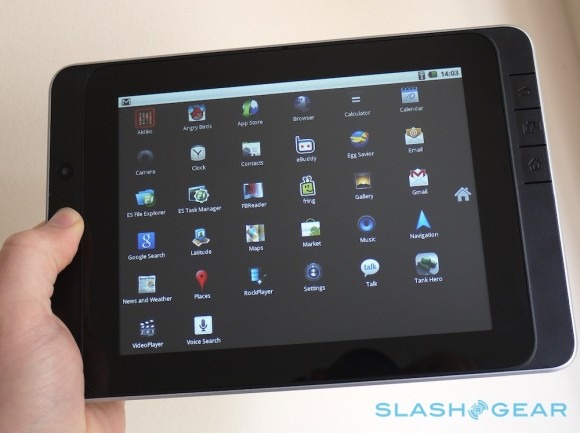 BeBook preinstalls a few non-standard apps, including the Ebuddy multi-service IM client, Tank Hero, Angry Birds and Egg Savior games, Rockplayer, ES explorer and ES taskmanager for handling files, and both FBReader and Aldiko ebook reader. The latter supports titles secured with Adobe's DRM, though of course you can also download Amazon's Kindle app or other software if you already have an ebook library you want to access.
Unfortunately, there's nothing to guide you through the ebook process, or indeed any of the BeBook Live's talents. The homescreen on our unit lacked any shortcuts or icons bar the Google search bar and the basic Android tips widget, and we can see novice users feeling unclear as to what they should do first. Some well-placed shortcuts would help, or at least a tutorial page. One of the strengths of a dedicated ereader like the Kindle or NOOK is that it's easily approachable even for those with little technical knowledge, and we wish BeBook had catered for that fact even as it added other functionality.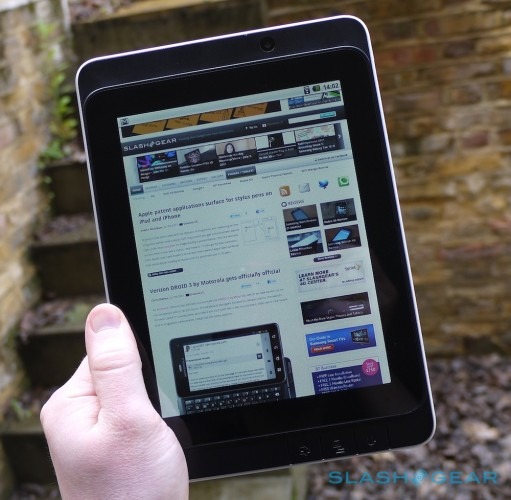 Performance from the 1Ghz processor is not going to give Tegra 2 any sleepless nights, but it's sufficient for the BeBook Live's needs. We were able to play Flash video stutter-free in the browser, while the tablet is also capable of playing locally-stored MPEG4 video clips at up to 1080p HD resolution. Unfortunately it's fussy about file types: beyond MPEG4 it's a no-go, at least for the stock media player apps. Playback through the HDMI port works well, mirroring the tablet's screen, so again it's a shame BeBook chose to save a few pennies and not bundle the cable.
Battery
Official figures for the BeBook Live's battery life are conspicuous by their absence. In practice we managed less than a day of use before the tablet expired. Standby times were also marred by an apparent greed even while sleeping; whereas we can leave the original Galaxy Tab, the iPad or the new breed of Honeycomb slates for several days, and have them lose minimal charge, the BeBook sucked down a full battery in only 2.5 days with little use beyond turning the screen on to check the battery status. Returning to full charge took 2-3hrs.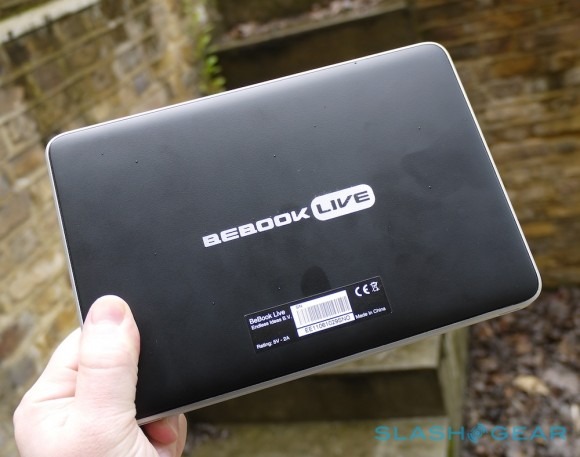 Wrap-Up
As a potential iPad and Kindle rival, the BeBook Live falls short on both fronts. Battery life is weaker than either, while the display is arguable less comfortable for ebook use than an E Ink panel and is generally far less impressive than the IPS LCD screens we've seen on recent tablets. Conversely, the browsing, Android Market flexibility, email support and multimedia playback makes for considerably broader flexibility than the Kindle, and the price is nearly half what you'd pay for an entry-level iPad.
Access to the growing catalog of Android apps goes a big way in rescuing the BeBook Live's honor. Stick to landscape orientation – which the hardware design seems to favor anyway – and the display's shortcomings are less of an issue too. In fact the biggest threat is probably the WiFi-only Galaxy Tab, currently retailing for just £30 more yet offering dual cameras, a higher resolution screen, four-times the internal storage and stronger battery life. If BeBook can shave away at the price until the BeBook Live slips under the £200 mark then it could stand a chance, but it will face strong competition from the Samsung stalwart as well as Archos' upcoming 80 G9 with the benefits of Honeycomb.