Archos 80 G9 and 101 G9 Tablets hands-on [Video]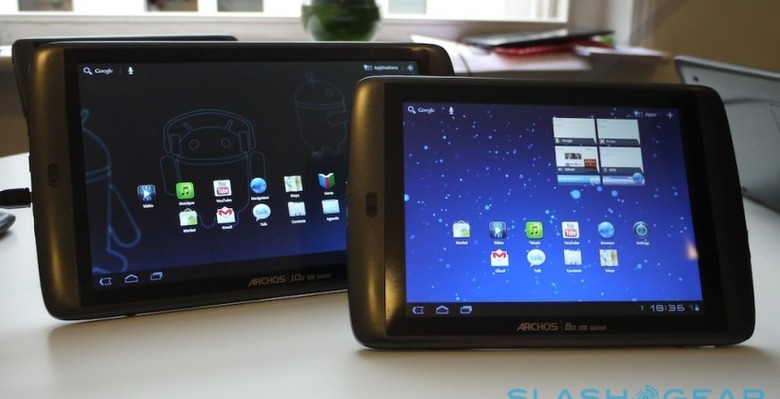 With the iPad dominant in both market- and mind-share, it takes something special to distract from Apple's all-conquering slate. Archos reckons it has the answer with the 80 G9 and 101 G9 tablets, a pair of low-cost models announced last week and priced from just $279 despite a 1.5GHz TI dual-core OMAP4 processor. SlashGear grabbed some hands-on time with the two slates today, to see if they lived up to their lofty aspirations.
Based on specs alone, you can easily see why the Archos tablets have would-be tableteers excited. The Archos 80 G9 has an 8-inch 4:3 aspect 1024 x 768 display while the Archos 101 G9 has a 10.1-inch 16:9 aspect 1280 x 800 display; both use capacitive touchscreens, run Android 3.1 Honeycomb, pack WiFi and can be fitted with an optional pre-paid 3G USB data stick in a special niche on the back.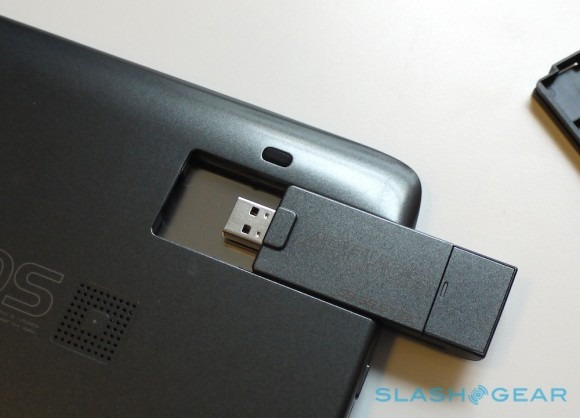 Archos have some impressive claims about their TI OMAP4 processor, suggesting it's 50-percent faster than the Tegra 2 more commonly found inside Honeycomb slates. Unfortunately, that promise isn't borne out in practice; we found both tablets to be sluggish, with achingly slow screen rotation and Archos' custom media player apps either taking an age to load music or video, or simply crashing altogether. If you can get them to work, there's an HDMI output on both the 80 G9 and 101 G9, and the Full HD 1080p footage looked smooth (as long as the source clip was of sufficient quality).
Archos 80 G9 and 101 G9 hands-on:
[vms 516dd643ba67b4c447d3]
It's important to bear in mind, of course, that these are still prototypes; the commercial models aren't expected to go sale until September 2011. They showed all the hallmarks of prototype status too, with webcams that offered murky, strobing pictures and crashes galore. Construction is the same as we've seen on previous Archos slates, with a reasonably tough grey plastic casing around a metal internal chassis. They don't exactly feel as reassuringly expensive as an iPad, but they're sturdier (and thicker, and heavier) than a Samsung Galaxy Tab 10.1.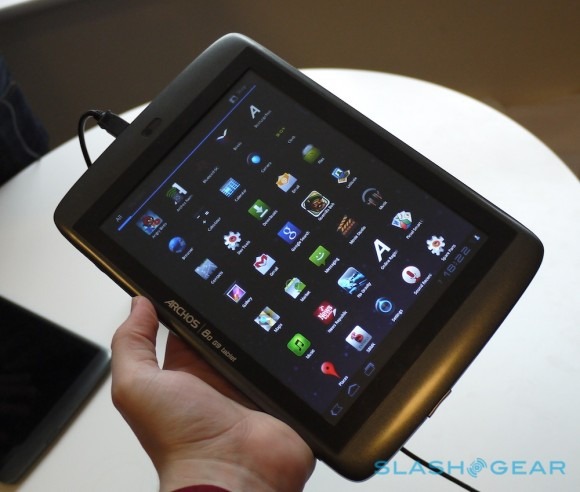 Of the two, we preferred the 8-inch model, its compact size and 4:3 screen ratio making the whole thing feel more spacious than Samsung's original 7-inch Galaxy Tab but far easier to hold in one hand than the long, relatively narrow 101 G9. The advantage of the 10.1-inch tablet, though, is its storage: Archos has packed in a 250GB Seagate hard-drive, which means it's less shock-resistant but also can store a sizable library of music and HD video, something well in keeping with the French company's PMP background.
It's too early for a final judgement – we'd want to see stable production versions first – but we can't see either Archos tablet grabbing significant market share from the iPad. What could be at risk, though, are low-cost slates from little-known brands, the sort that make up the bottom end of the market and often disappoint with their missing Android Market and wobbly performance. In contrast, Archos has a little more brand cachet and comes with the authentic Honeycomb experience. Nonetheless, there's a lot of work to be done before the September release.