Spotify Plans U.S. Domination With Help From Facebook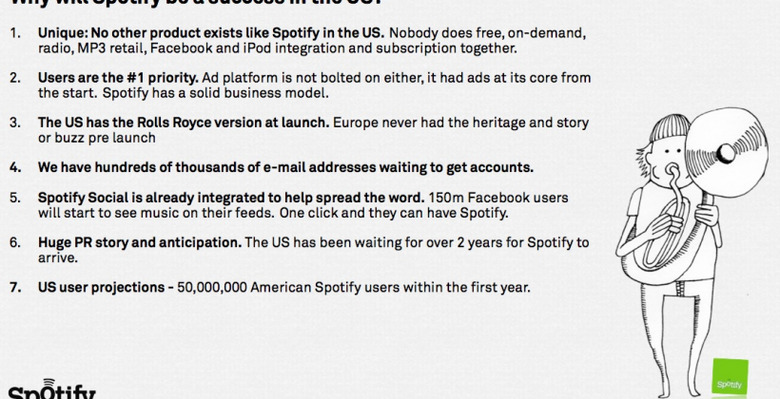 Spotify has recently confirmed a U.S. launch for next week. This news comes after months of delays as the popular European music streaming service struggled to close deals with U.S. record label companies. But perhaps the biggest deal it's landed is a rumored partnership with Facebook. Some leaked internal marketing materials reveal that Facebook will be a major key to Spotify's U.S. domination.
Spotify already has Facebook integration in Europe in the sense of allowing users to share playlists and see what friends are listening to, which is different from the recent rumors of a new partnership. The new rumors suggest that Spotify could get deeply integrated into Facebook to allow users to stream music directly in the social network. Whether or not true, Spotify plans to milk Facebook for marketing as much as possible.
On why Spotify will succeed in the US, the company points out several reasons that mention Facebook as a catalyst. They include being the only music service of its kind to have radio, MP3 retail, Facebook and iPod integration and subscription. They point out that 150 million Facebook users will start to see music on their feeds leading them one click away from signing up for Spotify. They also say that integration of Facebook makes "viral seeding" easier and that businesses can wrap music around their brands using the Spotify API such as for custom websites and Facebook pages.
Just yesterday, we reported that Facebook's video calling code revealed an upcoming new music feature possibly called Vibes. It will be interesting to see whether Spotify is involved with this and how the two companies plan to implement the service.
[via AllThingsDigital]