SlashGear Evening Wrap-Up: August 30, 2012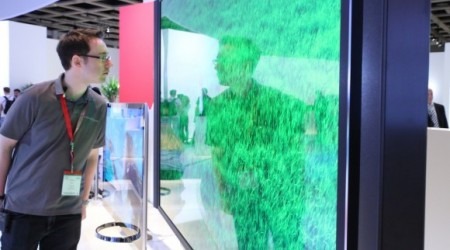 Welcome to Thursday evening folks. We had a lot of news coming out of Germany for the second day of our IFA 2012 trip, so let's jump in. We have a ton of hands-on posts to get through, but first, be sure to have a look at our Dell IFA 2012 Wrap-Up for all of the details on what the company announced and what it let us see. Moving on, today was a big opportunity to get some hands-on time with a bunch of different devices announced at IFA today and yesterday, and of course we took full advantage of it.
Starting right off with Sony, we have a hands-on post with the absolutely massive 84-inch 4K Bravia 84X900 TV for you to check out. If a display that's a little more wearable is more your cup of tea, then have a look at our hands-on with the Sony HMZ-T2. Of course, we've also got a hands-on with the Sony VAIO Duo 11, and for those of you who still want more big, we've got you covered there too with this Sony Tap 20 oversized tablet hands-on.
Lenovo has announced a number of devices during IFA, revealing the IdeaPad S Series Laptops. We have a hands-on with the Lenovo ThinkPad Tablet 2 for you to peruse, along with this Lenovo IdeaTab S2110 hands-on and this hands-on with the IdeaTab A2109 and A2107. That does it for the Lenovo and Sony hands-on articles, but in the words of some guy we see on TV all the time, "we're not stopping there!" We also spent some quality time with the new Liquid Image EGO HD Mountable Camera, and we recommend that you also have a look at our hands-on with the HTC Desire X.
At IFA today, Toshiba announced a set of three new ultrabooks, and ZTE was there to show off its new Grand X IN smartphone – the first ICS phone to sport Intel inside. It seems that the incoming Windows 8 is making manufacturers go a little bit touch-crazy, and today we were treated to a number of leaks in addition to all of the news from IFA. The Motorola DROID RAZR M 4G LTE has suffered yet another leak, and it would seem that both the next Kindle Fire and the next Kindle Touch were leaked today as well. Speaking of the Kindle Fire, it turns out that the tablets have sold out in anticipation of Amazon's big reveal next week.
Samsung seems to be learning more toward Microsoft after its loss to Apple, and the company may just have a plan to make Apple pay up should the iPhone maker release a new device with LTE capabilities. The iPhone 5 was featured in a new video and photo leak today, Steam Greenlight is officially up and running, and the Mars Curiosity Rover has finally left its landing site to go and look for clues on the surface of the Red Planet. Finally tonight, Windows Phone 8 may be getting a handy new parental control feature, and Google and Apple's CEOs have gotten together to talk about a potential patent settlement. That does it for Thursday's Evening Wrap-Up, but be sure to join us back here tomorrow for more straight from IFA 2012!