Amazon Kindle Fire 2 leaks in model photo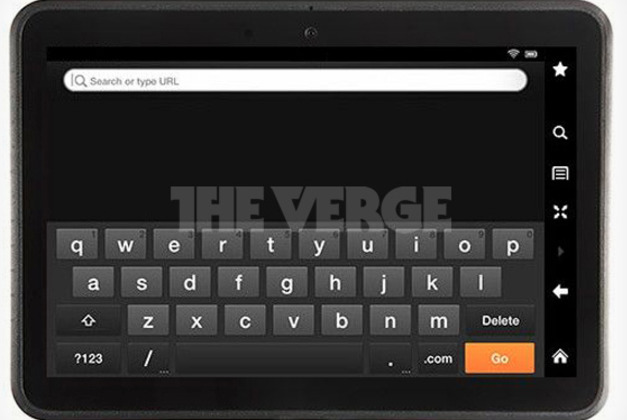 It would appear that the next generation Amazon tablet has been "leaked", so to speak, via a photo of its smaller iteration's front side. This photo was sent to The Verge by an anonymous donor who has not been specific about the details. There's apparently two different models in the pipeline, one 7-inch model and one 10-inch model, and a new streamlined user interface in the mix as well.
It does not appear to make a whole lot of sense that this tablet would have a more streamlined user interface over Android while it mysteriously grows a collection of buttons on its side. What you're seeing here is a keyboard inside the software aside a bar of buttons also inside the screen. It seems as if this tablet too will have no physical buttons (other than a power button and maybe a volume rocket) and will continue the Google trend of on-screen controls with a wide mix.
This bar has a home key, back button, gray arrow button that more than likely reveals an expanded set of controls, full-screen button, menu button, search, and favorite star. The star will likely interact with online sales of digital content as well as with your Amazon shopping experience. The keyboard as well is nothing like the standard Android experience – unless you're using Android 2.3 Gingerbread, that is.
The top bar above the search bar we're seeing here has a battery symbol and wi-fi connectivity icon that appear to be part of Android, so we can probably use these and the rest of the clues to assume that Google will have built at least the software that this tablet will be based on. This is the same as the first Kindle Fire tablet, while Amazon will probably once again be heavily modifying the software to the point where Google will not certify it for Google Play. Amazon will be OK with this, of course, as the aim is to make the Amazon app store mainstream – or continue to do so – here in the next generation.
Join us on the 6th of September to see the full real deal via the Amazon event scheduled for that day – and expect something slightly advanced!