Lenovo IdeaPad S Series Laptops get thin and affordable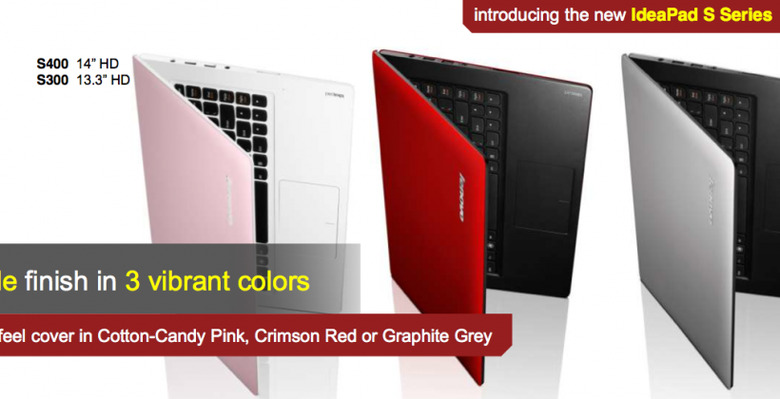 At IFA 2012 Lenovo has revealed their next generation of affordable, thin, and light computers with the IdeaPad S Series Laptop lineup. This set of devices brings a balance between performance and portability with Lenovo providing more power than a netbook and longer battery life than your traditional notebook. The IdeaPad S300, S400, and S405 laptops each bring an affordable price to the market as well.
Each of the S Series notebooks measures in at 21.9mm thin and weighs in at 1.8kg. The entire S Series also works with either a 3rd generation Intel Core or AMD A-Series processor under the hood, and each come with a lovely metallic finnish on their outer bits. These units are finished in a variety of colors including crimson red, silver grey and cotton-candy pink, too!
The differences between these devices are in their components, each of the units having just a few changes from the next. With the Lenovo IdeaPad S300 and S400 you'll be working with Intel's 3rd Generation Core i3 or i5 processors. With the IdeaPad S405 you'll have the option to work with up to an AMD A8 quad-core processor. Each of the units has up to 500GB of hard disk storage – save the S405 which has up to 1TB of HDD – and both the S400 and S405 have another storage option as well. Both the S400 and S405 have an available 32GB solid state drive to boost your speed on your boot time as well as the responsiveness of your applications.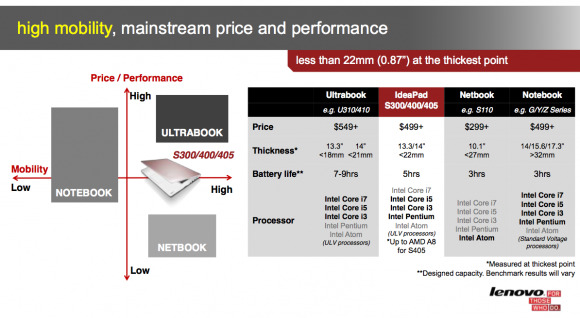 Each of the S Series machines will be appearing with Microsoft Windows 7 Home Professional and will be eligible for the Windows 8 update program from Microsoft. Each of these units also works with Lenovo's Quick Start "Instant On" functionality to hit the internet in mere moments. You'll also have Lenovo OneKey Rescue System for your data right out of the box. Each S Series laptop has an AccuType keyboard as well for easy comfortable typing with individually rounded keys across the whole grid. The S Series' intelligent touchpad also has functions for Windows 8 with both scrolling and zooming features.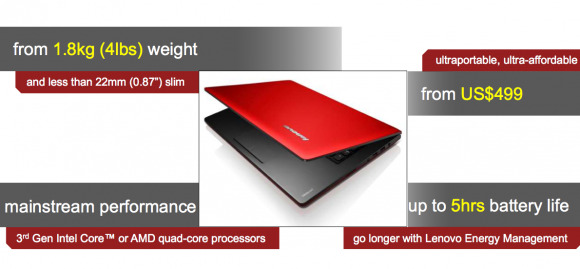 Every unit in the S Series lineup has up to a 14-inch HD widescreen display, HDMI out port, Dolby Advanced Audio v2 certification, and stereo speakers besides. The Lenovo IdeaPad S300, S400, and S405 will be available starting today through your favorite Lenovo retailer in the USA. Depending on what features you'd like or model you opt for, this lineup will be starting at $499 USD.