Windows 8 makes manufacturers touchy at IFA 2012

This week in Berlin at IFA 2012 we're seeing a large amount of manufacturers bringing on touchscreens and convertible, transformable, or otherwise completely strange Windows 8 computers. There's everything from a flipping screen to a flat horizontal interface, and so many tablets that we don't know where to begin. One thing they've all got in common: they're attempting to make use of Windows 8's ability to work with interactive touchscreens and gestures galore.
Have a peek first at the Sony VAIO Duo 11 in our hands-on experience. There you'll find what's called a "hybrid sliding PC" that's not entirely unlike the ASUS solution for a similar situation in the Eee Pad Slider – but here it's working with Windows 8 instead of Android. And it's a bit more chunky (as seen above). Next have a look at Lenovo's ThinkPad Tablet 2 as seen below. It's a tablet if you'd like as well, this time you pull it out and set it up in a keyboard dock rather than sliding.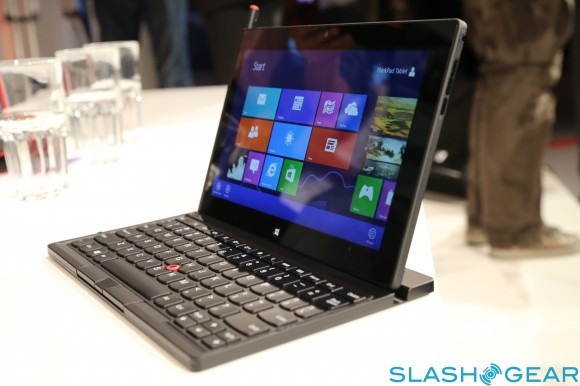 The Dell XPS Duo 12 is a strange beast indeed – working with a flip screen on hinges – like a framed painting whose center can be turned around. There's a keyboard in there somewhere as well. Have a peek at that below this paragraph as well – and note that we've only gotten "eyes-on" with this device so far, so there's no telling how fabulous it'll be in the near future.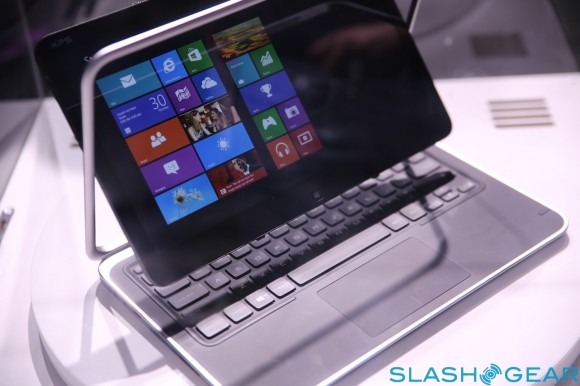 The folks at HP have brought along several units to the show including a hybrid PC that runs Windows 8 and has the power of a full PC – rather than a tablet with "mobile power". Here you're working with what's otherwise known as a tablet with a keyboard dock, but it's described the other way around. Then there's Samsung – they've brought out the guns with the ATIV Smart PC Pro sporting a very similar setup to the HP solution also in this paragraph. Here Samsung has brought on a lovely looking combo that's not without it's Ivy Bridge – another bit of hardware we've seen a lot of this year. There's also an ATIV Smart PC that we got hands-on with as well.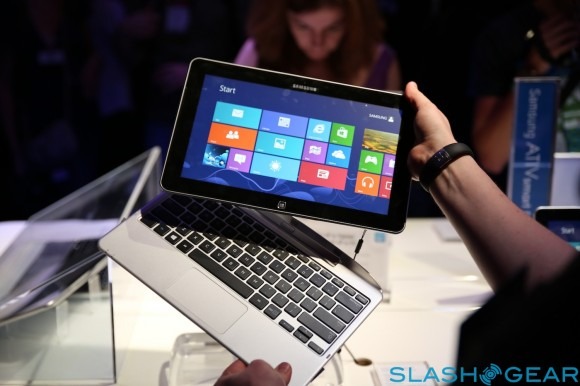 Check out the rest of this awesome pageant of touch-friendly (and sometimes not so touch friendly) devices as they appear in Berlin in our IFA 2012 portal. And keep up with the Windows 8 tag as well through the future – some strange devices are afoot!