Sony VAIO Duo 11 hands-on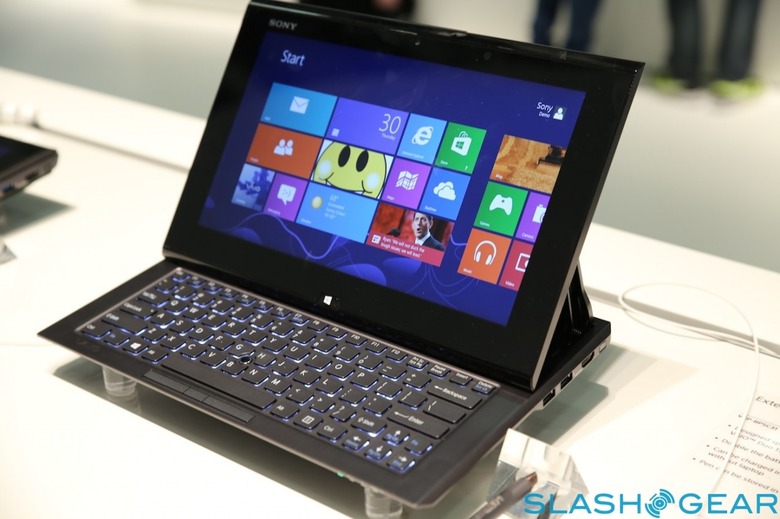 Sony likes to do things differently, and the VAIO Duo 11 is its unusual entrant to the Windows 8 tablet market. Billed as a "hybrid sliding PC" the Duo 11 looks, at first glance, like a chunky tablet, but pull up just above the front-facing webcam and the touchscreen slides back and up to reveal a full QWERTY keyboard. It's an approach we've seen before, from the ASUS Eee Pad Slider, but here running Microsoft's full Windows platform and with a digital stylus for handwriting and sketching.
VAIO notebooks generally look the part, especially the more expensive ones, and the Duo 11 follows in those footsteps with an angular black casing that's a nice diversion from the usual round-cornered fare. The glossy plastic is a fingerprint magnet, of course, and Sony's non-final hardware showed some flex when you pull the screen open, but once upright and in place – in a single, non-adjustable angle – it stuck fast no matter how roughly we jabbed at it.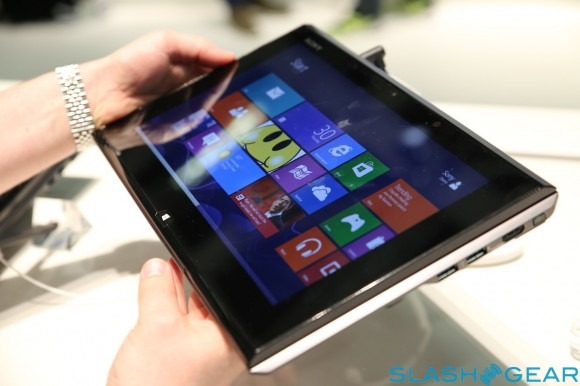 Sony has chased connectivity not headline grabbing dimensions, and so while the Duo 11 isn't the fattest tablet we've ever seen, nor does it rival recent Samsung and Apple slates for waifish form-factors. Instead, you get HDMI and USB connections, along with – in what seems to be a bizarre accommodation of legacy business users – a full-sized VGA connection. Things get even thicker if you bolt on the extended battery slice, doubling runtimes at the cost of significantly increasing width.
Sony VAIO Duo 11 hands-on video:
Unfortunately, adding that extended battery is seemingly the only way to accommodate the pen when you're not using it – it slots into a cutaway underneath – which is a shame since stylus input works well in general. OneNote, Microsoft's unfairly overlooked notetaking app (which will sync its notes with its cut-down counterpart on Windows Phones), receives digital ink with aplomb, the pressure sensitivity of what we're guessing to be a Wacom-sourced digitizer paying dividends for quick sketches and handwritten notes.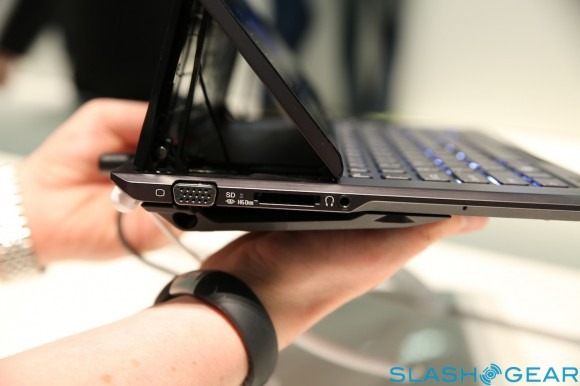 As for the keyboard, it's more compact than a regular notebook, but still very usable for typing. There's a trackpoint-style navigation nub in the middle of the 'board, though rather than physically moving it uses an optical sensor to map the movement of your fingertip. Still, we found ourselves using the touchscreen more often than not, as reaching forward felt more natural.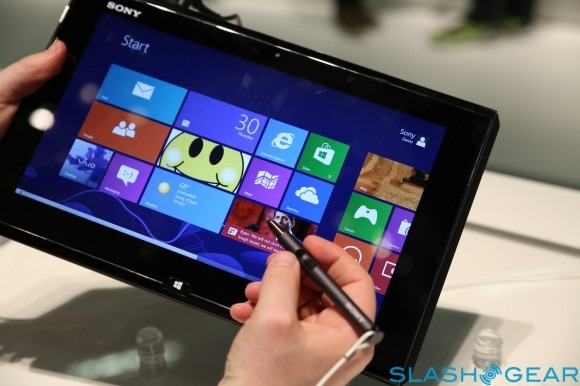 Unlike some Windows 8 tablets, Sony hasn't compromised on raw grunt. There's Intel's Core i7-3517U paired with 4Gb or 8GB of RAM, and up to 256GB of SSD storage; the 1080p 11.6-inch display is incredibly crisp and bright. The underlying message is yes, you can use this as your main PC, but you're probably going to have to pay handsomely for it. Sony will announce numbers closer to the VAIO Duo 11's official release in late October.