Samsung ATIV Smart PC hands-on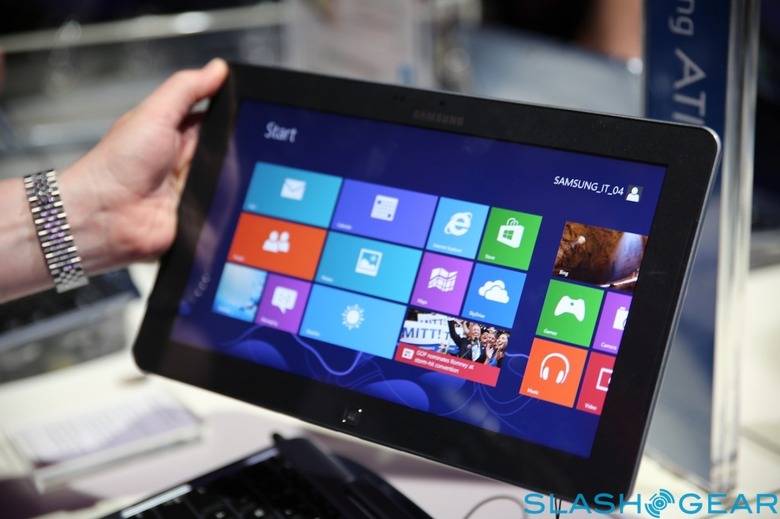 Samsung's Windows 8 range was a surprise addition to the IFA 2012 line-up, kicking off with the ATIV smart PC. A hybrid tablet/notebook following in ASUS' Transformer footsteps by pairing a slate "brains" section with a detachable keyboard dock, the ATIV Smart PC runs Windows 8 and impressively promises up to 13.5hrs of battery life. We grabbed some hands-on time.
The similarities with Samsung's Android range is clear, though the ATIV Smart PC is a little heavier than the Android slate norm. The touchscreen – which recognizes up to 10-point multitouch – was swift and responsive, though, whipping through the Metro-style Windows 8 homescreen neatly, and revealing a section of new Samsung apps including S Note.
That works with the Samsung S Pen – just as with the Note II, Samsung has used an active digitizer and a special stylus, which docks into a silo on the side of the slate – for handwritten notes and annotations. Unfortunately that pen wasn't present in Samsung's demo unit, but the concept is the same as we've seen on the Android phablet, and notes will actually synchronize between the two despite the different platforms.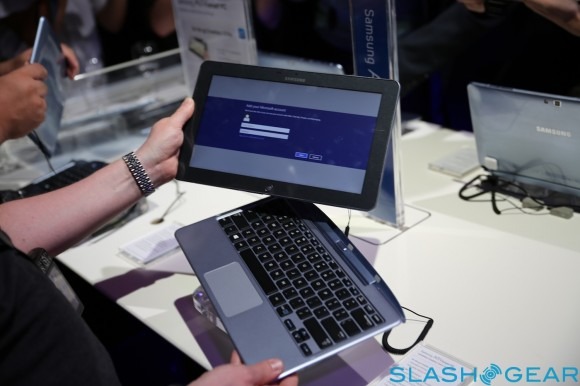 Detached – something of a struggle on these prototype units, but an aspect Samsung promises will be made easier in retail versions – the slate section supports portrait and landscape orientation use, flipping automatically between the two. There was some lag noticeable in actually using apps, though it's unclear if that's down to the Intel Atom processor or the pre-final software.
Still, that processor helps keep runtime so long, which is essential if the ATIV Smart PC is to compete with Apple's iPad. Samsung is betting that enough users will want to do content creation with their tablet to make the extra bulk worthwhile (and ignore what's a plasticky and fingerprint-prone casing). Whether that will hold true with a $649 starting price (or from $749 with the keyboard dock) when it lands in the US on October 26 remains to be seen.