HTC Desire X hands-on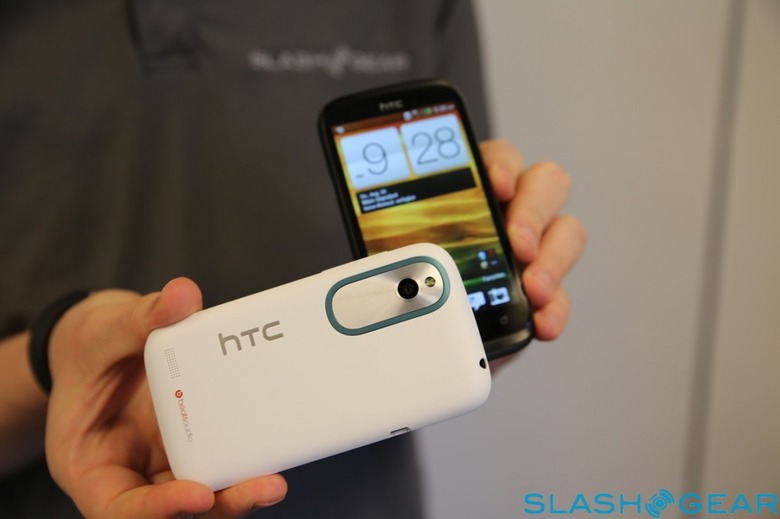 HTC has a low profile at IFA this year, with only one new smartphone – the HTC Desire X – and a midrange one at that. More compact than the One X and One S (and likely to be cheaper, too), the Desire X resurrects a familiar name with an eye firmly on the mass market. We caught up with HTC to find out whether it strikes the all-important balance between affordability and performance.
It's not hard to see that it's an HTC phone. The company's rather sober styling has stayed a constant in recent years, and the Desire X owes much of its two-tone curves to the One X. It's a successful design, though whether it will stand out on store shelves amid more eye-catching phones remains to be seen. The white does better there than the black, with its matte silver around the bezel and the matte white backing.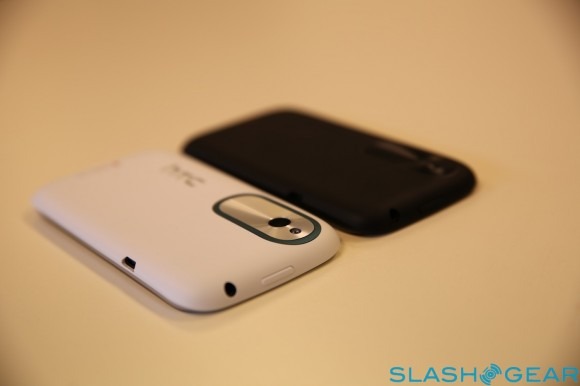 In the hand, it's solid if not entirely inspiring, though we can see the compact 4-inch screen being an advantage to those who aren't persuaded by big-display handsets and phablets. Unfortunately that comes at a price – namely resolution – and at WVGA 800 x 480 the Desire X's pixels are visible. It's a shame, as the Super LCD itself has decent viewing angles and bright colors, and the laminated screen means there's no gap between glass and display, so we wish HTC had opted for at least a qHD panel.
HTC Desire X hands-on video:
As for the camera, it's a good example of why megapixels aren't everything. HTC's own research continues to suggest that photographic performance is one of the key factors buyers make when they pick a new phone, and so while the Desire X may only have a 5-megapixel sensor, it's backside-illuminated for improved low light performance, and paired with an f/2.0, 28mm wide angle lens. We'll have to wait until review units are available to see how well the Desire X actually uses all that, but based on the track record with the One series devices we're quietly confident.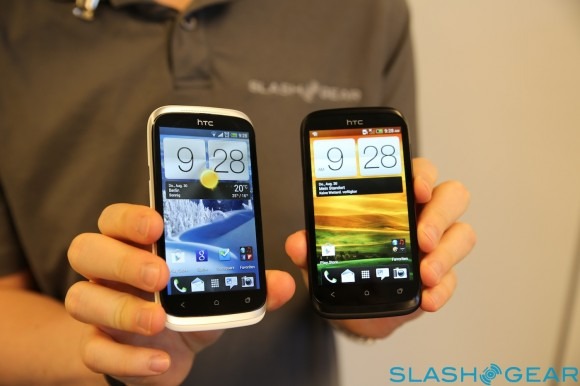 Also like the One series is HTC Connect, the company's media streaming system. That hooks up to certified speakers or receivers over WiFi or WiFi Direct, and can currently squirt across audio from the phone's music apps. However, HTC plans to expand that to support video streaming in the future, and while so far only Pioneer has signed up, the expectation is that more manufacturers will jump on board soon.
UI is the Sense 4.1 we're familiar with from the One series, running on top of Ice Cream Sandwich with a 1GHz dualcore Snapdragon S4 keeping things churning with 768MB of RAM. That's less than we usually like to see in an Android smartphone – 1GB has generally become the standard, with more devices showing up at 2GB in recent months – but we didn't notice any immediate stuttering or lag. The Desire X is, of course, a phone built with a semi-budget price in mind, so HTC had to save somewhere; the same is visible in internal storage, of which around 2GB of the total 4GB is available to the user. A microSD card slot can be used to add more.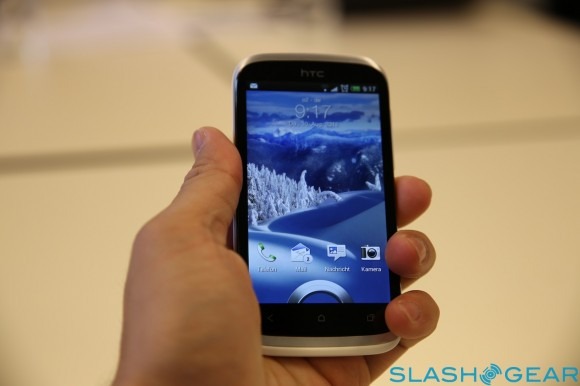 Unlocked, HTC expects the Desire X to come in at under €300 ($377), though contract pricing isn't finalized. If HTC can work with carriers to significantly undercut other midrange models from Sony, LG, and Samsung when the Desire X hits shelves in Europe and Asia come mid-September 2012, then it could grab a slice of first-time smartphone buyers. So far Phones 4U has revealed one free-on-contract deal, in the UK, from £20.50 per month; that sounds a little high to us, though if you opt for a £26 tariff you get a free set of Beats Solo headphones. Nonetheless the risk, as always, is that bigger and more capable phones are often available for just a little more.