Whew! The week is over already and this has been another busy one here at SlashGear with more new announcements and gear than we can shake a stick at. Things kicked off this week with a video of the LG BL40 Black Label feature phone hitting the Web. This was a good thing since we hate teaser campaigns. One of the cooler things from early in the week was the Fujifilm announcement of the FinePix Real 3D digital camera coming this year. The only downside is the camera is about $600 and the digital frame required to see the photos goes for another $200.
We got word this week that the Acer Android dual-boot netbook also sporting Windows XP was set to hit market possibly as early as next month. This could be the perfect machine of those wanting to try Android, but not willing to bet the farm on the OS. Acer also announced a new nettop this week called the Veriton N260G that sports an Intel Atom N280 CPU and lacks the NVIDIA Ion platform inside. I still wonder if Ion is doomed, where are all the machines using it?
Rumors also surfaced (again) that Apple would be ready to loose its much rumored tablet computer in October at about $800. Most of us expect something along the lines of a larger iPhone when/if Apple ever makes it. Sony announced a new 32GB capacity Memory Stick Pro-HG Duo memory card this week. I though Sony was trying to get away from pricy and proprietary memory formats.
Rumors of the next generation of Intel mobile processors codenamed Nehalem turned up Monday pointing to a release this fall. We know these parts are coming, it's only matter of when and in time for the holiday shopping season makes sense. Samsung offered up a new point-and-shoot camcorder for the causal user that might want to upload video online called the HMX-U10. The cam is capable of recording full 1080p HD video and will sell for about $200.
The coolest notebook to debut this week comes from a company I haven't heard of — Rock. The rig is called the Rock Xtreme and sports 1.5TB of storage, Blu-ray and dual NVIDIA GTX 280M GPUs. Yeah it's damned expensive, but I want one. Can I have a raise please Vincent so I don't have to sell a kidney to buy one? Apple started blocking push notifications to users with unlocked iPhones. One third party push notification app provider says that 80% of its support requests were from users with unlocked devices.
EMachines isn't exactly a top brand in the computer market, but the budget firm unveiled a reasonably slick all-in-one PC this week called the EZ1601-01 sporting an Intel Atom N270 CPU inside the 18.5-inch screen. The best news about the machine is that it sells for only $399.99. Samsung pulled the covers off a couple new point-and-shoot digital cameras called the SL502 and SL720 this week. Both the cams have 12.2-megapixel resolution and a bevy of other features including low prices.
Someday soon every company that has a mobile phone on the market or makes operating systems for mobile phones will have an app store. Microsoft announced that it will start taking submissions for apps on July 27 for its Windows Marketplace app store for Windows Mobile. Microsoft hopes to be able to compete with Apple's App Store which announced it had seen 1.5 billion downloads in its first year.
Wednesday the Asus Eee T91 convertible netbook finally hit the U.S. with a price tag of $499.99. I remain skeptical of the value of a convertible netbook myself having used convertible notebooks before and never actually converted them to tablet for reasons other than fooling around. The iPhone OS 3.1 beta was released this week with Wi-Fi for devs and still no tethering from AT&T. Rumors have AT&T wanting $50 for iPhone tethering, someone needs to remind AT&T of the global recession.
Amazon Kindle fans in the UK may only have to wait a few more months to get their hands on a Kindle is rumors prove true. The Kindle 2 is rumored to be shippin in the UK this December, but Amazon hasn't made that official yet. Logitech unveiled its newest Guitar Hero controller for the PS3 this week called the Logitech Wireless Drum controller. The kit is slick and folds flat for storage after your jam session. The big drawback is the kit is expensive at over $200.
Dell confirmed its plans for smartphones and MIDs this week with screen sizes from 4-inches to 12-inches. Dell confirmed that it is in talks with carriers to sell its handsets. Many see Dell smartphones as me-too products and so far carriers haven't been interested. Bill Gates has said the slick Natal motion-sensing tech seen at E3 won't be for the Xbox alone. The Windows team is also working on integrated the tech into Windows operating systems.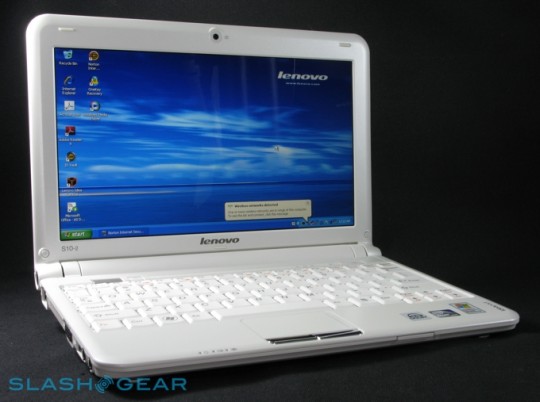 The LG BL40 handset that we saw on video early in the week turned up in the wild with the requisite blurry photos to prove the sighting. A sibling was also spied with the BL40 that is a bit smaller with the same familial lines. We reviewed the Lenovo S10-2 netbook this week and found that it was good but did little to set itself apart from the pack.
Corsair debuted a new line of Extreme series SSDs this week with blazing 240MB/s read and 170MB/s write speeds. The SSDs come in 128GB, 64GB, and 32GB flavors starting at $159.99. A report was published this week that claimed the figures Apple likes to tout for the number of apps on the App Store were inflated with so-called bulk apps. A bulk app is a template-based app that is the same with different branding or slightly different information. Think travel apps for different cities and you get the idea.
The big news for Palm Pre owners this week was that Apple broke the Pre iTunes sync capability. You can't say that Apple didn't warn you on that one though. It said weeks ago that future updates might not support the Pre, in other words it said it was going to break the feature. Amazon announced Thursday that it would begin replacing cracked Kindle 2 screens free. The screens have reportedly been cracking with alarming regularity. Before the free offer, Amazon was demanding $200 to fix the screen.
EVGA is a name known in PC enthusiast circles for video cards. It has unveiled its slick dual monitor LCD called the InterView this week that sports some iPhone-like tech. You do have to use a video card with dual outputs though. We got our hot little hands on the HTC Hero this week, unboxed and lovingly caressed it to our hearts content. Yeah, it's sexy as hell and you want one.
Friday LG announced that it would have a largish 32-inch OLED TV on the market by 2012. The company didn't mention the price, but expect it to be a sphincter-puckering amount. Dell unveiled an updated Inspiron 17 laptop with a large 17.3-inch screen that is LED backlit starting at a reasonable $499. Adding options like more storage, a Core 2 Duo CPU or Blu-ray will up the price significantly I am sure.
My favorite video of the week came from Taser, the folks that invented the less lethal shocking device that renders criminals and dudes that utter "don't tase me bro" inert. The funniest part of the video showing off the new three shot Taser device is that they shocked Taser employees. I bet the shooter picked the three people that pissed him off that week at the office. Who agrees to do this demo anyway? Nintendo crushed geek dreams this week when it announced that the Black Wii wouldn't be coming to America. Wii fans in the U.S. will be stuck with the white version alone.