LG BL40 21:9 Touchscreen Phone Shows Up In Wild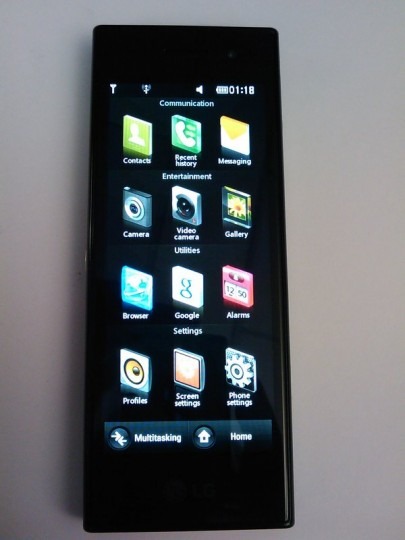 Photos seemingly showing LG's BL40, the company's upcoming Black Label touchscreen featurephone as teased in this video, have emerged.  According to the photographer, who did not reveal where he took the images, the BL40 does indeed have a 21:9 aspect display with 800 x 345 resolution, and running the existing S-Class 3D UI.
More photos, plus a second version of the device, after the cut
Other specs include an FM transmitter, around 335MB of internal storage, and an LED light to go along with a 5-megapixel camera with Schneider-Kreuznach optics.  There's also WiFi, and we've previously heard about a microSD card slot, HSDPA and accelerometer.
One of the images also shows the large touchscreen phone next to a smaller version, with the same design elements but a reduced display and a larger lower bezel (possibly with illuminated touchscreen controls, as LG has used before on previous Chocolate-series devices).  No word on what that companion handset is, but earlier rumors suggested LG would announce their new range in August.
[vms e62f762a2aaa148d556b]
[via Engadget Mobile]