Lenovo IdeaPad S10-2 Review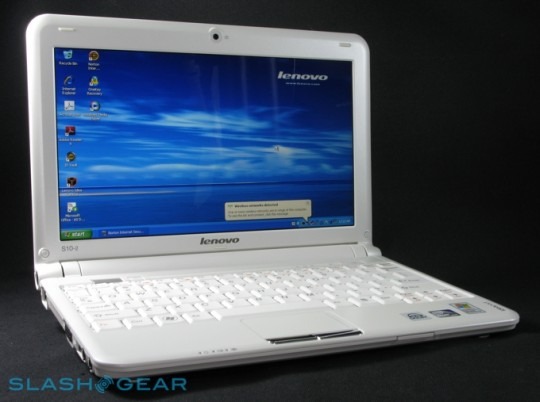 As evolutionary updates go you don't get more basic than a cosmetic refresh, so imagine our surprise to find Lenovo guilty of just such a relaunch.  The Lenovo IdeaPad S10-2 takes the company's original S10 netbook and, most obviously, reworks the casing; is that enough to keep the S10-2 near the top of the netbook leaderboard?  SlashGear set to finding out.
To be fair to Lenovo, it's not only the casing that has been tweaked.  There have been some port changes too, dropping the ExpressCard 34 slot and replacing it with a third USB 2.0 socket, together with squeezing in a slightly larger keyboard and shaving 0.1-inches of thickness and 0.4lbs of weight off.  The result is an altogether slicker, curvier and, dare we say it, less Lenovo-like netbook, which will please customers tempted over from HP and ASUS, but might not satisfy staunch ThinkPad addicts.
Build-quality, despite the relatively low price, is decent, and we find the overall design to be attractive in a vaguely non-descript way.  Things don't get much more distinctive under the hood, mind; you're looking at the usual 1.6GHz Intel Atom N270 processor, 1GB of RAM, a 160GB hard-drive and a standard 6-cell battery.  The 10.1-inch display runs at 1024 x 600 resolution and uses Intel GMA 950 integrated graphics; meanwhile connectivity is the somewhat miserly WiFi b/g (no draft-n support here) paired with 10/100 Ethernet.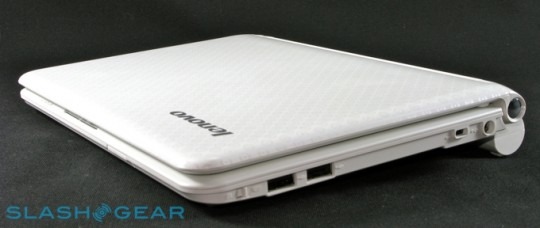 In addition to the third USB 2.0 port there's a 4-in-1 card reader, VGA and audio in/out ports.  The absence of the first-gen S10's ExpressCard slot is unlikely to impact on anybody but those wanting to use ExpressCard 3G modems; we can't see many prosumer audio or video editors picking a netbook to do their work while mobile.  Options are limited to the battery (a smaller 3-cell pack is available) and color, with black, gray, white and pink models on offer.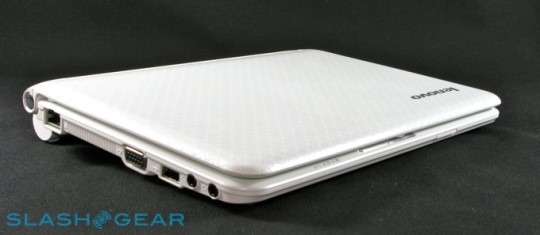 One of the more welcome changes above and beyond the first-gen S10 is the larger keyboard, which Lenovo claim is 89-percent the size of a full 'board.  Touch-typists will miss that 11-percent, as despite reasonable tactile feel and key-feedback it's a relatively cramped affair.  Still, the S10-2 gets bonus points for a full-sized and correctly placed right-hand Shift and Delete buttons, points freshly squandered by the drearily unresponsive trackpad buttons.  At least there's multitouch support on the trackpad itself.  As for the display, aside from an unnecessarily gloss-finish coating it's good, with fair viewing angles and bright colors.

Given our experience with the S10-2's battery, we're unsure of any reason why you should opt for the smaller pack.  Lenovo claim up to 6hrs runtime from the standard 6-cell battery, and with average use – mostly browsing over WiFi, and a little text entry and editing – we managed around 5.5 hours.  Shut off the wireless and we don't doubt you could easily hit the full six hours, making the S10-2 a decent workhorse for mobile users.  Admittedly the comparatively breathless N270 processor won't be much good for heavy duty crunching, but if your primary concern is getting internet access when away from a power point then the S10-2 deserves consideration.
Lenovo do throw in a little of their worthy ThinkPad functionality, in the shape of a OneKey Rescue System button which offers straightforward restores should a virus or crash leave your netbook unusable.  It's a neat feature, and much-loved by enterprise clients, but we can't see it getting regular use by mainstream customers.  Better, however, is Lenovo Quick Start, a cut-down Linux environment that offers speedy access to the Internet, Skype, media and IM.  Nothing new compared to rival devices, no, but welcome all the same.
To be frank, the excitement in Lenovo's netbook range is being saved for the S12, particularly the NVIDIA Ion versions which promise lengthy battery life and 1080p Full HD.  That's not to say the S10-2 is an unlikeable machine, only that it's offering up another helping of something we've seen many times before.  Battery life is good, but not the best, and performance from the Intel Atom processor is just as you'd find from every other Atom netbook out there.  If you simply have to buy a 10.1-inch generic Atom N270 netbook, and you have $349.99 to spend, the Lenovo S10-2 should be on your shortlist; anybody wanting something more unusual, satisfying or competent should wait until either more NVIDIA Ion machines arrive on the scene, or Windows 7 makes its appearance in October.