$600 Fujifilm FinePix Real 3D Camera Expected September [Video]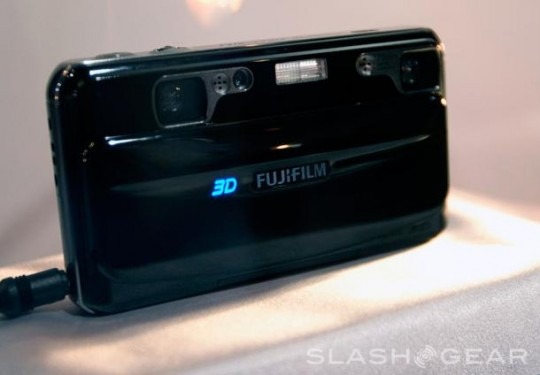 Fujifilm's FinePix Real 3D camera is expected to cost around $600 when it arrives in the US and Europe come September, making the 10-megapixel stereoscopic-shooter around twice the price of comparable 2D rivals.  The camera uses two lenses – spaced roughly the distance of human eyes – to capture two frames simultaneously, combining those in real-time to create a 3D image that can be viewed on special hardware.
Video demo after the cut
As for the accompanying 3D-capable digital photo frame, no final pricing has been confirmed but Fujifilm expect it to be "several hundred dollars".  Fujifilm are still agonizing over what the market will pay for 3D prints, which use a lenticular layer on top of the basic image; according to Takeshi Higuchi, general manager of the company's Electronic Imaging Division, "We know that if it's over 500 yen [$5] per photo, it probably won't sell."
We caught up with Fujifilm back at PMA 2009 in March and got a hands-on demonstration with the 3D system.  It certainly works (though is obviously difficult to capture on video or in images) though we're not sure whether buyers will prioritize $600 for a camera the sharing aspect of which is limited by compatible hardware.  As small consolation, the right-hand lens can be shut off and the FinePix Real 3D used as a standard 2D 10-megapixel camera.
[vms 1f7873cb83dacb17b0af]