PMA 2009 : Fujifilm 3D Real Image System hands-on, video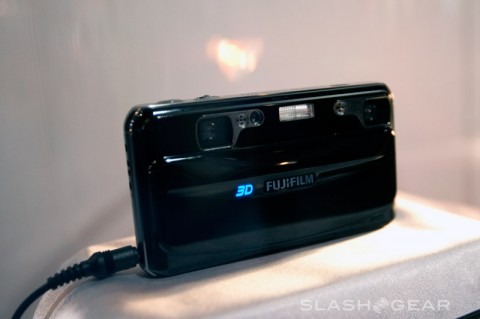 We met with Fujifilm at PMA 2009 to find out more about their 3D Real Image system (made up of a 3D digital camera, 3D digital display and 3D printer). Essentially, it was the same demonstration that was showcased at Photokina 2008, but this time around, in addition to the concept camera, we have gallery of the finished product.
Fujifilm has been working on the 3D camera and viewing concept for five years. The camera uses dual identical Fujinon lenses and an in-house designed RP (Real Photo) Processor to capture stereoscopic images and combine them into a single image on the fly, the results of which can seen without the need for special 3D glasses.
Our video couldn't capture the 3D effect as well as with the naked eye, but at the right angle relative to the 2.8-inch screen, it shows a brief hint of 3D imaging. The camera also takes and displays traditional 2D images. Fujifilm showed us how one of the lens (specifically the right lens) can be turned off for regular camerawork.
[vms 1f7873cb83dacb17b0af]
The setback of the 3D camera system is having to employ a completely new infrastructure to support it, from a compatible 3D display to the special printing process. The concept camera used for demonstrations was rather cumbersome, but the finished product will be a slim outfit with an external display. The optional 8.4-inch LCD screen is still in prototype form; a working model, due to arrive this Summer, may get new features and a different physical design. At present it has a USB connection, card reader and basic controls on the piano black bezel. No touch-sceen or wireless connectivity is, or will be, included.
As for the prints, 3D images are precisely rendered with fine-pitch lenticular technology, but unlike the traditional lenticular implementation - the effect of which is more defined from the front view - the Fujifilm shots offer fairly effective viewing from side-on. The technology is being experimented with in Japan, with the initial intention being a central location for consumer lenticular print production; it'll likely be one year from now when US consumers have access.