Samsung HMX-U10 Point-And-Shoot 10MP Camcorder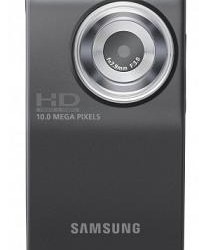 Samsung have unveiled their latest camcorder, and unlike some of the company's more serious models the HMX-U10 has casual point-and-shoot in mind.   A compact 56 x 103 x 15.5mm with a kick in the design to better fit your hand, the upright camera boasts both 10-megapixel stills capture and 1920 x 1080 Full HD video.
Intended to take on the Flip UltraHD, which we reviewed back in May, the HMX-U10 records to SDHC card and uses the H.264 video codec.  Around the back there's a 2-inch LCD for framing and reviewing, together with basic controls; the 1/2.3-inch CMOS lens is fixed focus and seemingly lacks any sort of zoom.
Plugging the camcorder into a PC kick starts Samsung's Intelli-Share app, which allows for basic editing and one-touch YouTube uploads.  The Samsung HMX-U10 will go on sale this September in the US, priced at $200. 
Press Release:
SAMSUNG'S NEW EASY SHARE CAMCORDER MAKES FULL-HD VIDEO RECORDING AND 10 MEGA-PIXEL STILLS FIT IN ANY POCKET

Ultra-Compact HMX-U10 Pocket Camcorder takes full-HD video and 10 mega-pixel stills for fast and easy sharing.

14 July 2009 – Samsung, leaders in innovation and digital imaging, today extended its family of Full HD digital camcorders to make recording and viewing video in HD easier than ever.

The HMX-U10 is an ultra compact camcorder that records in full-HD and also allows users to take 10 mega-pixel still photos. A one-touch "upload" button provides a direct connection to YouTube™ for fast and easy video sharing.

Full-HD video recording

The HMX-U10 is the ideal solution if you're looking for ultimate portability and ease‑of‑use in a full HD camcorder. The HMX-U10 offers full-HD video recording with 1920x1080 resolution. The HMX-U10's 1/2.3 inch CMOS sensor gives the ability to capture impressive 10 mega-pixel digital still images, all of which can be reviewed on the camcorder's clear, two-inch LCD screen.

Ultra-compact design

At 56mm x 103mm x 15.5mm, and weighing just 95g including the battery, the HMX-U10 is ultra-compact with an ergonomic design that breaks free of the traditional look and feel of pocket-sized camcorders. Its sleek frame is accentuated by a wave-design that angles the body of the camcorder at seven degrees, allowing users to grip the camcorder more comfortably, reducing stress on the wrist or arm. This same ergonomic design philosophy is also found in the HMX-R10 and SMX-C10 camcorders, which both feature Samsung's unique Active Angle Lens.

Unique features

The new HMX-U10 follows in the footsteps of the newly introduced SMX-C10 and boasts several unique features to make video recording even more enjoyable, including Samsung's built-in intelli-studio software, animated thumbnails, and a versatile charging system.

The HMX-U10 features Samsung's play-edit-sharing program called intelli‑studio so you can edit or share your video without access to a PC. When you do connect, the camcorder's built-in intelli-studio program allows you to turn any computer into a mobile studio, giving you the ability to edit and play your video without having to install supporting software.

Sharing is also simplified as the intelli-studio program takes the hassle out of uploading content to popular video‑sharing websites. A one-touch "upload" button, available on the HMX-U10, provides a direct connection to YouTube™, so footage can be online within seconds of shooting. In addition, the camcorders also allow basic on-camera editing, including the ability to split video files.

The animated thumbnail feature simplifies searching for video clips. Every video clip is represented by a small thumbnail on the LCD screen which provides a short playback when highlighted by the user.

"The addition of the HMX-U10 adds strength to an already impressive line-up of Samsung camcorders and offers a digital video recording solution for everyone" said Steve Mitchell, General Manager Marketing, Samsung Digital Imaging Division.

The HMX-U10 Camcorder will be available from leading high street and online retailers from September 2009.

Customers requiring further information should call 0845 726 7864 or visit samsungcamcorder.co.uk/

Specifications are subject to change.

* HDMI cable sold separately