Corsair Extreme Series SSDs: 240MB/s read, 170MB/s write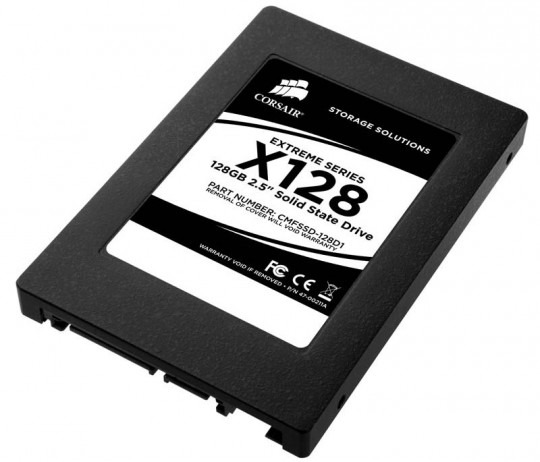 Corsair's latest SSD range, the Extreme Series, has been announced, offering between 32GB and 128GB of storage with a new Indilinx Barefoot controller.  The three solid-state drives – the Extreme X32, X64 and X128 – claim read speeds of up to 240MB/s and write speeds of up to 170MB/s.
The drives use Samsung MLC NAND flash, paired with 64MB of on-board cache and a SATA-II 3.0Gb/s interface.  Corsair estimate a 100+ lifetime, and suggests they're ideal for both use as primary drives in desktops and notebooks together with inclusion in RAID 0 arrays.
Corsair's Extreme Series SSDs have a two-year warranty.  So far there are no MRSPs known, but a quick search online seems to suggest that the 128GB X128 will retail at around $413.99, the 64GB X64 for around $249.99, and the 32GB X32 for around $159.99.
Press Release:
Corsair® Launches new 'Extreme' Series High-Performance SSDs

- Uses Indilinx Barefoot controller for up to 240MB/sec read and 170MB/sec write speeds -

Fremont, CA. July 16th, 2009.- Corsair®, a worldwide leader in high-performance computer memory, power supplies and flash memory products, including solid-state drives, today announced the Extreme Series X32, X64 and X128 high-performance SSDs, in 32GB, 64GB and 128GB densities respectively.

Built using the renowned Indilinx Barefoot controller and Samsung MLC NAND flash memory, the Extreme Series has been designed to offer the highest performance currently available on the market, with read speeds of up to 240MB/s and write speeds of up to 170MB/s.

"The combination of the Indilinx Barefoot controller, Samsung flash memory, and 64MB of on-board cache delivers blistering, stutter-free performance, eliminating the bottleneck imposed by traditional mechanical hard disks," said Jim Carlton, VP of Marketing at Corsair. "The new Extreme Series SSDs are ideal for use as primary drives in desktop and notebooks systems, and also for RAID 0 configurations in high-performance desktops for enthusiasts who want extreme performance."

All Extreme Series SSDs feature end-user upgradable firmware to allow for new features to be added, such as the upcoming TRIM command for Windows 7 and other operating systems, which maintains optimal performance over time. Firmware upgrades and support for the Extreme Series SSDs will be available via Corsair's website, and drives can be updated without the need to wipe data from the SSD, ensuring seamless upgrades.

The Corsair Extreme Series X32, X64 and X128 solid-state drives are available immediately from Corsair's authorized distributors and resellers worldwide, and are backed by a Two-Year Limited Warranty. Complete customer support via telephone, email, forum and Tech Support Express is also available.

For more information on Corsair solid-state drives, please visit the Corsair SSD product page

About Corsair®

Founded in 1994, Corsair Memory, Inc., is a worldwide leader in high-performance components for personal computers. Specializing in very high performance memory and ultra-efficient power supplies, our flagship products, Including Dominator™ memory modules, are the choice of overclockers, enthusiasts, and gamers everywhere. Our expertise in design and manufacturing is also evident in our complete line of Flash Voyager® and Flash Survivor™ USB storage devices. Corsair offers 24/7 customer support via forums and the Tech Support Express helpdesk. For more information, please visit corsair.com.