Apple Blocking Push Notifications To iPhone Unlockers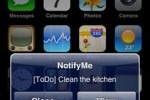 Apple is reportedly blocking one of the most anticipated features of iPhone OS 3.0, Push Notifications, for those users who have unlocked their handsets.  The issue has been flagged up by developer PoweryBase, who offer the NotifyMe reminder app, after finding "more than 80-percent of customer support requests" are from users complaining their hacked iPhone and iPod touch devices prove incompatible with the software.  The issue is being blamed on Apple's servers, which handle the Push Notification Service (APNS); the company is seemingly denying APNS updates to those handsets which have been unlocked.
"Every Push application has to request the unique token from the Apple's APNS servers to identify the device it's running on. Thanks to that token, APNS servers always know which device is yours ... On any unlocked iPhone, the application requesting the token is stuck. APNS does not provide any response at all and the application can either cancel the request completely by automatic timeout or let user wait with the progress bar forever. Either way, the user will never receive any Push message, because APNS has not provided the token." PoweryBase
PoweryBase are now advising those users with unlocked devices not to buy their app, as they will not be able to promise Push Notification functionality.  In the same way, such users should not expect any APNS-reliant service to work as advertised, unless Apple change their support policies.
The iPhone Dev Team are aware of the issue, and have already released one trial fix for affected devices.  However it still needs work, and a stable release is still not available; hopefully at some future point it will be integrated into their ultrasn0w unlocking app.
[via MacRumors]