Windows Marketplace for Mobile submissions from July 27th; coming to existing 6.0 & 6.1 devices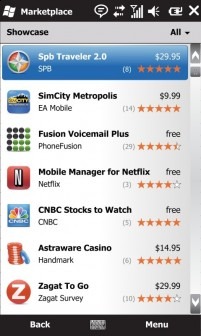 Having just mentioned Windows Marketplace for Mobile as an aside to Apple's 1.5bn App Store downloads, we've now a little more information regarding developers' access to the store and one which devices it will run.  At the Worldwide Partner Conference this week, Microsoft have announced that mobile app submissions will be accepted from July 27th.
Contrary to initial reports that the Marketplace would run solely on Windows Mobile 6.5 devices and above, Microsoft have also confirmed that the download store will be available on WM6.0 and 6.1 by the end of 2009.  Given the number of devices in circulation running WM6.1 alone, and uncertainties about which smartphones will be eligible for 6.5 upgrades, that certainly makes sense for widening Microsoft's user base.
Microsoft have also revealed a "dedicated Business Center" which will focus on distributing and marketing enterprise-style applications.  There will also be an application development contest kicking off from July 27th, though full details are yet to be revealed.
[vms 953a8cd9526fca6fe9ba]