Rock Xtreme gaming laptops: Blu-ray, 1.5TB RAID and dual GPU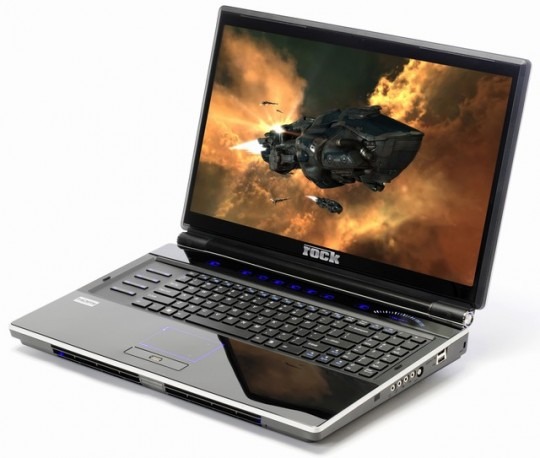 Gaming notebook manufacturer Rock have announced two new models, the Xtreme 790 and Xtreme 840, each offering NVIDIA GeForce GTX 280M 1GB graphics, Blu-ray and up to 6GB of DDR3 RAM.  The Xtreme 790 has a 17-inch Full HD display, up to 1.5TB of storage via three 500GB 7,200rpm HDDs (with RAID support) and Intel Core i7 processors, via the Xtreme 840 steps up to an 18.4-inch Full HD display, Core 2 Duo or Core 2 Quad CPUs, and the potential for two GTX 280M GPUs.
Two Xtreme 840 versions are available, with either single or dual graphics.  Both have up to 1.5TB of storage and the same RAID options as the Xtreme 790; they also get customizable lighting, touch-sensitive buttons and eight "gaming buttons" which can be user-set to in-game controls.
Both models also include four USB 2.0 ports, WiFi a/b/g/n, a 7-in-1 card reader and a 3 year warranty; OS is Vista Home Premium with a free upgrade to Windows 7 once released.   The Rock Xtreme 790 starts from £1,999 ($3,259), while the single and dual GPU Rock Xtreme 840 models start from £1,699 ($2,770) and £2,299 ($3,748) respectively.  All three models will begin shipping at the end of this month.
Press Release:
Rock's New Xtreme Performance Notebook Fest 2009

NVIDIA GeForce GTX 280M graphics headline

Stone, UK, 14th July 2009. rock, Europe's no.1 performance notebook manufacturer, is rolling out two new lines of 'all-systems-go' performance/gaming notebooks. The new Xtreme 790 and Xtreme 840 notebook ranges are crammed with the hottest technologies of the year, which have been synthesized to deliver a multimedia experience like never before.

Prepare to experience the fastest notebook graphics around. The X780 and X840 ranges feature NVIDIA's new 1GB GeForce GTX 280M GPU. Easily offering the fastest notebook graphics in the market, the new high-performance NVIDIA GPU promises blistering frame rates that are up to 50% faster than previous generation enthusiast notebook GPUs. Now put two of these together and what do you get? The new Xtreme 840 SLI range boasting the fastest notebook graphics solution your money can buy and whole lot of HD fun.

Also anticipating a full HD work out are; on-board Blu-Ray drives up to a mighty 6GB DDR3 1066MHz RAM, HDMI connectivity, full HD displays and Windows Vista Home Premium (64 bit) Edition (with free upgrade to Windows 7).

The Xtreme 780 and 840 ranges also include, 4 x USB, 7-in1 Card Reader, 802.11a/b/g/n Wi-Fi and the very best after care support in the business with a unique 3 year 'on-site' warranty as standard.

E'Xtreme'ly Fast 790 Range: From £1,999 inc. VAT

The new Xtreme 790 range is ideal as a multimedia and games host in addition to being a mighty mobile workstation. Featuring Intel's new Core i-7 Processor, the fastest processor in the world, the Xtreme 790 range will take care of the hard work, so that you don't have to. Built on advanced technology that automatically applies processing power where it's needed most, the new Core i-7 is the perfect multimedia processing solution, including digital content creation that's faster and more efficient than ever before! The Intel Core i-7 also features Hyper-Threading technology which gets maximum performance out of its four cores with two threads on each instead of just one. Not only does this enable you to run more applications simultaneously and create digital content faster and more efficiently than ever before, it also enables you to experience the full power of today's complex and immersive games by distributing AI, physics and rendering across 8 software threads.

The Xtreme 790 range also includes HDD storage up to 1.5TB (3 x 500GB 7200rpm SATA) which feature RAID0 support for improved speed performance and RAID1 mirror support for real-time back up, dependent on your requirements. Ideal for mobile data acquisition, the X790 range includes comprehensive connectivity, boasting 1x E-SATA and 1x IEEE1394A in addition to the traditional array of I/O ports.

E'Xtreme'ly Pimped 840 Range: From £1,699 inc. VAT

The first thing you will notice when you see the new Xtreme 840 range is the colossal 18.4" full HD screen. The ultimate mobile media centre, with a 1920x1080 full HD resolution and true 16:10 aspect ratio, the HD experience can be completely realized. The widescreen display serves up vibrant colors and generous viewing angles, and provides brilliant clarity with theater-like viewing sensation for your favorite High-Definition content, so sit back, relax and enjoy the show. The Xtreme 840 range offers both Intel Core 2 Duo and Intel Core 2 Quad CPU options and massive multimedia storage capacity with up to 1.5TB HDD space.

E'Xtreme'ly HD Gaming Ready 840 SLI Range: From £2,299 inc. VAT

Featuring 2x 1GB NVIDIA GeForce GTX 280 graphics, the fastest graphics combo from NVIDIA to date, and 18 inches of full HD display, enough screen real-estate to completely immerse you into a gaming world, the Xtreme 840 SLI range is the ultimate (mobile-ish) gaming rig for hardcore gamers. For optimum gaming performance the Xtreme 840 also supports RAID0 HDD technology providing enhanced disk performance through striping.

Sporting a futuristic design, the Xtreme 840 features a 'Touch-Sensor' which provides simple and convenient touch sensitive control of features such as; Volume, Camera, Wireless LAN and Mute, and 8 intuitive dedicated 'Gaming Buttons' that are completely definable to allow ultimate control over your gaming experience. It also features customizable luminous lighting letting you take control of 3 lighting zones on the Xtreme 840, choosing between 7 colour options and transition effects to boast your gaming intentions (touch sensor controlled). Warning: The Xtreme 840 SLI experience may cause involuntary salivating (bib not included).

The new Xtreme 790 and Xtreme 840 performance gaming notebook ranges are available to pre order now from www.rockdirect.com. Shipping end of July.