Amazon's UK Kindle deal almost final? December launch & 3G/WiFi tipped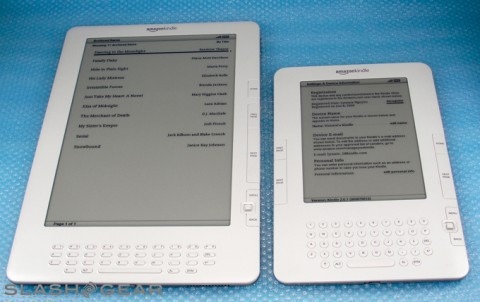 Amazon is reportedly close to setting a release date for the Kindle in the UK, with "advanced negotiations" underway with a carrier for providing the wireless connection via which the device downloads ebooks.  According to Mobile Today, Amazon have called upon Qualcomm to manage not only the manufacturing of the GSM Kindle, but to "securing connectivity" for the UK device.
Unlike the US Kindle, which solely uses Sprint's data network for its mobile connectivity, the UK version is tipped to include WiFi support as well as 3G.  The identity of the carrier involved is unknown, but likely candidates include T-Mobile and O2, both of whom have well-established WiFi networks which their own subscribers have access to.
Amazon are believed to be working to arrange the launch of the UK Kindle before Christmas 2009, and to have already secured agreements with publishers of books and be mid-negotiation with those of magazines and newspapers.  The company's carrier talks in Germany reportedly broke down in June, after they were unable to reach consensus on a fair price, while a similar break-down is suggested to have taken place in the UK around six months ago.