Acer Veriton N260G nettop adds N280 but drops NVIDIA Ion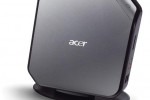 In a deeply frustrating move, Acer have released a new version of their Atom-based nettop, addressing one of the key issues we had with the first-gen AspireRevo but then scuppering it in another way.  The Acer Veriton N260G switches the original AspireRevo's mediocre 1.6GHz Atom 230 or 330 processor for a far more welcome 1.66GHz Atom N280, but simultaneously drops the NVIDIA Ion GPU we so admired.
Otherwise much is the same: there's still a VESA mount for hitching the Veriton N260G to the back of your flat-panel display, plus both VGA and HDMI outputs, six USB 2.0 ports, gigabit ethernet, audio in/out and PS/2.  You also get a memory card reader, while storage is 160GB and RAM 2GB. 
Instead of the NVIDIA Ion, though, you get Intel's GN40 chipset with GMA X4500 graphics.  The Acer Veriton N260G nettop is already broadly available in the UK and Europe, where it can be found for as little as £188.12 ($302) including delivery.
[via Notebook Italia]