Acer AspireRevo gets reviewed: Ion good, Atom bad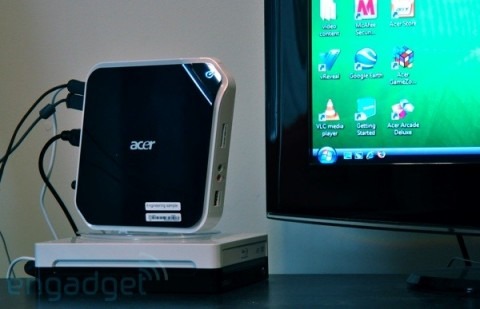 Acer's AspireRevo nettop has been causing ripples since its existence first leaked, bundling a low-power Intel Atom processor with NVIDIA's HD-capable Ion GPU and promising 1080p from something smaller than an external DVD drive.  Engadget have had the diminutive desktop in for review, and describe it as "a tale of two chips".
As you might expect, it's the Atom 230 processor that lets the AspireRevo down.  Gaming and video-transcoding – both of which rely on the Ion GPU – run well, but more mainstream tasks such as Flash video struggle.  HQ YouTube videos even have the audacity to stutter, which is ridiculous when you consider that Ion-boosted PowerDVD can play 1080p QuickTime footage with aplomb on the very same machine.
Engadget's concern is that many will go for the AspireRevo for its low sticker price, and then end up confused by its various shortcomings; meanwhile, high-end users would be better served by spending a little more on a SFF computer with a desktop processor.  As a first-of-breed, though, the AspireRevo impresses nonetheless; we'll just wait until the Ion gets paired up with something slightly more potent from Intel's CULV range.