Acer AspireRevo: NVIDIA Ion 1080p nettop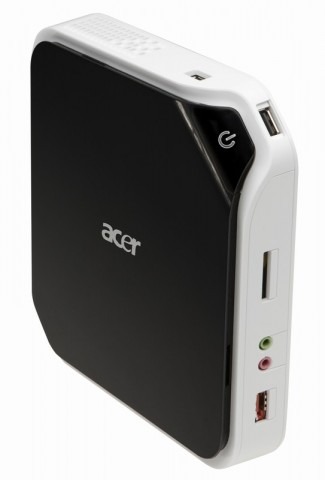 We knew it as the Acer Hornet, but the company has now officially announced their NVIDIA Ion-based nettop, the Acer AspireRevo.  A compact 7.1 x 7.1 x 1.2-inch diamond, the AspireRevo pairs Intel's 1.6GHz Atom 230 or dual-core Atom 330 processor with the graphics company's Blu-ray 1080p-capable Ion GPU, which they claim is a match good enough to play games like Call of Duty 4 and Spore, together with DirectX 10 content.
Other specs include up to 4GB of RAM, up to 250GB of storage and both HDMI and VGA outputs.  There's also gigabit ethernet, WiFi (either b/g or b/g/n), a 4-in-1 card reader, six USB 2.0 ports and audio in/out, in a casing that can be easily hung from the back of your flat-panel display.
OS is Vista Home Premium (or Basic), which should see the AspireRevo rocking as a very capable media center – albeit one that would require external TV tuners and an external DVD or Blu-ray drive.  No word on pricing nor official availability for the Acer AspireRevo, but all signs are pointing to late Q2 2009 still.
Press Release:
Acer AspireRevo: Nettop Meets Games Console

A Revolution in Your Multimedia Entertainment

2009-04-08 – New York With the enormous success the netbook brought, in very little time a new market segment was created that revolutionized the arena of the portable computer. The world of desktops has now also taken a step up with the introduction of the nettop. These are computers of reduced dimensions and at a lower cost than traditional PCs which are ideal for satisfying all basic requirements of surfing the Internet, downloading and watching rich content, playing videos and games , running typical office programs or communicating with VOIP using the optional webcam.

Today, Acer changes the industry landscape by introducing the Acer AspireRevo, the new nettop that offers advanced graphic capabilities for full enjoyment of multimedia contents in high definition. AspireRevo is a true entertainment center for the entire family, not only offering immediate access to music, video and images, but can also transmit and stream HD content and be used as a gaming console.

The AspireRevo is, in fact, the first small form factor PC to offer the NVIDIA® ION™ platform that combines the Intel® Atom™ 230 processor with the NVIDIA ION graphics processor. Apart from its low energy consumption and reduced dimensions, it has the graphic capability worthy of a true multimedia PC. The highly integrated NVIDIA® ION™ GPU delivers 10X faster graphics performance than other small desktop PCs, resulting in extraordinary multimedia entertainment and high-definition quality. Certified for Windows Vista Premium, NVIDIA® ION™ ensures access to complex video with full graphic support.

"The Acer AspireRevo is a bold new direction for the PC industry," says Acer. "It is a compact, stylish, fully capable PC that uses less energy and provides a brilliant visual experience for daily digital life, games and even high definition video."

"The Acer AspireRevo with our new NVIDIA ION GPU is a shockingly small home PC," said Drew Henry, general manager for MCP products at NVIDIA. "You will be stunned and amazed watching HD videos, editing photos, surfing the web and playing the latest online games."

Characterized by refined design and reduced dimensions (only one liter!), Acer AspireRevo is decisively practical and versatile and is perfectly adapted to any environment. Futhermore, thanks to a special mounting system, it's possible to attach the device on the back of any LCD or TV panel with a VESA attachment to offer the user an All-In-One capability and increase the working or playing area. Like this, the AspireRevo can find enough space for any room, from the kitchen to the bedroom or the lounge, without any problem. The VESA mount offers vertical adjustment ensuring that the power-on button, optional webcam and memory card reader are always perfectly accessible from the top of any LCD display used.

Acer AspireRevo is also available in a bundle that comes with a game controller with 3D motion sensors offering numerous functionalities. Besides being able to be used like a pointing-device (air mouse) or remote control for the media center, the controller transforms into 3 primary different gaming scenarios from an airplane/race-car steering device, or a tennis racket/baseball bat or a shooting device with built-in trigger. The device is very sophisticated and does not only keep track of points during the game, but captures and tracks very precise user motion.

Furnished with a rich endowment of portals, the AspireRevo can be connected with ease to a wide variety of devices. The 802.11b/g (and /Draft-N on selected models) wireless or Gigabyte Ethernet network connection guarantees an ultrafast network connection into the network of other home computers. while the HDMI™ portal allows a true-to-life reproduction of Full HD video.

Its in the Living Room connected to a large flat panel TV where the AspireRevo really comes alive. The ability to use a small, quiet, and fully capable PC in the heart of the Living Room where families may view their digital photos and videos, use free MSN Messenger with the webcam in video conference mode, play family friendly physically active games and also still be able to run standard PC applications, makes the AspireRevo an indispensable asset to the modern home.

A compact, sleek desktop designed to go anywhere in your home, the AspireRevo features the incredible graphics processing power of NVIDIA® ION™ coupled with the low power Intel Atom 230/330 processor. ION enables the AspireRevo to deliver a premium Windows experience at an unprecedented price. Watch 1080p HD movies, play DirectX 10 games at great frame rates, and enjoy all the 3D capabilities of Microsoft Windows Vista Premium. This space-saving, quiet design can be used as a fully functional home office PC or as a living room PC for casual gaming on your television.

Even the hardware characteristics do not disappoint expectations. Besides being equipped with the Intel® Atom™ 230 processor and NVIDIA® ION™ GPU, the AspireRevo comes with a choice of a Serial ATA Hard Drive or Solid State Drive and up to 4GB of DDR2memory that allows quick performance without problems for all the most widely-used range of applications. A Mini PCI Express slot offers the possibility of expanding memory capacity to make space for continuously growing multimedia files.