Acer Android dual-boot netbook coming August?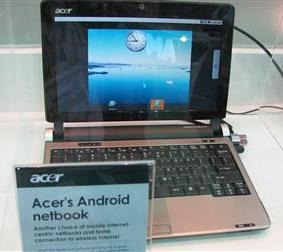 Acer's dual-booting netbook, which will offer users both Windows XP and Google's open-source Android platform, is tipped to arrive in August 2009.  First announced back at Computex, the company had only suggested a Q3 release; contrary to initial expectations, Acer hedged their bets and decided to make Android the "quick-boot" option rather than the sole OS.
As a result, the as-yet unnamed netbook won't necessarily be any cheaper than Acer's existing Aspire One range.  Many had hoped to escape the so-called "Windows tax", believed to add around $25 to the cost of each netbook for an XP license.  However the company had also confirmed that if demand for a solely-Android netbook is perceived, then they will consider developing such an option. 
It's unclear what the announcement of Google Chrome OS, an open-source platform for netbooks, will do to Acer's plans.  The company has already been named as one of Google's hardware partners.  As for Android netbooks, MSI and ASUS are tipped to be developing such devices but with no 2009 launch plans.